Definition
customer service and support
What is customer service?
Customer service is the support that organizations offer to customers before and after purchasing a product or service. In customer service, the organization's representative values both potential and existing customers equally. Customer service representatives are the main line of contact between an organization and its customers, making CX a critical facet and the main priority of customer service teams.
What is customer support?
Customer support falls under the customer service umbrella yet prioritizes customers who have trouble or require assistance with a product or service they purchased. Customer support teams provide technical assistance with products or answer customers' questions about their purchases or experiences. The goal of customer support teams is to have customers leave their interactions with answers, solutions and overall positive experiences.
Why are customer service and support important?
While customer service and support teams interact with customers on an as-needed basis -- using various chat channels such as phone, website chat applications and social media messaging -- those moments of contact are critical to keeping an organization running successfully.
If customer service teams provide a positive CX and customer support teams successfully assist customers with questions or problems, then those customers are likely to be happy and do business again with the organization. Satisfied customers may also choose to leave positive reviews or tell friends and family about an organization with good customer service and support, which can bring in more customers to an organization.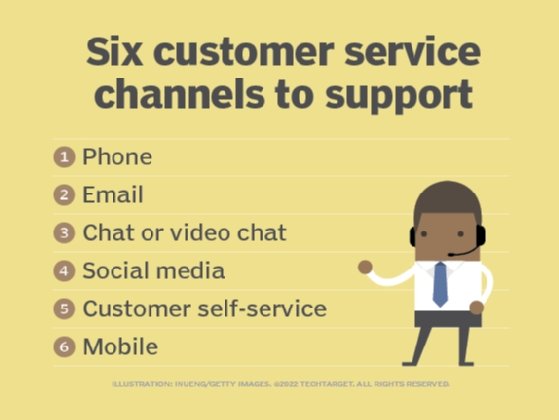 How do customer service and customer support differ?
While both customer service and support teams focus on the customer, they help customers in different ways.
Customer service teams focus on providing the best possible CX before and after a customer purchases a product. They also specialize in customer retention and solve complex issues that frustrate customers. The customer service team is the face of the organization and the frontline when customers require assistance. Customer service agents help customers pay bills, review or make changes to accounts, handle returns and answer frequently asked questions.
Customer support teams also interact with customers, but they are part of the larger customer service department to answer product-related questions and troubleshoot problems when necessary. Depending on the industry, support teams provide guidance with electronic equipment, software and apparel, among other products. Customer support agents solve problems related to products customers purchase or use.
Types of customer service and support
Depending on the organization's goals and offerings, it may employ different types of customer service and support.
Different types of customer service include the following:
digital channels, including chat- or email-based communications, chatbots, interactive voice response systems, any online communications or web self-service; and
live agents, including call center communications, in-person assistance, live chats, video chats or social media correspondence.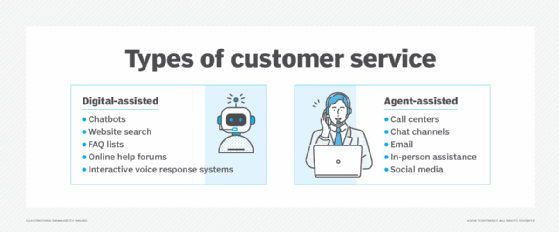 Different types of customer support include the following:
product or service installation;
troubleshooting;
maintenance;
upgrades;
replacements; and
discarding old or broken products or services.
Key customer service and support skills
Customer service and customer support teams require the same skills, whether they work in a call center or contact center, face-to-face with customers on the floor or as live chat agents. Those skills are the following:
knowledgeable about the organization;
active listening;
written and verbal communication;
able to remain calm under pressure and deescalate situations;
problem-solving;
multi-tasking; and
able to work well with coworkers and customers.
Customer service and support tools and technologies
Customer service and support teams incorporate various tools to operate efficiently.
Call management system. Teams use these systems to log incoming phone calls and route them through a network to the proper person or department.
Contact center. Teams manage all customer interactions through the contact center, which offers omnichannel support, including email, voice, chat, chatbots and websites.
Internet-based customer service suite. Also known as e-service suites, vendors design these platforms specifically for customer self-service.
Field service and dispatch system. This system is an essential part of customer service and support. These systems enable customer service and support teams to contact technicians and send them to service a product when needed.
While customers primarily use email and phone systems to contact customer service and support agents, those methods are not always the most efficient. Customers who pick up the phone can benefit from live chat with an agent; however, both channels are subject to business hours.
To increase customer satisfaction and minimize costs, many organizations use customer-based service applications such as web self-service, which enable customers to contact organizations outside of normal business hours and without human assistance.
Some examples of web self-service transactions include the following:
bill payment;
username lookup;
password reset;
check order status;
update account information; and
look up business hours and user manuals.
Chatbots are also gaining in popularity for customer service and support teams. Like web self-service, customers can use chatbots -- over the phone, website chat apps and social media messaging apps -- outside normal business hours. Instead of clicking on links on a webpage, chatbots can answer verbal and written questions. Organizations that use chatbots typically train them on frequently asked questions and tasks, and program them to their specific industries.
How have customer service and customer support evolved?
Customer service and customer support have transformed over the years. In the past, organizations didn't prioritize CX or the customer journey in customer interactions. The main interactions were simply business transactions: The customer goes to a store, purchases a product, then leaves and returns home.
If customers required assistance, they had to return to the store during its normal hours of operation, despite any inconvenience to them. Organizations prioritized their conveniences over customer convenience, providing only one channel for service and a specific timeframe for service hours.
Over time, organizations realized that positive CX could benefit them as much as or even more than their conveniences, as happy customers could return and become loyal to the brand. So, customer service and support became 24/7 omnichannel initiatives, where customers can call, chat, email or post on social media at any time of day and get in touch with a representative from the organization.
In the future, innovative technologies such as AI and machine learning may transform customer service and customer support even further. Some of these advancements are already available in chatbots and other virtual assistants, which help save time for customer service representatives and offer customers more convenient service and support.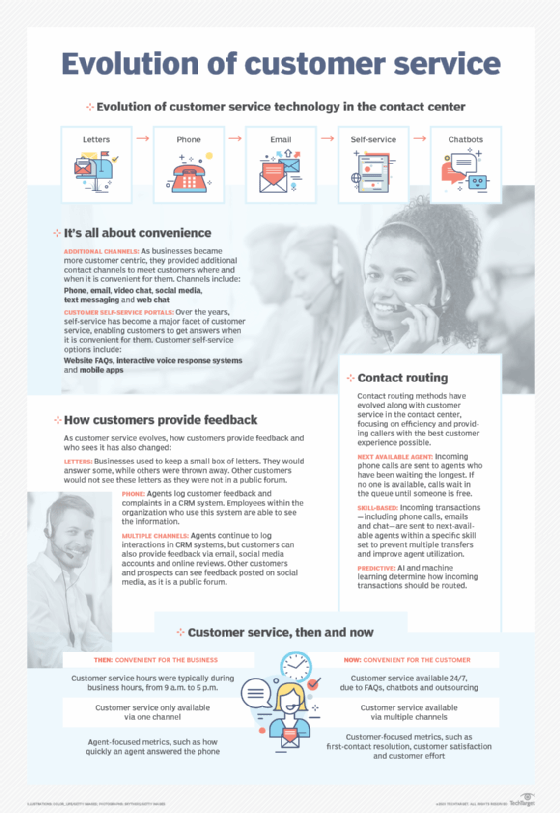 This was last updated in
November 2021
Continue Reading About customer service and support