 BACKGROUND IMAGE: iSTOCK/GETTY IMAGES
A call center is a centralized department to which phone calls from current and potential customers are directed. Call centers can handle inbound and/or outbound calls, and be located either within a company or outsourced to another company that specializes in handling calls.
How call centers work
Call centers are used by online merchants, telemarketing companies, computer product help desks, mail-order organizations, polling services, charities and any large organization that uses the telephone to sell and provide products or services or enhance the customer experience.
Typically, an inbound call center handles a considerable volume of calls at the same time, screens and forwards calls to someone qualified to handle them and logs calls. An interactive voice response (IVR) system will answer calls and utilize speech recognition technology to either address customer queries with an automated message or route calls to the appropriate call center agents or recipients via an automated call distributor.
Agents in an inbound call center may handle calls from current or potential customers regarding accounts management, scheduling, technical support, complaints, queries about products or services, or intent to purchase from the company. In an outbound call center, an agent makes calls on behalf of the company or client for tasks, including lead generation, telemarketing, customer retention, fundraising, surveying, collecting debts or scheduling appointments. To maximize efficiencies, calls are usually made with an automated dialer and then transferred to an available agent via an IVR system once a connection with a person has been made. Outbound call centers must ensure compliance with the National Do Not Call Registry, a list to which citizens can add their phone numbers to avoid receiving unwanted solicitation calls.
A blended call center handles both inbound and outbound calls.
Types of call centers
Beyond inbound, outbound and blended, there are further classifications of call centers:
In-house call center: The company owns and runs its own call center and hires its own agents.
Outsourced call center: The company hires a third party to handle calls on its behalf, generally to reduce operating costs by removing the burden of hiring and training call center agents and investing in and updating call center technology.
Offshore call center: A company has outsourced its call center operations to an organization in another country, often to save money on wages and provide services around the clock. Drawbacks to an offshore call center can include reduced customer satisfaction due to language issues and a lack of knowledge about the company, product or service due to distance.
Virtual call center: Agents are geographically dispersed and answer calls utilizing cloud call center technology. Call center agents can be located either in smaller groupings in different offices or in their own homes.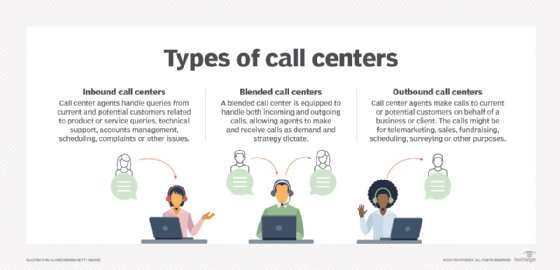 Call center analytics and reporting
Companies measure the success rates and efficiency of call centers and agents by tracking key performance indicators (KPIs). The KPIs tracked by an organization may vary depending on the center's function: An outbound call center may measure cost per call, revenue earned, total calls made and tasks completed, among other metrics. Inbound call center metrics may include first call resolution (FCR); average wait time; and abandoned call rates.
In addition, speech analytics software is used to monitor and analyze call center agent performance. It can identify areas that may require more knowledge and training and is used to improve call handling times and FCR.
Continue Reading About Call Center