Q
Get started
Bring yourself up to speed with our introductory content.
Nine skills every call center agent job requires
Call center agents need to make sure they have the skills for which hiring managers are looking. Here are the top call center agent job skills you'll need to land a job in a contact center.
Companies have evolved their call centers into contact centers to meet the needs of customers who prefer to use...
Continue Reading This Article
Enjoy this article as well as all of our content, including E-Guides, news, tips and more.
email, instant messaging or social media over phone calls. This means the call center agent job description includes knowledge of many more platforms and communication skills than before.
Agents need to expand beyond verbal communication skills, which were paramount when phone calls dominated call centers. They must also focus on writing and reading comprehension skills for email, chat, social media, and also develop their body language and visual observation skills for video chat.
Most common call center agent job skills
Many call center agent job skills are the same as they were in past years. The difference now is that customers expect immediate responses across any communication channel they choose, and call center -- or contact center -- managers need their agents to meet those expectations.
Here are nine key call center agent job skills required for success.
People skills
Call center agents must thrive on working with people they don't know, understanding their issues -- whether the agent can relate to them or not -- and helping to come up with a solution to resolve the issue -- even though the agent may not agree with the final resolution.
Excellent communications skills across channels
Contact center agents now speak with customers across a variety of channels, including phone, chat and video. Each of these channels requires different types of communication skills from a listening and speaking perspective. An agent does not need to excel at communicating in all the channels, but it is critical for an agent to exhibit the skills necessary for the channels they will be supporting.
Professional and courteous demeanor
Customers reaching out to a contact center may be frustrated and emotional, depending on the issue they are trying to resolve. Agents must be sensitive to a customer's feelings, always have a courteous demeanor, and display empathy and patience during a conversation with customers, regardless of the channel of communication.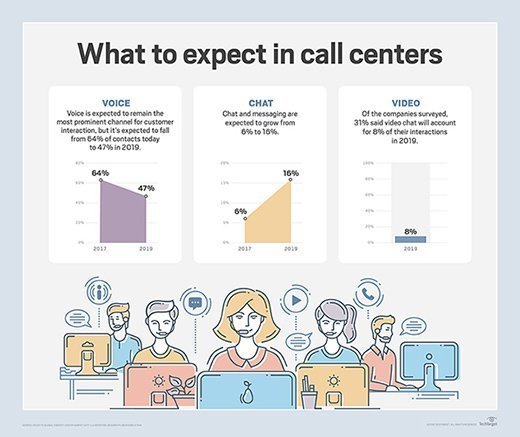 Excellent problem-solving skills
Customers often reach out to a contact center with complex issues that are difficult to explain. Agents must listen to the customer, identify the core issue and identify solutions that serve both the customer and the organization.
Ability to learn, retain and apply large amounts of information
During training, agents must learn a tremendous amount of information regarding products, services, policies and procedures. Agents also need the ability to retain a good portion of this information and, in cases in which they don't have an answer, understand how to navigate across a number of systems to find the answer to the customer's issue.
Ability to accept and meet quantitative goals
The contact center environment is extremely metric driven and, therefore, many metrics are key for the performance management process. Agents often have quantitative goals, and they are measured and rewarded on a number of key items, such as quality monitoring results, average handle time, attendance, occupancy, etc. Agents must be willing to work in an environment where most of their activities are monitored, tracked and reported.
Ability to work in a highly structured environment
The contact center environment is extremely structured. Agents must adhere to strict schedules, are monitored on a continuous basis, deal with a large volume of transactions, and must follow detailed attendance and punctuality policies.
Flexibility
Organizations constantly change, rolling out new products, services and features to attract new customers and retain current customers. In most cases, agents are notified of changes in a timely manner, but there are many times when the customer knows about a change before an agent does. Agents must be flexible in this ever-changing environment and cannot be overwhelmed when surprises occur.
Ability to work independently and find answers
Even though agents work on teams in the contact center, their interactions with customers are one to one. Agents need to be comfortable working independently and have the confidence that, if they cannot resolve a customer issue immediately, they know how to find the solution.
Call center agent job mobility
Call center agents used to have two main career paths: moving into a supervisor role or moving into a support role in areas such as training, quality or workforce management.
In addition to those paths, agents with the appropriate qualifications can transition into specialized roles where they can continue to work with customers in a variety of channels.
Call center agents need a diverse set of skills to work with customers across a variety of channels in a very complex, yet structured environment. It is not an easy job to perform successfully, but for those who have the right skills and are successful, there is a tremendous level of satisfaction in assisting customers in their time of need.
Dig Deeper on CRM strategy and implementation
Contact center agents often need to remember a number of passwords to log in to multiple applications. Single sign-on can alleviate that pain point ... Continue Reading
While AI is still an evolving technology, agent assist benefits contact center employees by improving agent efficiency improve the overall customer ... Continue Reading
Omnichannel is the evolution of the multichannel environment; however, they do work together. Learn how these two terms differ and where they ... Continue Reading