There's no magic formula for agility. What works for your team (and your customers!), may not work for everyone else. But for teams that have continued to respond to customers just as quickly as they did before the pandemic, one clear strategy has emerged: agile companies are prioritizing speed above all else. And they're using live channels to do so.
Live channels like phone and chat support resolve a customer's issue in real time, which means they usually boast the fastest resolution time, even if they can be harder to scale. A single agent can only be on one phone call at a time, but that same agent can handle multiple tickets over messaging channels or email.
Wanna chat?
As economies shut down around the globe, customer engagement soared, with many turning to chat support for help. Roughly 1 in 3 agile companies saw customer service requests spike over their live channels, while 13 percent ramped up the number of dedicated agents. Keep in mind, we only looked at significant volume changes here, so only ticket and agent count increases of at least 10 percent.
Some of the highest agent count increases were seen by:
B2B companies
E-commerce (both) and retail (for phone)
Companies in Latin America (for chat) and North America (for phone)
Mid-sized (both) and larger companies (for chat)
More B2B companies, for instance, responded with large-scale staffing increases (16 percent) than B2C companies (14 percent) or those supporting internal staff (13 percent).
Somewhat surprisingly, e-commerce companies were also more likely to lean into their live channels. Nearly 20 percent increased staffing considerably, compared to other digital natives like online health (10 percent) or more typical players like the financial services sector (also 10 percent).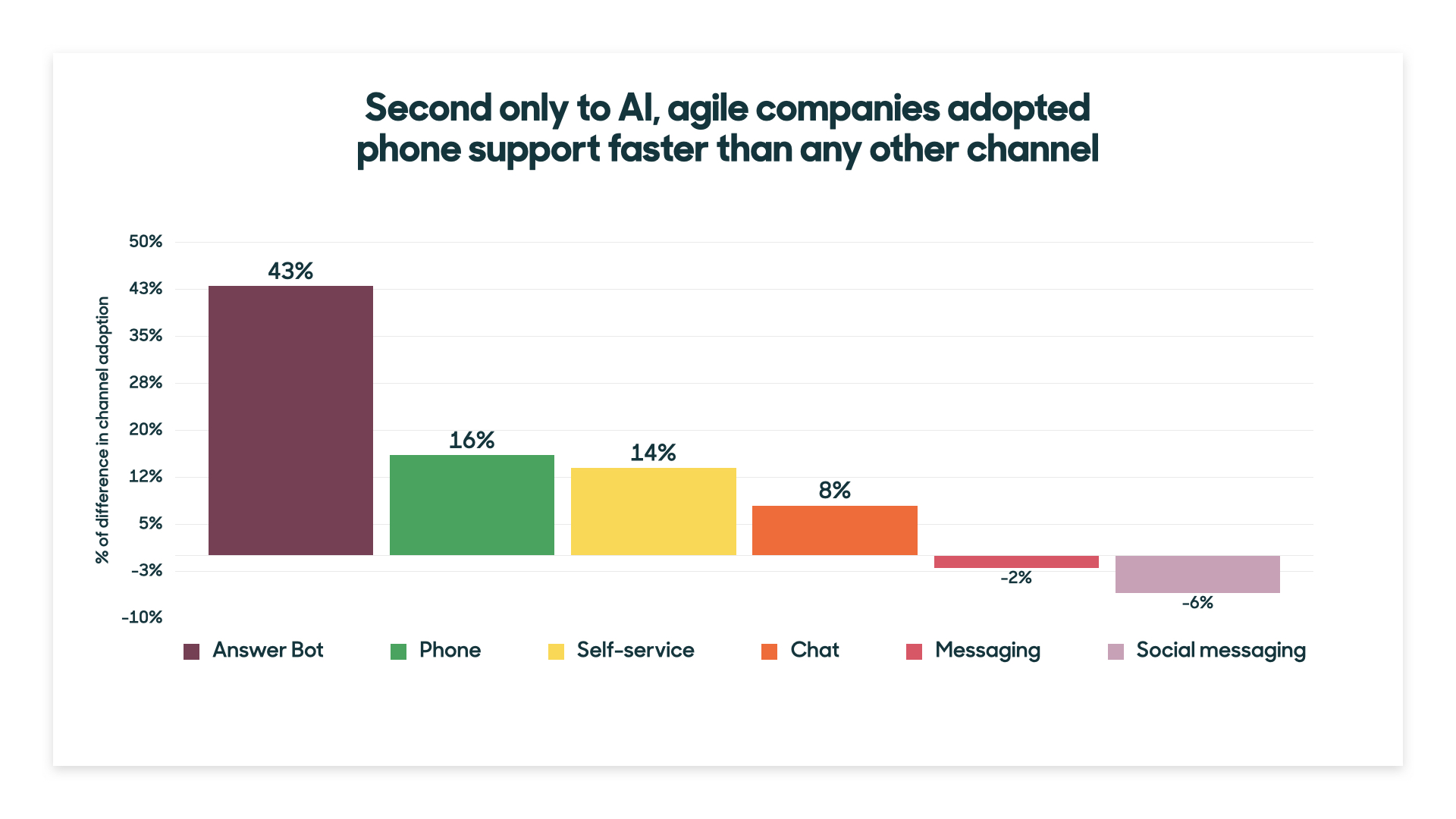 Across regions, companies in Latin America were most likely to prioritize chat support (18 percent boosted agent counts), while those in the US and Canada focused more on adding seats in their call centers
I'll take the phone support, please
During this same period, more agile companies added phone support than nearly any other channel. Second only to Zendesk's AI-powered AnswerBot (which rode the self-service wave this year), phone support adoption jumped 16 percent, while popular social messaging channels like WhatsApp and Facebook Messenger dropped 6 percent during the same time period.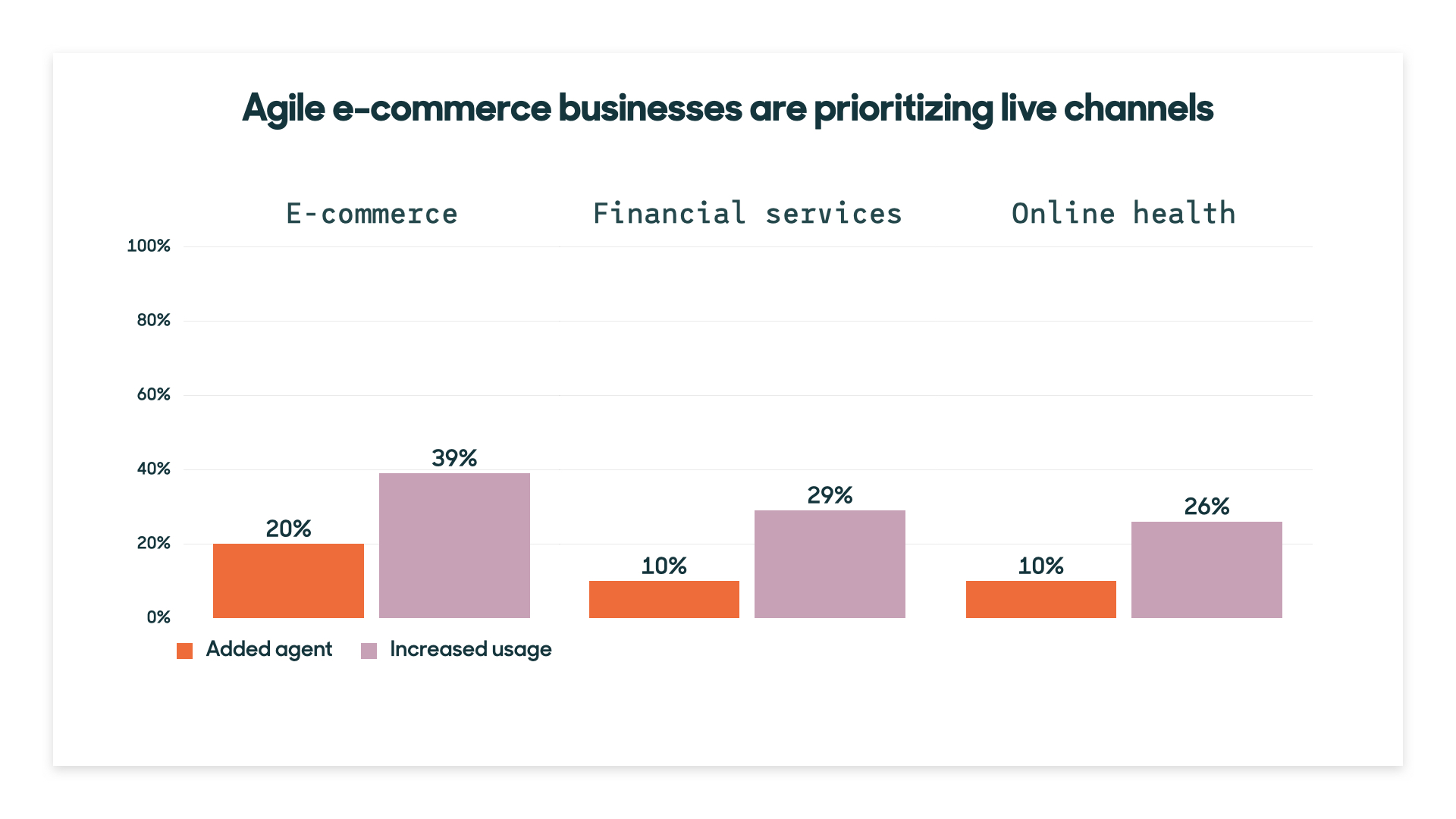 So who's adding phone support?
Internal support, B2B
Financial services, gaming, fitness
Larger companies
Companies in Asia-Pacific and North America
Phone support saw numerous converts, with especially high adoption rates for internal users and for companies in the Asia-Pacific region. Agile companies supporting internal staff rushed to adopt phone support, where rates have risen 36 percent since February (B2B adoptees also saw a 24 percent bump). Across Asia and the Pacific, rates rose 50 percent — more than three times the rate of North America, the second highest.
And though the financial services sector saw lower staffing increases on existing live channels, many smaller companies actually added phone support for the first time. Adoption rates spiked 28 percent, with adoption also up for the gaming (up 30 percent) and fitness sectors (up 16 percent).
Fewer companies turned to chat support this year. But there were some bright spots — small companies were more likely to add chat (up 11 percent), with higher rates also seen among the hard-hit online health (up 22 percent) and travel (up 17 percent) sectors.
Getting better at going live
Whether you're adding live channel support for the first time or a seasoned pro, it's helpful to go over best practices, particularly during volatile periods.
According to The Zendesk Customer Experience Trends Report 2020, nearly 70% of consumers opt to resolve their support issues over the phone, and providing exceptional experiences here can make your brand stand out and earn you lasting customer loyalty.