Nothing has accelerated the digital shift quite like the recent pandemic. According to McKinsey's recent report, Retail Reimagined, we've jumped 10 years ahead in less than three months as customers seek digital, contactless ways of shopping. Great news for e-commerce companies, less so for more traditional retailers.
Retailers are now having to rethink the entire customer journey as they move away from storefronts and embrace online experiences. Suddenly, the retail associate has become the customer service agent — fielding questions on sales, sizes, and prices much like an in-store employee would fetch you the next size up in jeans.
This is no small feat. Especially since this transition is taking place as record numbers of customers are reaching out.
But nearly 1 in 5 retailers have managed to keep their support teams agile, according to our Benchmark data, which tracks the support operations of more than 24,000 companies globally. That is, they're keeping resolution times from rising even as volume has gone up. How?
They're embracing online support
Self-service adoption among agile retailers is up 106 percent since the pandemic began. Think about that for a second. That's double the number of retailers adding an online help center since February. By letting customers find answers themselves, these retailers are saving them from having to reach out in the first place and keeping agents focused on more complex problems.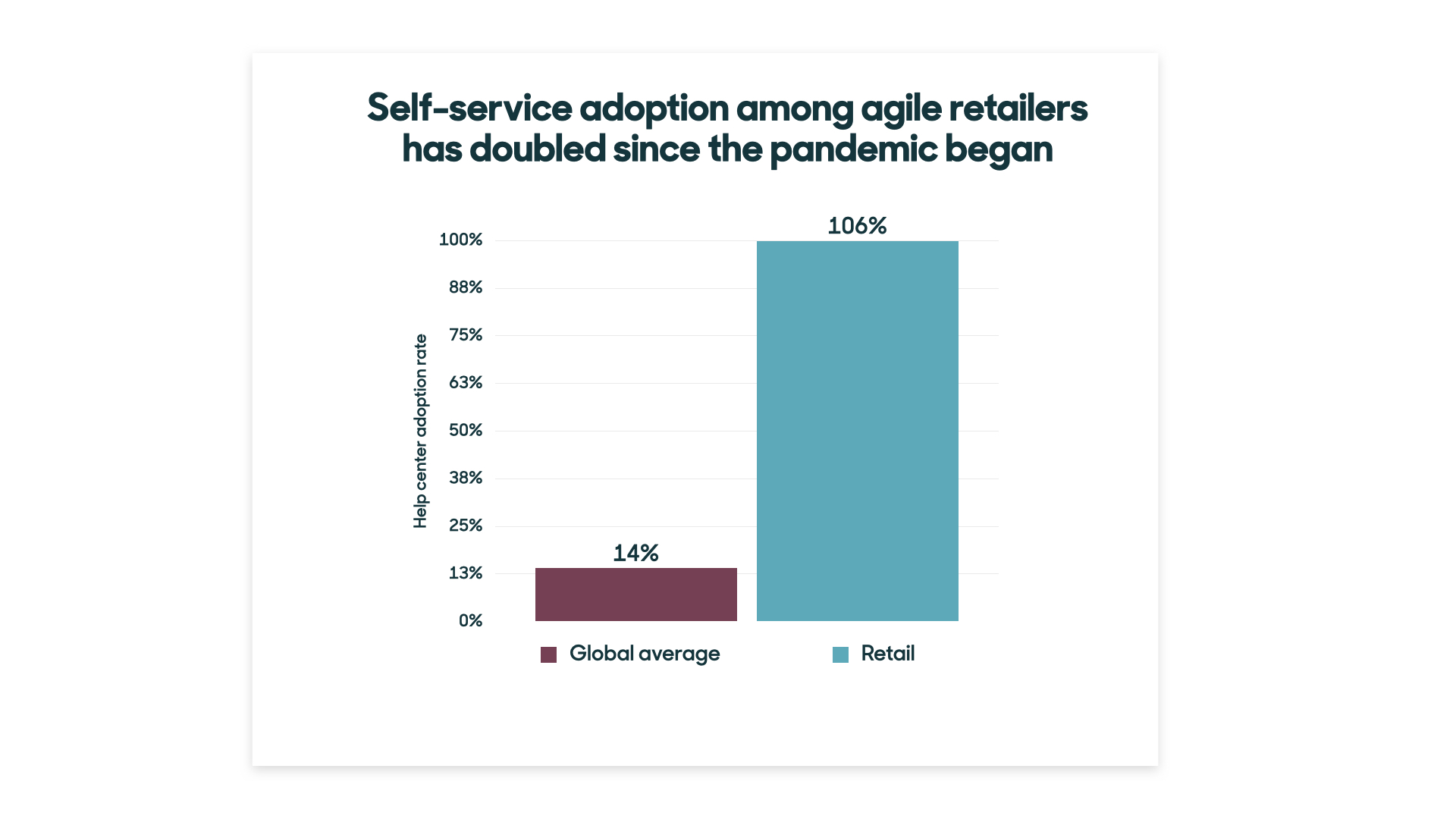 It's a trend that we've seen with e-commerce companies, where self-service adoption rates are 20 percent compared to the previous year.
For retailers that already have a help center in place, over half have added new content during the pandemic and more than 10 percent have dedicated at least one new agent to the effort.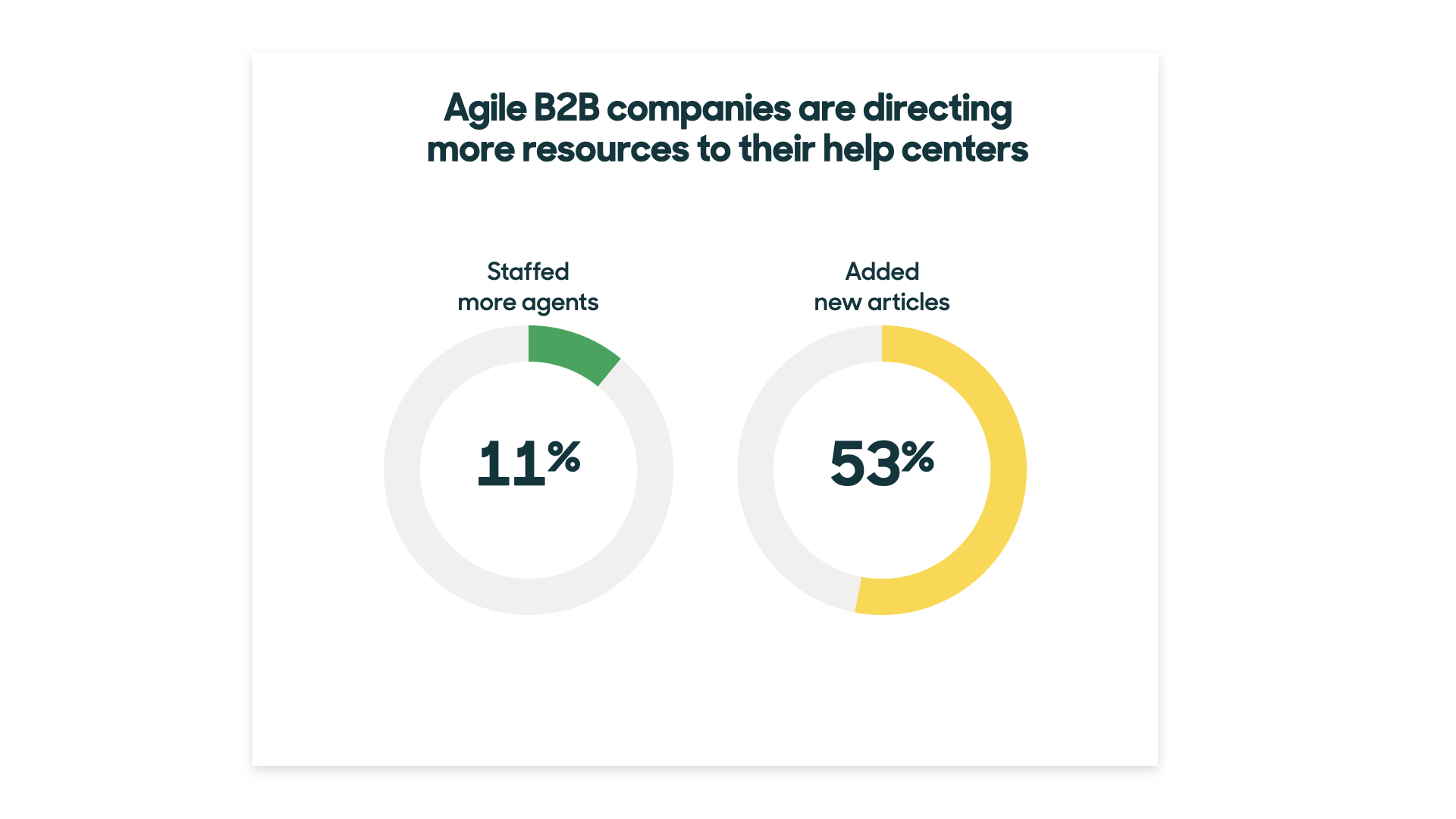 In choosing where else to scale support efforts, retailers are increasingly looking to online channels. Chat support adoption among agile retailers rose 10.3 percent since February, more than three times the rate of phone support.
They're focused on speed
Live channels like phone and chat support solve customer issues in real time, which means they're great ways for keeping resolution times low.
They're also the most popular way for customers to get in touch. Looking just at high volume increases in volume and staffing (of at least 10 percent), nearly 30 percent of agile retailers reported a significant bump in ticket volume over chat, the highest increase of any channel. And 10 percent boosted the number of dedicated agents.
Phone support also remains a valuable tool for those who have it, even if new adoption is down. More than 27 percent of agile retailers saw the same notable jump in tickets, with 15 percent beefing up their agent counts by 10 percent or more.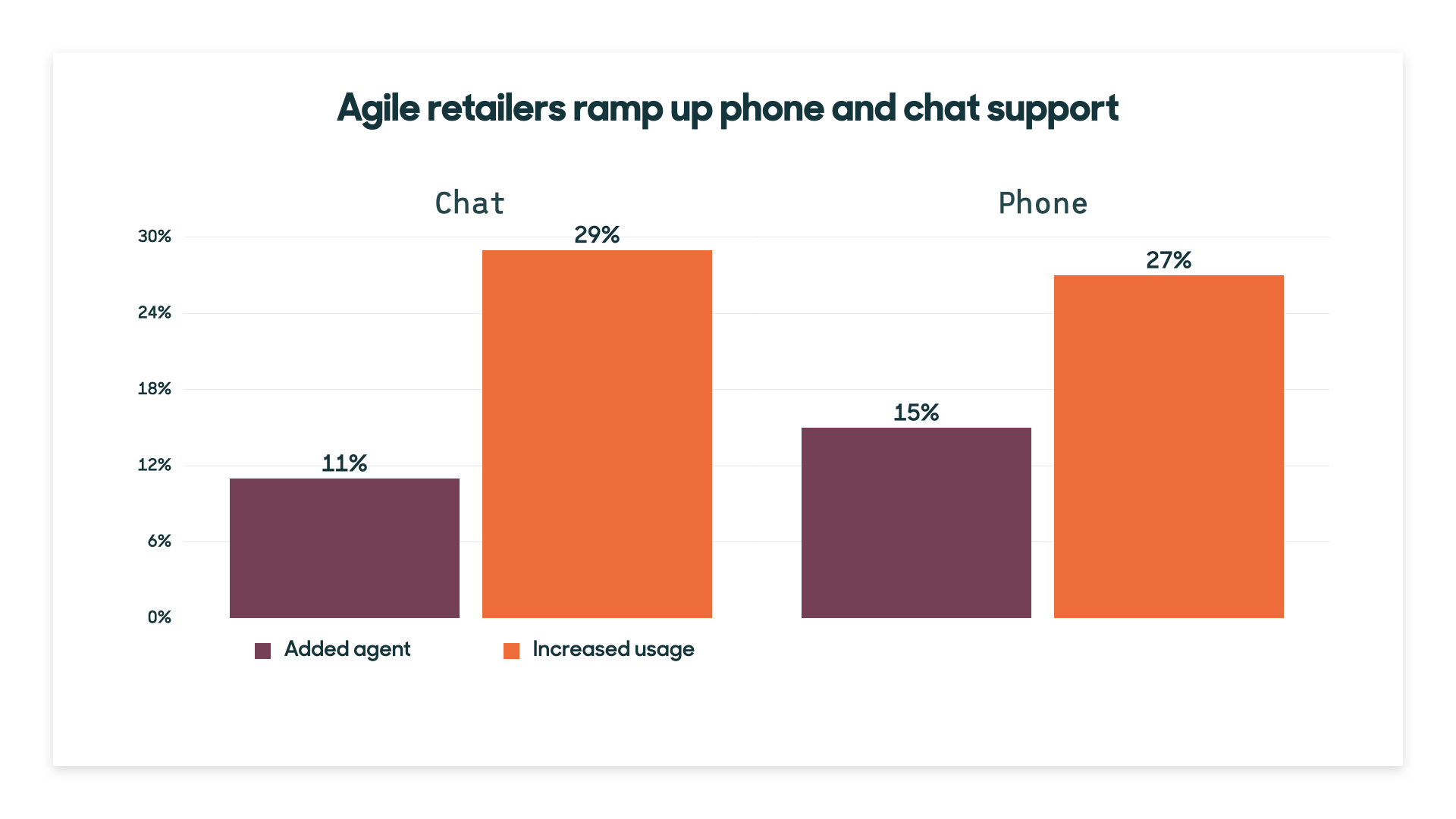 They're boosting agent efficiency
When ticket volume is high, it's helpful to have a streamlined support operation. This means that tickets are getting to the right people, simple tasks are automated, and agents can access the resources they need in scalable and repeatable ways.
To help make teams more efficient, agile retailers have increased their use of workflow management tools by 11 percent since February. They've also increased their use of in-house or third party apps (available through the Zendesk Marketplace), which can help add further functionality for support teams.
The next normal
Retailers must continue to evolve if they want to meet the changing needs and preferences of their customers. Those waiting for things to "get back to normal" will almost certainly get left behind.
Agile retailers have taken important steps to reshape their support operations into what their customers expect them to be. But there are other shifts taking place, such as the incredible growth in customers turning to messaging apps, that suggest that convenience may be just as important to customers as speed. In this ongoing effort, change is the only constant. Keeping track of what customers want will help retailers stay ahead of this rapid pace of change.