Agent burnout can be a real issue, even in normal times. Throw in the shakeup of a global pandemic and higher than normal ticket volumes, and that risk is only magnified.
A Gallup panel taking before the pandemic found that 76 percent of workers experience some form of burnout at work. And under this new normal, it's easy to assume that most, if not all, agents are feeling it more than usual.
Agile companies are keeping up with the surge, but they're certainly not immune to the stressors that come from periods of volatility such as this. In fact, at least twice as many agile companies have reported large-scale increases in the volume of tickets coming in, than have reported scaling their staffing levels to meet these surges. For the purposes of this piece, we're looking only at increases in ticket volume or staffing levels of 10 percent or more. Improvements in efficiency aside, this means that most of their agents are working harder to keep resolution times from rising.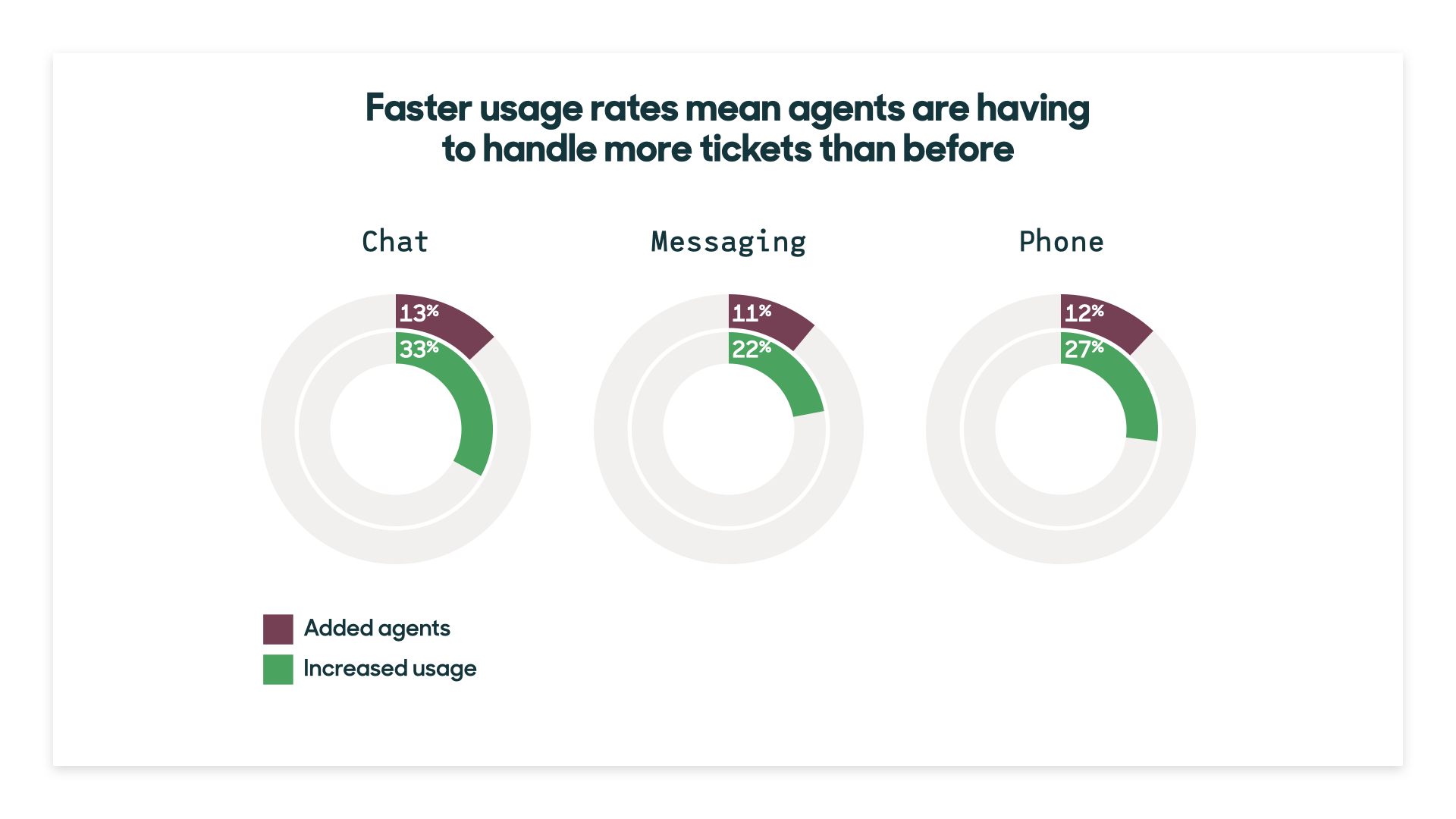 Thankfully, burnout can be managed. But first it's important to look at a few places where agents might be feeling most overwhelmed:
Self-service: Most agile companies have added new articles to their help centers during the pandemic. Updated content means that fewer customers need to reach out for answers to common questions. But despite the increased workflow, agile companies have been slower to add additional staff. Only 15 percent have added any new agents to self-service, while 63 percent added new content.
Live channels: Agile companies have turned to channels like phone and chat more than any other this year, and with good reason — usage rates have soared. Looking just at large-scale increases in ticket volumes and staffing, nearly a third of agile companies have seen tickets spike on phone and chat support since February. This is more than twice the 13 percent rate of companies that increased agent counts on these channels.
And when you look at agile companies in the Asia-Pacific (APAC) region, these gaps are even larger, particularly on phone support. A third of APAC companies also had large-scale ticket increases, but this was more than 13 times the 2.5 percent rate that increased agent counts.
Smaller companies: With fewer resources at hand, it's no surprise that smaller agile companies have had a harder time scaling their support teams to meet surging demand. Companies with less than 100 employees, for instance, had the highest rates of high ticket growth over messaging channels (23 percent), more than 2.5 times the rate at which they were increasing staffing (9 percent). These companies saw similar gaps with chat, phone, and self-service channels.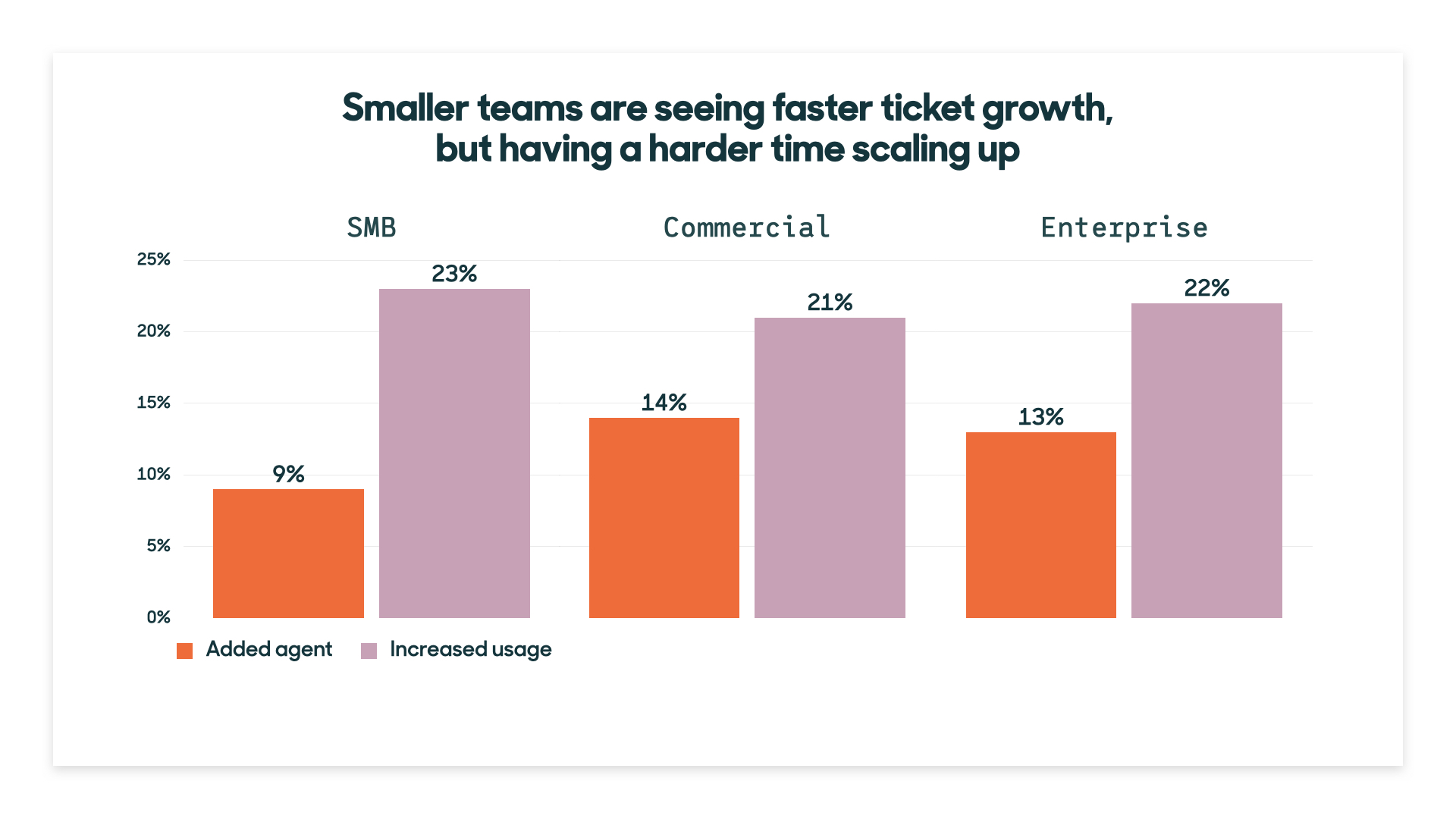 Financial and retail sector companies: Agile companies in financial services were five times as likely to see significant increases in call volume than increases in staffing in their call centers. And this gap only slightly narrowed for chat support: teams were four times as likely to see increased volume than increased agent count. To keep resolution times low, support agents working in the financial sector are likely taking on a heavier workload than they did before the pandemic.
How to manage burnout
Here are a few tips to keep agents from feeling overwhelmed, especially during periods of sustained volatility:
Make them feel valued: Let agents know how important their role is to larger company goals, so they can understand the value of their performance
Boost morale: Keep morale high with incentives, group collaboration, or sharing daily achievements. One remote team has been using daily "power hours" to connect over music and get as many tickets solved as possible. At the end of the hour, they do a round of applause and get back to their individual work. Collaborative activities like this, especially while teams are remote, can help agents feel connected.
Mix it up: Provide agents with a little variety to keep them engaged. Instead of having them answer emails all day, allow them to do a phone support shift, or answer chat messages.
Check in: Have a short, morning "touch base" with your team to share your goals for the day and what the team's priorities are.