 BACKGROUND IMAGE: iSTOCK/GETTY IMAGES
Evaluate
Weigh the pros and cons of technologies, products and projects you are considering.
What to buy in CRM platforms: A primer
CRM platform buyers have a range of options. This tip outlines some considerations if you're buying or upgrading a CRM system.
In the past, customer relationship management software was affordable only within the four walls of enterprise...
Continue Reading This Article
Enjoy this article as well as all of our content, including E-Guides, news, tips and more.
businesses. Only businesses with the infrastructure, personnel and budgect could buy a CRM system for sales, marketing and service teams.
With advancements in Internet connectivity speeds, cloud technologies and software as a service (SaaS), a CRM software purchase is now within reach of every business.
So the question is no longer, "Can I afford CRM for my business?" but rather, "Which CRM system should I choose?"
Today, the CRM market is vibrant and fast-changing. Cloud-based CRM makes it easier than ever to go from zero to CRM with less deployment pain and lower cost. In this article, we'll outline some key CRM features and buying criteria and compare the market. Obviously there are additional considerations, and every business must generate its own list of criteria. But for the purposes of this discussion, let's look at the main criteria of a CRM technology. They are as follows:
Given advances in other technologies including the Web, a CRM software purchase is now within reach of every business.
hosting options
mobile options
cost
sales
marketing
service
storage
reporting
Given the crowded field of the CRM market, it's impossible to compare an exhaustive list of offerings. Still, taking the lead from market analysts, I've outlined four CRM systems that are consistently mentioned as options. I would characterize two of the four as "market leaders," and two as targeting smaller companies but definitely worth considering. The four CRM systems are Salesforce.com, Microsoft Dynamics CRM, Zoho and SugarCRM.
Salesforce.com
Salesforce.com has led the way in cloud-based CRM for years. It offers the CRM system Sales Cloud, which comes in five editions, starting with Contact Manager, an entry-level CRM system for managing contacts and accounts, which starts at $5 per user per month. Its Performance offering, which targets companies looking to build and extend CRM, is priced at $300 per user per month. The most popular edition, and I would argue the one that best fits most business needs, is Enterprise. This is priced at $125 per user per month and offers sales process management with lead and opportunity management, customizable dashboards, workflow and integration options via an application programming interface (API). Salesforce offers a mobile option in the Contact Manager edition along with customizable reports. It's worth noting, though, that the Contact Manager and Group editions have a five-user maximum, so for most businesses, the entry level for Salesforce probably starts with the Professional edition.
All In all, Salesforce.com is a solid technology, with 15 years in the CRM market. For many technology buyers, the end of the dominance of installed software gave way to a new age of software as a service. SaaS suits many business models, giving an array of functionality across a sales cycle with little hardware overhead. Features like Social Intelligence, and integration with Data.com bringing industry sales data right into Salesforce, make it a valuable tool for businesses. On the downside, it doesn't offer an on-premises option, and the pricing for Professional and Enterprise is higher than many of its peers.
The biggest pro: It has flexible technology with key features, including real-time visibility of the sales pipeline that includes mobile access across all editions. Integration with third-party data tools including Data.com, Twitter, LinkedIn, YouTube and Klout will increase productivity across your sales cycle, from lead to customer relationship.
The biggest con: Cloud-based-only technology that poses security concerns for some companies
Cloud-based CRM makes it easier than ever to go from zero to CRM with less deployment pain and lower cost.
Salesforce.com's main features:
Outlook sync. Salesforce data syncs automatically with your Outlook application, including contacts, calendars and more.
Customizable sales process. You can tailor sales processes to your business workflows and processes. This is a major selling point, because workers can be resistant to using technology that provides only canned processes.
Web-to-lead capture. This enables companies to capture information from their websites and incorporate the data into the Salesforce application and to generate leads from that data.
Mobile offline access. This is critical for sales people in the field who can enter data in the CRM application and sync it back to master data later on when they are connected to the Internet.
Integration via Web services API. This enables the Salesforce app to sync with other back-office applications, such as ERP, financial and other systems, as well as giving businesses the ability to build on the functionality and integrate with other services.
Microsoft Dynamics CRM
Microsoft was late to the CRM market, and early editions of Microsoft CRM were poorly received. In the past few years, however, Microsoft has spent serious time and more than $2.3 billion on Dynamics CRM and cloud services, which has evolved into an enterprise-class solution. Given Microsoft's array of other business productivity products, it also offers the benefit of integration.
With the advent of CRM online, Microsoft could offer three options for hosting. Cloud or CRM online is Microsoft's technology. You can also use Microsoft as a partner hosted or on-premises system. Licensing can be fairly complex when dealing with Microsoft, so for this article, I'm basing my analysis on its cloud offering, CRM online. Pricing for this edition starts at $65 per user per month. Dynamics CRM offers a full-suite technology, so from lead to deal through opportunity and service, Dynamics CRM can build a company's customer relationships. Along with Microsoft's other business tools -- Office and Office 365 -- CRM integrates to offer email tracking, data analysis and document management -- all at additional cost, however.
The biggest pro: Microsoft can nurture leads from opportunity to service. Microsoft is well integrated with other business productivity products, such as Office and Office 365.
The biggest con: Microsoft CRM comes with a hefty price tag. Microsoft is also known for being a follower, not an innovator and has been late to the game on cloud-based technologies.
Dynamics CRM's main features:
Native Microsoft Office integration. Buying Microsoft CRM brings easy, automatic integration with other Microsoft business productivity apps, such as Office and Office 365.
Custom reporting and dashboards. To create custom data reports for executives, Microsoft makes it relatively easy to present this data in custom reports.
Workflow and business process flow. You can map out and even optimize business processes with Dynamics.
Integration via Web services. Microsoft syncs with other back-office applications, such as enterprise resource planning, financial and other systems.
Mobile access. Microsoft has developed Dynamics with a relatively easy-to-view version for mobile applications.
Custom entities. This feature enables third parties to build on top of the CRM application for additional functionality: For example, a custom Project Entity may be created with all associated relationships between contacts and accounts, and all the functionality of system entities.
99.9% financially backed service-level agreement. Microsoft stands behind its SLA to a high degree, which provides companies with security regarding data loss and other potential problems.
Zoho
Zoho offers various online products and cloud-based technologies, and CRM is one of them. Pricing starts about as low as you can get; it's free for up to three users, which makes it a good starting point for small businesses. For that you get lead, opportunity, account and contact management. There is built-in Web form functionality that allows users to capture Web data directly into the CRM application (this feature doesn't come standard with even the higher-priced CRM systems mentioned previously). There are mobile access and API options for developers. The downside to the free edition is a 5,000-record maximum. At the top end of the chain is the Enterprise offering, which is $35 per user per month. This allows for custom modules, multi-currency and advanced workflow. On the whole, Zoho is a solid product and priced below many of its competitors.
The biggest pro: You can try it before you buy it and get the benefits of certain enterprise-class features, such as automatic data capture from the Web into Zoho.
The biggest con: The free edition is a good trial technology, but it has a hard limit on the amount of data that can reside in the application.
Zoho's major features:
Web to lead capture, contact, case forms. Users can capture data directly into Zoho through case forms.
Custom dashboards. With custom dashboards, users can present a slice of data.
Marketing automation. Marketing automation tools automatically segment slices of a company's audience for tailored messaging and allow you to measure your efforts.
Twitter and Facebook integration. The rising importance of social channels to the customer experience, the need to meet customers where they are as well as the need for marketing efficacy make integration with social platforms an increasing must-have for CRM systems.
SugarCRM
SugarCRM offers a product that works with your sales, marketing and support business areas. Pricing starts at $35 per user per month for the Professional edition with an on-premises option, right through to $150 per user per month for the Ultimate edition. All options offer a mobile experience, and storage options for cloud instances range from 15 GB for Professional to 250 GB in Ultimate.
The biggest pro: SugarCRM's code is open source, so it's extensible and flexible. The application can be customized relatively easily.
The biggest con: SugarCRM requires knowledge to use and it takes time to learn the framework, so it's not a good application to choose if you don't have the in-house support.
SugarCRM's main features:
Customizable sales process. You can customize workflows to reflect a company's individual sales processes.
SMS integration. Just as integration with social platforms has become a non-negotiable item, other platforms, such as text message, have become important consumer communication and service channels. The ability to integrate a CRM with SMS messages is also pivotal.
Web-to-lead form. This system also enables companies to capture customer information provided on a company website and automatically feed that data into SugarCRM.
So how do these actually stack up against one another? Let's take our requirements and compare the Enterprise edition from each vendor: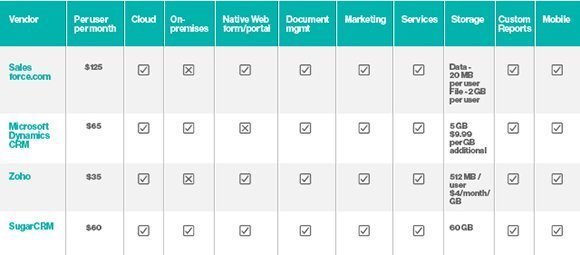 There are several options, with varied pricing and functionality. Taking all this into consideration, how should companies may a CRM system choice? Really, functionality and cost should factor into the decision. When you are looking at costs of free to $125-plus per month, pricing may be a consideration. But the first step should be to sit down and define what your business needs are. Once you have established key requirements, it's much easier to choose a technology.
About the author:
Robert Peledie is a CRM consultant with experience implementing CRM technologies in many areas of business, including financial services, the public sector, and in numerous countries, including the U.K., Finland, the United States and Australia. Peledie has experience working with businesses to map out their CRM journeys, from inception to implementation and in choosing the best technology for business needs.