Manage
Learn to apply best practices and optimize your operations.
Tips for using analytical tools to take action on customer data
When used effectively, customer data can provide decision-making support, increase profits and provide a competitive advantage. Find out how to use analytics tools to leverage customer information.
In this installment of the customer data and analytic s guide, Leslie Anent of Hypoactive Research, LLC provides tips for optimizing analytic s to take advantage of customer data. Read expert advice on using analytic s effectively and hear about real-world examples from companies like GMAC Insurance and Bell Canada.
---
Don't miss the other installments in this customer data and analytic s guide:
Tips for using analytical tools to take action on customer data
---
In most organizations, customer information resides in multiple data marts, is utilized by multiple departments and is captured through multiple channels. Across numerous industries and in B2C and B2B companies, customer data is analyzed and action is applied primarily for operational and/or strategic decision support. In short, it is all about revenues and customers.
Taking action to support strategic or operational decisions
Previous quantitative research by Hypoactive Research, LLC revealed that use of timely, complete and accurate information leads to improved customer service levels, reduced operational costs, increased revenues, and higher customer satisfaction and retention rates. In short, it's all about revenues and customers -- how do we increase market share growth and customer profitability, reduce customer migration or credit card fraud, and enhance retention rates?
Figure 1: Why take action on customer data?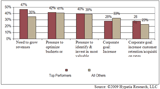 Source: ©2009 Hypoactive Research, LLC
For many organizations, gaining customer visibility across all channels, trading partners, distributors, suppliers, end users and stakeholders is a top priority, with the goal being to glean customer insight. In B2C industries such as telecommunications, retail and financial services, companies often struggle to understand and respond to their best customers within a multi-channel environment. Not surprisingly, leveraging customer information requires that companies have visibility across purchasing channels, products, and customer value metrics as well as demographic information, transactional history and lifestyle stages.
Hypoactive Research found that a majority of organizations take action on customer information for the following five reasons:

Source: ©2009 Hypoactive Research, LLC
In fact, leading companies such as American Express, Walt-Mart, Harrah's Casino and Staples consistently create actionable insight out of discernible patterns in customer behavior. These patterns are tracked through various methodologies, such as:
Traditional direct marketing practices, such as response rates per customer segment or profile based on discrete or diverse dimensions such as demographic or transactional information. Catalog retailers, consumer goods and manufacturers of electronic equipment paved the way for this approach.
Sophisticated predictive models (mathematically based algorithms and/or probability models) designed to forecast or influence the customer's next likely online or in-store purchase. This type of one-to-one relationship (1:1) is often referred to as mass customization or extreme personalization.
Semantic and text analytic s tools are used to glean actionable insights from blogs, online chat rooms, customer call centers and feedback forms, and even online surveys. An early example of using unstructured online information includes the product genesis behind the creation of the wildly successful "Swiffer Mop" owned and distributed by Procter & Gamble.
Rules-based trigger communications or offers that are based upon recent customer events, actions and online or mobile behavior. Retail banks were early adopters of this type of analytic s to target customers with products based on lifecycle events such as applications for mortgages, opening IRSs, or 529 college saving plans.
Diverse enabling technologies and analytical tools can facilitate planning and execution of both inbound and outbound customer interactions. Commonly used analytical tools are offered via various delivery models, including enterprise licenses, Software as a Service (SaaS), and managed services, and on a project basis. Often these analytical capabilities are defined by the following categories:
"Trigger data such as life events, birth of a child, death in the family, household move, or bankruptcies create an opportunity to influence customer responses."


,
Web analytic s
CRM analytic s
Marketing automation
Business intelligence/data mining
Text/search analytic s

However, enterprises are still challenged by a lack of internal expertise when it comes to creating customer insight out of the data. More importantly, companies struggle to know what to do with this insight. How should one execute on "actionable intelligence"?

Tip #1: For every customer action, there is an equal and opposite reaction
Once organizations have laid the foundation with customer data management (see Customer Data Management: How Leaders Attain Tangible ROI, ©2008 Hypoactive Research, LLC), they need to determine why, how and when that customer insight should be exploited. In short, successful organizations will develop a plan that takes into account current resource and technical capabilities, versus future desired outcomes based on the enabling technologies available. Certain analytical tools lend themselves to specific real-time customer interactions, such as reduction of customer migration or fraud, while others are better suited for long-range customer issues, such as loyalty and lifecycle management. Remember, for every customer reaction, there is an equal and opposite reaction!

For example, GMAC Insurance, a subsidiary of GMAC Financial Services, provides auto insurance policies through multiple channels -- direct to customer, Web self-service, and through automotive dealerships. The company became an early adopter of online customer interaction tactics.

GMAC Insurance: Re-engaging the departed customer
GMAC understood that auto insurance is not an impulse purchase. Currently, according to the industry standard, only 4% to 6% of consumers are expected to purchase through the online channel. However, the company was determined to capitalize on its Web presence. GMAC quickly discovered that deploying an online point-of-sale channel presented a unique set of business challenges:

How to streamline the buying process
How to prevent shopping cart abandonment rates
How to re-engage consumers once they leave the purchase process
How to reduce customer acquisition costs

GMAC Insurance's customer strategy
Optimizing throughput was critical to GMAC's online business model. They needed to get a better proportion of those visiting the site to buy. In order for GMAC to exceed industry norms, the company needed to define and create customer-centric business processes for its eCommerce channel.

Deploying marketing automation and analytic s
Initially, the company looked to create an optimal online customer experience utilizing internal resources. However, they found that they lacked the expertise required to address line-of-business challenges. A customer interaction tool was chosen not only for technical functionality but also for its ability to improve business processes, which is something GMAC Insurance highly values. This robust hosted marketing automation tool, based on an analytical engine powered by rules-based decision-trees and statistical probability scenarios, provided GMAC with key delivery capabilities, including:

80-20 split of pop-ups
Geographic recognition

Multi-version calls to action

The new operating state
Within 18 months, GMAC's corporate initiative to offer its customers multi-channel point-of-sale options became a reality. GMAC Insurance is among a number of insurance providers that offer auto insurance policies via an online, self-service model.

Benefits of analytic s
GMAC Insurance has seen significant improvements in customer acquisitions and policies sold. Moreover, the company gains valuable market insight from rapid cycle testing on the Web as well as data-driven analysis of marketing investments.

10% increase in completed policies
Reduced direct marketing cycle from six to nine months to two to three weeks

Ability to drive direct marketing quantitatively

Tip #2: Establish consistent performance metrics and measure everything
Effective utilization of customer data is a challenge for most organizations. However, a few seem to stand out. Not surprisingly, top performers are more mature in their use of customer analytic s techniques and have seen more success with actionable predictive probability models, measurable goals, key performance metrics, and internal expertise in leveraging customer information. Understandably, these organizations have an easier time securing both budget and organizational buy-in as a result of the tangible business case justification and return-on-investment metrics they are able to provide to executive sponsors.

Creation of actionable predictive models
Securing budget/resources
Ability to measure performance metrics per set goals
Establishment of measurable goals/KPIs
Organizational resistance/lack of buy-in
Lack of internal expertise: processes, techniques, technologies

Companies less mature in their use of customer analytic s lack the critical expertise necessary to establish and measure meaningful performance metrics. These organizations tend to take a "throw the spaghetti at the wall and see what sticks" approach in their development of predictive models. Interestingly, this deficit in expertise does not seem to affect their ability to secure budget, resources or internal buy-in. It merely negatively affects a company's ability to justify trial-and-error investments, as well as the bottom line.

Figure 2: Customer intelligence challenges: development of actionable interactions

Source: ©2009 Hypoactive Research, LLC

Tip #3: Select your analytic s vendor wisely
Ever since the publication of "Customer Intelligence Management: Converting Data to Profits" and "Competing on Analytic s," companies have sought to exploit the value hidden in their data. Notwithstanding the overview of various technology categories presented earlier, not all analytical tools are created equal. More importantly, how the tool is utilized is as important as the inherent functionality. Some analytic s vendors bundle comprehensive training, pre-built model templates and proven methodologies, while others will offer professional services for an additional fee. Vendors that provide a menu of pre-built a la carte models and simply walk away from a sale should raise a yellow flag at minimum, as they are probably seeking to sell the same "customized package" of data model templates to your competition as well. Steve Rooks, vice president at Bell Canada, provided us with very candid insights.

Bell Canada: Leveraging customer insight reduces churn rates
Bell Canada, a $17 billion (CDN) telecommunications services provider with 40,000 employees, serves both B2C and B2B customers. Operating in the commodity-driven telecommunications industry requires continuous vigilance lest competitors offer similar products or services at a discount to gain market share. As Canada's largest communication company, Bell's customer retention rates are constantly under siege by cable companies and other information technology service providers.

Strategy
Highly commoditized, price-sensitive businesses have one offering that cannot be duplicated -- a customer's experience. Providing customers with an enhanced experience -- one that the competition could not duplicate -- would prevent them from migrating.

You have to have top-down sponsorship and change the game because a fool with a tool is still a fool.
Steve Rooks
Vice President, Simplification & Expertise CenterBell Canada

Bell knew that a typical customer will have called in with a complaint at least once within 60 days prior to termination. This meant traditional surveys would not provide the customer insight necessary to perform outbound retention programs in time to prevent migration. Bell Canada's strategy was to take action before customers decide to switch service providers by creating a closed-loop customer feedback mechanism, combining real-time interactive survey tools and analytic s to assess and respond to customer behavior.

Moreover, Bell Canada determined that transforming itself into a customer-centric organization required a comprehensive approach, composed of organizational acceptance, business process change management, and leverage of technology that would provide actionable insight in the form of customer intelligence. To this end, Bell Canada developed the following framework to begin to address its transformation into a more customer-centric organization. The company would:

Access, analyze and utilize high volumes of customer insight rapidly in support of customer retention goals.
Identify critical customer quality and service process issues for quick resolution.
Proactively identify and resolve customer escalations and/or credit adjustment issues.
Proactively apply customer insight toward customer loyalty and satisfaction issues.
Deploy "focus team leaders" to address specific agent performance problems.

Use customer intelligence to drive outbound marketing and real-time recovery offers in support of customer acquisition and retention goals.

Results
Within three months of deployment, Bell Canada attained the capability to benchmark key indicators as customer loyalty and satisfaction indexes. To date, tangible benefits include:

6% reduction in customer churn rates
15% uplift in revenues

80% customer acceptance rates, providing rich feedback for action

Conclusion: Making the most of customer data
In today's highly competitive global economy, knowledge of consumer and business behavior, socio-economic, lifestyle and/or demographic information can be transformed through information analysis into actionable insight. It is this insight that provides key decision-making support to companies that seek to enhance profitability and/or gain a competitive business advantage.

In addition to the tips provided above, companies evaluating analytic s tools to leverage customer information should take the following actions:

Determine what provides a superior customer experience. Customers expect that information gathered will be used to personalize the next interaction or communication they receive from businesses from which they regularly purchase -- don't disappoint them.
Consider third-party providers of customer data. Consumer information may be sourced through multiple channels, consumer touch-points, proprietary and public information. Moreover, consumers are well aware that industry is tracking them at a granular level -- by brand preference, warranty card registrations, product and service transactions, online behavior, demographic information and lifestyle stage.
Set clear goals and define closed-loop processes to measure impact. Focusing on select, achievable goals will sustain continuous performance improvements.
Build cross-functional acceptance and collaborative teams. All customer-facing team members must buy into creation of a customer-centric organization in order to leverage the insight and create value from the customer intelligence uncovered.
Leveraging customer intelligence often requires change. Organizational behaviors, business process workflows, as well as technology enablers will require modification in order to succeed. In addition, new skill sets and statistical data-driven expertise will need to be acquired, either through training, selective hiring or engagement with managed services providers.

High-performance organizations create an operational foundation for customer data analysis. In addition, these forward-thinking companies most often take one of three approaches in capturing, analyzing and utilizing consumer information:

1) Self-reliant: Create an internal center of excellence comprising statisticians, analysts and database marketing experts to support customer analytic s initiatives. 2) Source expertise: Partner with one or more providers of information services for flexible, on-demand expertise. 3) Hybrid approach: Utilize in-house expertise combined with outsource information services on a flexible per-project basis, annual retainer or subscription model. Scores of companies offer both analytical tools, platforms and services, but major players continue to serve mainly mid market to larger enterprises -- the majority of these with product categories such as consumer goods, food and beverage, retail, banking, travel, hospitality and entertainment, insurance, healthcare, pharmaceutical, telecommunications, media, and automotive. For more information on vendor selection criteria, research products or scheduling an analyst briefing, contact: ZGR@HypatiaResearch.com / or Research@HypatiaResearch.com.

---

Footnotes
1 - © 2009 Procter & Gamble. All Rights Reserved. Swiffer® is a registered trademark of Procter & Gamble. All copy and claims valid only in the U.S.
2 - Sir Isaac Newton, Third Law of Motion
3 - i.e. The probability of a customer being influenced to make a purchase, provide contact information, or upgrade services due to a proactive interaction for example.
4 - Leslie Anent, (Author), ©2006
5 - Thomas HO. Davenport, (Author), Jean ne G. Harris (Author), Harvard Business School Press ©2007

---

About the Author
Leslie Anent, co-founder of Hypoactive Research, LLC, is a customer intelligence management thought-leader and industry analyst who focuses on how organizations capture, manage, analyze and apply actionable customer insight to improve customer management techniques, reduce operating expenses, and accelerate corporate growth. Her research coverage includes business intelligence, media intelligence/search/text analytic s, CRM, Web analytic s, marketing automation and customer data management/data quality.

Previously, Anent served on management teams and led global marketing and market research groups at De mantra Inc. (acquired by Oracle), Arthur D. Little Management Consulting, Ha rte-Hanks, Banta Corporation, International Thomson Publishing (Chapman & Hall, UK) and Carnegie Hall Inc. She is a member of the American Marketing Association, Society for Competitive Intelligence Professionals, Customer Relationship Management Association, Data Shaping Certified Analytic Professional, Arthur D. Little Alumni Association, and the Software Industry Information Association, and she is a board member of the Product Management Association.

Anent completed her doctorate Phi Kappa Phi at the University of Illinois, Urbana Champaign, and her master's and bachelor's degrees at Indiana University-Bloomington.

---

Don't miss the other installments in this customer data and analytic s guide:

Tips for using analytical tools to take action on customer data