Six customer service channels you need to support
The first step in determining which channels to use for customer service is to understand customer demands, and then supply those communications channels effectively.
As the number of customer service channels continues to expand, organizations have been challenged to decide which...
Continue Reading This Article
Enjoy this article as well as all of our content, including E-Guides, news, tips and more.
to prioritize and where to allocate resources to most effectively engage with current and potential customers.
A simple place to start is to think about the economic principle of demand and supply.
Demand: What are customers asking for?
The demand side of the equation is driven by the demographics and behaviors of current and potential customers. It is critical to identify the channels these individuals use on a regular basis.
For current customers, it is important to understand demographics such as age, gender, education, etc. Additionally, organizations must understand the types and urgency of inquiries from these customers.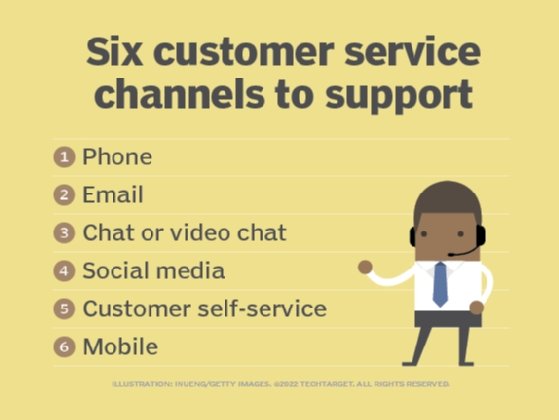 It is not sufficient for organizations to analyze only current customers. The same type of analysis that is noted above must take place for potential customers and targeted future customers.
Supply: What can your organization support?
Once the demand side of the equation is understood, organizations can address the supply side and develop a strategy for supporting the various customer service channels. Here's an overview of the pros and cons of the six main avenues customers use to communicate with companies.
Phone: Telephone interactions are declining as a percentage of total service interactions, but they still make up the majority of interactions and will continue to be a high-volume channel.

Telephone is an efficient way of getting a response, especially for an urgent issue. It may also be the most effective way to provide an answer to a complicated question.
Email: Most consumers have access to email, one of the most popular customer service channels. It is effective for communicating proactively with customers regarding promotions or the status of a delivery.

A major issue with email revolves around the timeliness in providing a response to a customer. If a response is not provided quickly, a customer may pivot to another channel or seek resolution from another source to get an issue resolved more quickly.

Another issue with email is it isn't a real-time interaction. As a result, numerous exchanges may be required in order to fully resolve an issue.
Chat: Chat is a growing channel that provides quick responses to customers or potential customers, especially if they are performing research on an organization's website and are on the brink of a purchasing decision.

Video chat, an extension of basic chat, is valuable if a customer is looking for a demonstration of a product or requires visual guidance.

Chat has many similar benefits as those for the telephone channel, but it can be more cost-effective because an agent is able to manage multiple chats simultaneously.
Social media: Social media is a unique channel that enables a single customer to speak with an organization, and to also speak with a broader audience. A social channel , such as Twitter, is very powerful, especially if customers are not speaking highly of an organization.

It's critical for organizations to support social media channels because of the volume of people who may hear an unhappy customer.
Customer self-service: Self-service channels enable organizations to be available to customers 24 hours a day. Self-service is most effective for handling simple inquiries, such as a balance on an account, simple directions or the status of a shipment.

From an organization perspective, self-service is one of the low-cost customer service channels, given the minimal staffing costs. Self-service tools must be designed well to be effective and customer-friendly.

With the continuous improvement in artificial intelligence and chatbots, this channel has tremendous potential for higher utilization in the years to come.

A downside to self-service is that it doesn't enable companies to engage a customer in an ongoing dialogue.
Mobile customer service: While mobile customer service via text (or SMS) is not a highly utilized channel at this time, mobile users are spending an increasing amount of time in mobile apps -- nearly 20% of media time, according to an April 2017 survey by eMarketer. As the number of devices continues to increase, there is tremendous potential for growth in mobile customer service.

Text messaging is an effective channel for proactive reminders and notifications, and it has the potential to support ongoing dialogues with customers.