Fotolia
Salesforce Quip gets a facelift
At Dreamforce, Salesforce launched a major update to its Quip collaboration environment that enables employees and users to customize the collaboration interface.
SAN FRANCISCO -- Salesforce launched a major overhaul of the Quip collaboration tool it acquired in July 2016....
Continue Reading This Article
Enjoy this article as well as all of our content, including E-Guides, news, tips and more.
The core concept behind the new version is organizing everything related to a project in one tab.
This, Salesforce hopes, can reduce the friction associated with clicking through different browser tabs associated with email, chat, cloud storage, shared spreadsheets and other Salesforce apps a company may have integrated into its CRM platform
First launched in 2013, Salesforce Quip enables users to collaboratively chat and work on shared documents and spreadsheets. Salesforce calls the latest update, announced at the annual Dreamforce user conference, the Salesforce Quip Collaboration Platform. It enables users to bring a wide variety of live applications onto a single canvas.
A project manager can customize the widgets associated with a project and provide team members with the permissions required to make changes. All the updates to this page can be automatically reflected in the appropriate Salesforce database in an auditable and, if necessary, reversible manner.
Focus on a single canvas
Collaborative interfaces are certainly not new, but the team behind Quip has a lot of experience in launching some of the most successful apps on the web, including Google Maps, FriendFeed and the Google App Engine.
The team leveraged this experience to create a core set of Quip widgets called Live Apps, as well as an API that enables third-party developers to add new widgets to the platform. The individual apps were developed by DocuSign, Lucidchart, New Relic Inc., Altify and others. Now that the platform is live, more apps are expected to be developed. Current Salesforce apps include Salesforce records, calendars, Kanban boards, shared documents and chat.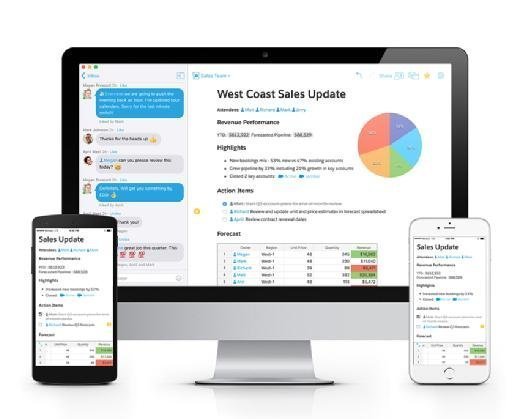 The Altify app enables teams to include a widget to map out the relationships inside a customer opportunity. The New Relic app enables a marketing team to track website performance during big events, like Black Friday sales, so that the sales and engineering teams can collaboratively make changes during the campaigns.
A project manager can also create a Quip workbook that best matches their team's process. A single workbook can include a marketing budget, marketing goals and marketing documents, all in one place.
Collaborating on a better film
Salesforce Quip is used by 29,000 employees at 21st Century Fox Inc. to manage film production, sales and marketing. Creatives use it to track scripts or call sheets associated with TV and movie productions. All changes are made to a document of record in one place so that everyone is working on the same version. This reduces the burden of trying to weave changes made to different versions of a document into the master.
What's particularly intriguing is the level of granularity with which participants can reference data in the apps. For example, 21th Century Fox producers use Quip for reviewing film dailies, and they can tie a chat to an arrow pointing to a specific object in a video frame. This saves them time because everyone involved can look at the exact video frame in the footage without having to open another window and manually look for it.
Creating a new experience layer to drive process
Salesforce Quip represents an example of driving better workflow by improving the user experience layer.
Twenty years ago, enterprises talked about process. Now, we have moved to engagement. If I create the right engagement mechanism, the process is a byproduct of that.

Paul Gaynorpartner, PricewaterhouseCoopers
"The experience could be a customer, employee or partner experience," said Paul Gaynor, partner at PricewaterhouseCoopers LLC, at Dreamforce. "A focus on the experience layer allows enterprises not to focus so much on the process, [but on] how to bring about engagement. Twenty years ago, enterprises talked about process. Now, we have moved to engagement. If I create the right engagement mechanism, the process is a byproduct of that."
The key is to hide the complexity from users.
"Behind the scenes, we want to apply AI, machine learning and the capability to bring multiple data repositories together, either in the public or private cloud, and have them merge," Gaynor said. "If I create the right enablement, then the process naturally follows."
Turning business into a team sport
"Complex enterprise selling is a team sport," said Anthony Reynolds, CEO of Altify, referring to the difficulty of a company selling its products or services to large organizations.
It's too easy for teams on all kinds of projects to get bogged down in the minutia and friction of moving between different apps. The promise of Quip is to make any enterprise process a team sport. The idea of a team sitting around a single screen related to a campaign sounds a lot more exciting than separate individuals trying to keep up with a flurry of emails, chats and various app notifications.
Leading sales organizations are starting to adopt a more collaborative approach to selling to larger customers. Account-based marking (ABM) has emerged as a way of customizing the marketing message to address the unique needs of all the stakeholders in a target opportunity. But this requires a high level of collaboration between all the employees involved in customizing the marketing communication and sales strategy for the target customer.
"A company can't really be successful with their ABM strategy unless it is tightly coupled with an account-based selling strategy," Reynolds explained. "Account-based marketing starts with [a] better understanding of a company's unique needs to enable a custom engagement. Altify allows an organization to cleanly execute the handoff from marketing to sales teams so they can effectively position value, connect to power and get a deal done."
Salesforce Quip is still in its early phases compared to traditional communication channels, like email and chat. Reynolds estimates that about 10% of Altify's customers are using Quip today, while another 25% are exploring it.
Note: TechTarget offers ABM and project intelligence data and tool services.