James Thew - Fotolia
Microsoft's Power BI puts business users at forefront
With Microsoft Power BI, the company is demonstrating a shift in focus to enable business users to better analyze data.
It is often said that the IT department's job is to use technology to solve business problems. In recent years, however, the role of IT has been undergoing a transition. With more and more systems being outsourced to the cloud, corporate IT is focusing less on technology and more on data.
It is easy to dismiss the so-called big data revolution as little more than a corporate buzzword, but the term underscores the transition taking place in IT. Increasingly, it is IT's job to help business leaders make more informed decisions by providing them with more efficient ways to access and analyze data. So, Microsoft's Power BI within Excel is the company's way of filling this need.
Of course, corporate IT has always dealt with business data. What's new is the way that data is collected and analyzed. Rather than relying on a single data source, IT is exploiting multiple data sources, from those residing on traditional systems to data produced by small, single-purpose, connected devices. Microsoft refers to the aggregation of data from various business units and devices as "intelligent systems."
Although intelligent systems can be based on an organization's databases and on publically available data sources, intelligent systems provide decision makers with live data that reflects current conditions in real time. Along with Microsoft's Power BI product, the Internet of Things (IoT) plays a big role in Microsoft's approach to intelligent systems.
At its simplest, the Internet of Things refers to nontraditional computing devices being provisioned with an IP address and connected to the Internet. In the consumer space, for example, such devices include IP-enabled thermostats, security cameras, washing machines, and door locks, just to name a few. In business environments, IP-enabled devices may include industrial automation sensors, medical equipment, barcode scanners, temperature sensors and much more.
The question is, will business-line executives find the features of Microsoft's Power BI transformative in their daily decision-making?
These and other Internet-enabled devices can collectively produce huge quantities of data, and Microsoft recognizes that cross-referencing data from connected devices with other data sources can reveal business opportunities that might have otherwise gone unnoticed.
In fact, a 2013 report from the Economist Intelligence Unit reported that 75% of companies were actively exploring IoT or were already using it. The report goes on to state that 96% of the senior executives surveyed expect their organizations to use IoT in some capacity.
Microsoft's approach to intelligent systems does not focus solely on the compilation of data from multiple sources, but also on data analytics. In order to be useful, data must be presented in a meaningful way. Otherwise, the data's volume will quickly become an obstacle to its use.
The company's solution for data analytics is Excel with Microsoft Power BI. Excel includes a Power Query feature that allows you to search for data sources within your organization and to search public data sources. Once the data sources have been identified, Excel can help users to clean, transform and merge data into a spreadsheet. From there, the data can be visualized in various graphical formats, which are referred to as live reports.
Microsoft Power BI is an Excel feature, and traditionally spreadsheets have been relatively static. But Microsoft has made it possible to perform scheduled data refreshes so that live reports always reflect current data. Part of the allure of Microsoft's Power BI is the extensive data visualization available in the dashboards, which makes the data digestible and more intuitive for business-line users.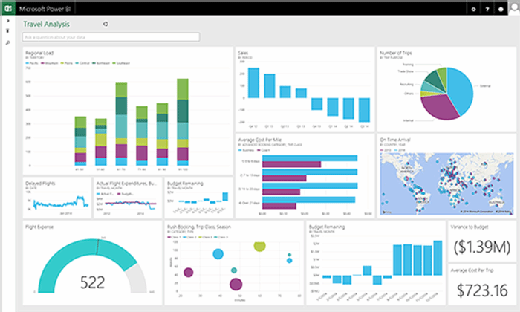 The data within these live reports tends to be most useful when it is shared. And so, Microsoft Power BI sites were created. Microsoft's Power BI sites allow live reports and customized data sets to be saved to a centralized portal where they are accessible to those with whom you need to collaborate.
The thing that makes live reports really useful is that they are interactive. Authorized users can access live reports on their desktops or on their mobile devices and interact with the data. For example, a Q&A feature allows users to ask questions in plain text and receive an answer in a graphical format. For instance, a user might ask Excel to show how much your customers spent last month. Depending on the live report format that is being used, users can perform point-and-click filtering of the data in order to see the information that is the most relevant to them.
Intelligent systems enable users to parse vast quantities of data from multiple disparate sources and then display the data visually in a way that helps business trends to stand out. By making this data more visually accessible and digestible, Microsoft has shifted its focus and put business users, not technical workers, at the center of its strategy. The question is, will business-line executives find the features of Microsoft's Power BI transformative in their daily decision-making?