Fotolia
Get started with Salesforce certification training
As the Salesforce platform expands, getting your Salesforce certification training can increasingly make you an asset to your business.
As the Salesforce platform expands, the knowledge required to manage and maintain that platform has grown exponentially. And while many Salesforce administrators have learned on the job, Salesforce certification training is highly complementary. As the Salesforce Customer Success Platform extends beyond sales, marketing and customer service, certification is becoming indispensable to developing new capabilities, creating apps and programming new features.
Salesforce certification can elevate your skills as an administrator and bring new business capabilities to your organization. The ability to program a new mobile app for your company or to build in new features can save companies serious time and money and can elevate your role -- as well as your career as a whole. Certification also gives users skills in valuable programming frameworks, such as Lightning Experience, Salesforce Classic and Visualforce.
However, as a Salesforce director indicates, Salesforce certification is really about helping admins, developers, architects and business users understand Salesforce holistically, and in the context of their businesses.
"Understanding the holistic value of the platform is much more important than being able to stand up and administer Salesforce CRM [customer relationship management], to deploy Service Cloud for a B2C call center or [to] empower 1-to-1 Customer Journeys through the Marketing Cloud," said Tal Golen, director at Salesforce, in a blog on why Salesforce certification matters. "Certification is about learning to identify the connections between the different products for the purpose of deriving exponentially greater value from the platform as a whole," from sales and marketing, to the internet of things and Analytics clouds."
It's worth noting that, while Salesforce certification provides an official stamp of expertise, there is no replacement for experience. Salesforce MVP Chris Lewis describes it as "the difference between book smart and street smart." You cannot learn the idiosyncrasies of the user element and day to day support and issue resolution. That takes time.
What does Salesforce certification training look like?
Salesforce has a strong ecosystem of training and, in this series, we will look at how someone can go from zero to expert as they traverse the certification program.
We'll start by looking at the Trailhead training options as entry points to Salesforce certification training, then move to the Administration, Development and Architect tracks. Trailhead is Salesforce's free online training program for developers, and it includes several modules through which to progress.
Salesforce certification can elevate your skills as an administrator and bring new business capabilities to your organization.
"Trails are guided learning paths through modules and projects that help you cover the most ground in the shortest amount of time. Consider them your personal game plan for exploring new skills," Lewis wrote.
Having said that, the best foundation for a future in Salesforce, whether in administration, development or, ultimately, as an architect, is through the certification programs. So, where do you start?
Launched in 2014, the Salesforce Trailhead program has become a resource for learning, now including more than 140 modules that are linked into trails, or paths, of learning.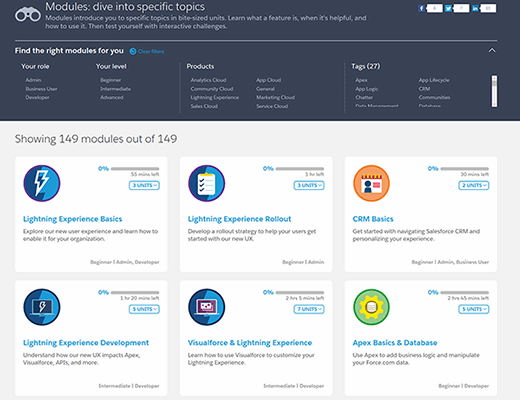 Each module is made up of several units, and includes an approximation of the time needed to complete it. So, for example, the CRM Basics Module includes two units that will take a total of 30 minutes to complete.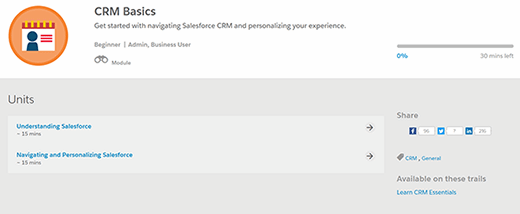 Various tracks can be followed in order to concentrate on the area of Salesforce in which you want to specialize. These are pulled together in trails. So, for example, the Admin Beginner trail is a collection of seven modules that should take a total of nine hours to complete.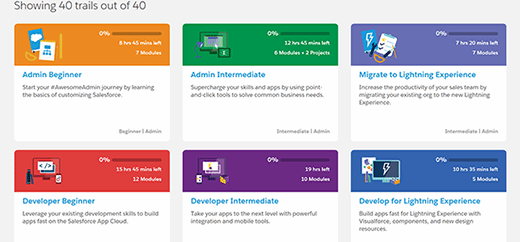 A feature of Trailhead, however, is how it integrates with a development instance of Salesforce, allowing you to put your training into practical use. Trailhead's training and testing system will test your customization and configuration in real-world examples. That's a huge benefit to the Salesforce certification path. It allows you to look through the documentation, answer a few questions, watch a video and then have a go at a fully enabled -- and free -- Salesforce instance.
Setting yourself up is easy at the Salesforce signup page, where you simply fill in your details. Once you have that developer instance established, link it to your Trailhead account. Do this when you're about to take a test on a module -- and you are ready to go.
As an entry point to Salesforce, Trailhead is an incredible resource. Before we delve into the certifications in subsequent articles, consider some of the available online resources for training.
A great resource is the Salesforce help site, where you can access a variety of information, including an incredibly comprehensive documentation library, which can be a useful resource both during training and during real-world experience.
Finally, the Salesforce Success Community of users and experts provides you with a real-time sounding board of experienced users who can answer questions and help you troubleshoot your problems.
As a starting point for your Salesforce certification training, consider the points we have discussed here that provide a foundation as you choose a Salesforce path. In subsequent articles in this series, we will look at the three main tracks of training and certification (though there are others for business users and consultants); for example:
Salesforce Administrator certification track
Salesforce Developer certification track
Salesforce Technical Architect certification track
This isn't an exhaustive list of possible Salesforce certification tracks, but will generally cover the path that most Salesforce experts will want to take. For a full list of the certification options, including certifications available in other languages, head over to the Certification page from the help site mentioned above.
In our next article, we will look at the options for certification in the Administrator track, including information and syllabus details on Salesforce Certified Administrator and Salesforce Certified Advanced Administrator.