 BACKGROUND IMAGE: iSTOCK/GETTY IMAGES
Get started
Bring yourself up to speed with our introductory content.
Four steps to create your digital marketing plan
Use this four-step approach to create a digital marketing plan that will help your business grow its online presence and attract new customers.
SAN DIEGO -- Gaining an online presence is a daunting task. Where do you start? What should your website look like?...
Continue Reading This Article
Enjoy this article as well as all of our content, including E-Guides, news, tips and more.
How do you make sure you get in front of your target audience? Those are just a small portion of the questions new businesses face when trying to gain an online footprint.
When looking to increase an online presence, it's best to have a digital marketing plan in place. Inexperience or ignorance can lead to a lot of wasted time and energy, with little to show for it.
Rich Brooks, president of Portland, Maine-based Flyte New Media, helps companies develop websites and improve their online presence using a four-step approach he calls BARE: build, attract, retain and evaluate. Brooks stressed that while his framework can lead a company in the right direction, a digital marketing plan always has some unique qualities that add some complexity.
"The thing with frameworks is they are usually one size fits all, but a plan is about where you are and where you want to go," Brooks said.
Build
Most digital marketing plans should begin with the website, Brooks said, as that's the primary place where you will turn site viewers into prospects and customers. The bevy of tools available -- from free web design tools to licensed CMS products -- can help with the design.
And it's vital that a small business or emerging company has a web presence separate from social network platforms.
"Building a business on Facebook is like building a house on a landslide," Brooks said at the Social Media Marketing World conference in February. "There is a lot that is out of your control."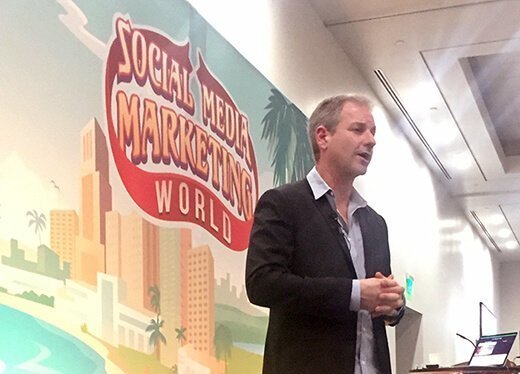 Brooks also advises businesses not to get caught up with too many bells and whistles during web design.
"Simple is better when it comes to a website," Brooks said. "You want to bring people to your website, but you don't want to give them a lot of choices."
Attract
Now, your website is built. It's simplistic, yet it sends the right message. The next question is how to attract customers to your site.
This step of a digital marketing plan requires you to invest in strategies and technology that appeal to your desired customer base. There are three primary ways to attract customers: search engine optimization (SEO), social media and digital advertising.
"Everything we do with SEO, social media [and digital advertising] is about customer acquisition," Brooks said.
Of the three, digital advertising is the most straightforward, and companies working to build out their digital marketing plans often debate the benefits of SEO versus social media output. When breaking down the two, however, SEO and social media tackle different concerns. When it comes to driving traffic, Google and SEO are still king, according to Brooks.
"A lot of what your customers search for depends on what Google thinks," Brooks said. "Most traffic -- including new customers and leads -- comes from search engines."
While more traffic is driven through search engines, social media has its place when architecting your digital marketing plans. But when focusing on social media, it's important to not get caught up in the idea of going viral, he said.
"Value trumps viral," he said. "Don't worry about being in front of 100,000 people. Be in front of the 200 that matter to you."
Retain
You've got your website, you've gained some traffic, but now, how do you turn those prospects into loyal customers?
Retention is where you start to communicate with your website visitors directly -- ideally through email.
Don't worry about being in front of 100,000 people. Be in front of the 200 that matter to you.

Rich Brookspresident, Flyte New Media
"Your customers' email inbox is the most valuable property on the internet," Brooks said. "Email is unavoidable. You miss thousands of tweets and posts, but your email is always there for you."
While the website is the main objective of attracting customers, retaining them is a distinct objective for companies developing their digital marketing plans. The value of Google and SEO is apparent for companies, but with the constant manipulation of Google's search algorithm, working within an inbox is a sustainable method for interacting with potential customers, he explained.
"Email is stable," Brooks said, adding that conciseness is important. "Most people don't want long emails -- and you want people out of their inbox and back onto your website."
Evaluate
Lastly, it's important to evaluate the work you've done up to this point.
While the building of a website, attracting prospects and retaining them can primarily be done with in-house work or free technology tools, evaluation may require some more technological tools to help provide insight. Google Analytics, Adobe Analytics, Looker and other content analytics tools can help companies find out what's working well and where they need to improve.
Businesses must also keep in mind that a digital marketing plan is just a framework, and companies need to test and evaluate each step along the way.
"Best practices don't equal best results," Brooks said. "You won't know until you measure it and use the data to come up with something better."