Evaluate
Weigh the pros and cons of technologies, products and projects you are considering.
Building social CRM tools into CRM platforms: The state of the market
Major CRM vendors have built social CRM tools directly into their applications. Here we survey some major players and their features.
The momentum of social CRM is gathering pace.
Companies now wholeheartedly acknowledge that conversation about products and brand is happening on the Web. Customer discussions about companies -- positive and negative -- are cropping up in blog forums just as much as they emerge in phone calls to a contact center. Companies know they can't turn away from this important communication channel and they want to capture this information for business insight.
With social monitoring tools, companies can aggregate and analyze this conversation and combine the insight into a single view. With social CRM tools, companies can identify customer issues before they explode, can address customer needs in real time and even get ideas for product innovation or new services by listening to customers' needs.
So companies need tools to aggregate and harness that information as it's happening through a variety of sources on the Internet, from Facebook and Twitter to community forums and YouTube. They need to be able to address customer comments in real time.
Social CRM is not going away.
Let's consider some CRM applications in the market to see how they incorporate social listening directly into their technologies.
In the course of looking at these tools, I'm going to ask three questions:
Which data to measure. Which social channels can be monitored and in what way?
Which measures to focus on? What metrics should be analyzed?
How to take action? What actions can a company take as a result of this information?
Salesforce.com's ExactTarget
The market's most popular CRM system combines its marketing and social listening experience using the ExactTarget range of technologies: Radian6, Buddy Media, Social.com, ExactTarget SocialEngage and ExactTarget SocialPages. These tools help companies reach out to customers as well as listen for trends and insights.
In particular, Radian6 helps analyze conversations about a company, products and competitors with a range of social media monitoring and engagement tools. Companies can then route important insights to sales, customer service, PR and community managers for outreach and engagement. For example, Social Hub (a process automated engine) automates case creation so that interactions can be tracked instantly and associated with customer records. Rules within the Social Hub engine can be set up to route the newly created case through Salesforce and to the appropriate department, team or individual. This ability to link your social listening and CRM system is key, where social listening can move from analysis to action.
Which data?
According to Salesforce, Radian6 'Listening' is configured by means of a keyword search and can retrieve results from 150 million sites. That's a lot of noise to listen to, but this would include all the mainstream social channels including Twitter, blogs, Facebook, YouTube and so on.
Which measures?
The Summary Dashboard is a starting point to view analytics. Volume, sentiment, influence, demographics and content are all measured and displayed here (see Figure 1). Volume can indicate the number of social media interactions (blog posts, forum discussions, tweets, etc.) discussing a topic over a period of time. Sentiment indicates the attitude of constituencies toward a product or service based on phrases or keywords used in social media posts. And influence measures which participants on social media are having the most traction at the moment.

Drilling down, Insights allows you to combine the data retrieved with third-party data to provide additional information on a company's constituency, revealing criteria such as gender, age group and geography.
How to take action?
The Engagement Console allows you to coordinate interaction with the social media posts (see Figure 2) Radian6 returns. You can assign posts to teams or team members. It allows you to directly access your social media accounts from the console, promoting more immediate response.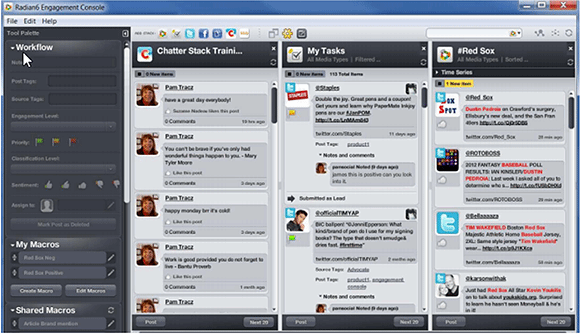 Radian6 manages and monitors conversations and responds to customers in real time. It allows you to get competitive intelligence to compare company mentions and sentiment to that of your competition.
All in all, Salesforce provides a range of tools for managing social marketing and social listening and for managing customers' social interaction.
Microsoft Dynamics CRM and Microsoft Social Listening
As part of Microsoft's spring wave of releases this year, Dynamics Social has been launched as either a standalone offering or integrated with Dynamics CRM.
As Microsoft states, "There's a good chance that your customers and stakeholders are talking about your company, your products, or your services somewhere on Facebook, Twitter, YouTube, blogs -- anywhere on the Web. How do you stay on top of what people are saying on social media, so that you can respond quickly and effectively to issues with your products or services?"
Which data?|
Microsoft Social Listening collects that data from social media sites, and delivers the information back to you, enabling you to spot trends more quickly.
Currently, the following sources are available: blogs, Twitter, Facebook and YouTube.
Search terms, and keywords are added enabling you to listen for specific trends and sentiment.
Which measures?
The key to social listening is data analysis, and Microsoft Social Listening allows a company to analyze factors such as the following:
Source: This metric establishes the origination of the mention, technically and geographically, and measures it over a period of time.
Language: Sentiment can be monitored even for constituencies using multiple languages, meaning a multinational, multilingual brand can be monitored.
Topic buzz: This metric indicates the five most active search topics in the selected time frame on a selected source.
All this data can be visualized and analyzed in the social insights dashboard.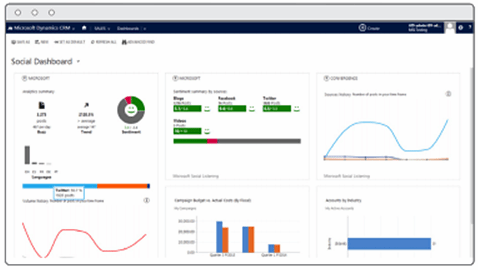 You can drill down further for data (see Figure 4 for a focus on sentiment).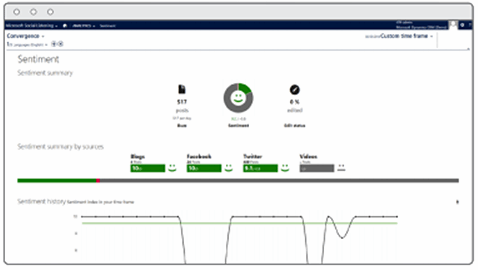 How to take action?
Microsoft Social Listening is designed to integrate directly into Dynamics CRM, which means you can view the data returned from social listening directly in the application where you foster relationships with customers.
Standard workflows can be triggered to act on measures of sentiment, perhaps alerting teams or users of mentions and so on.
It's still early days for Microsoft Social Listening, but the indications are that Microsoft is taking the link between social and CRM seriously.
Both Microsoft and Salesforce are considered market leaders in CRM, and consequently both social listening options come at a cost. At the other end of the market are the small and medium-sized (SMB) CRM and social listening market.
Zoho has a range of tools for SMBs, including a fairly comprehensive CRM technology that includes out-of-the-box features that the competition doesn't include for free.
Social CRM is part of Zoho's core CRM offering and is available in the free version (for up to three users) of Zoho CRM.
As with other social CRM tools, Zoho allows you to listen to Twitter and Facebook (currently the only options) and to instantly interact with your customers or prospects. Zoho CRM allows you to view social interactions with a prospect directly in the CRM record as well (see Figure 5).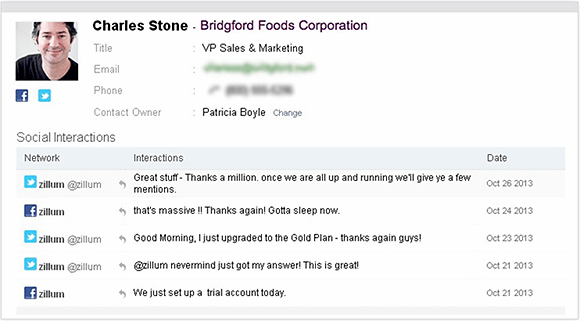 Responding to direct messages, likes or mentions can be done from within the application as well.
Zoho CRM social listening is by no means as comprehensive as Microsoft or Salesforce.com, but it is an option for the SMB market, and the fact that it is integrated into the CRM application enables departments to work directly with customers and prospects.
Social listening and social CRM is not going away. The ability to listen, analyze and act on what is said is a key to building and maintaining good customer relationships. The future of social CRM is likely to get even more crowded, so watch this space.