carloscastilla - Fotolia
Evaluate
Weigh the pros and cons of technologies, products and projects you are considering.
Benefits of moving to a cloud contact center
There are many benefits in moving contact centers to the cloud, including cost savings, more interaction channels and staying with, if not ahead, of the competition.
Businesses have been moving infrastructure and applications to the cloud for years, but others have remained skeptical about the merits. With concerns about management, performance, security, costs and keeping a competitive edge, CX leaders question whether they want to relinquish their tightly controlled contact center to a third party.
But that has changed, as businesses realize the benefits of moving to a cloud contact center.
Initially, small contact centers with fewer than 50 agents were the most prevalent cloud contact center users. Now, research showed contact centers with tens of thousands of agents in the cloud, and they are seeing great success with the move. Cloud providers are plentiful, including those with both on-premises and cloud options, such as Avaya, Cisco, Genesys and Nice inContact, and those that are pure cloud providers, such as 8x8, Five9 and RingCentral.
Reasons for moving to the cloud
The top triggers for businesses moving to cloud contact centers include the following:
On-premises contact centers were at end of life and replacing them was cost-prohibitive.
Global expansion was a top priority, but it would take too long to expand in the desired time frame with an on-premises solution.
New executives in the C-suite mandated applications and services move to cloud environments.
Corporatewide shift from a capital cost structure to an operational spending structure.
Fluctuations in business require the ability to quickly scale up or down to meet customer needs.
Once contact centers started operating in the cloud, most typically saw quick and measurable results, in terms of ratings, interaction options for customers and cost.
Benefits of cloud contact centers
Once contact centers started operating in the cloud, most typically saw quick and measurable results, in terms of ratings, interaction options for customers and cost. Businesses also found their cloud contact centers prepared them better for advanced applications.
In Nemertes' "Intelligent Customer Engagement: 2019-20 Research Study" of 518 companies, participants rated their contact center providers in eight different areas, including technology features, analytics capabilities and account team performance. Those using cloud contact centers rated their providers higher in every category than those with on-premises, hosted or hybrid architectures. On average, the scores were 11.7% higher.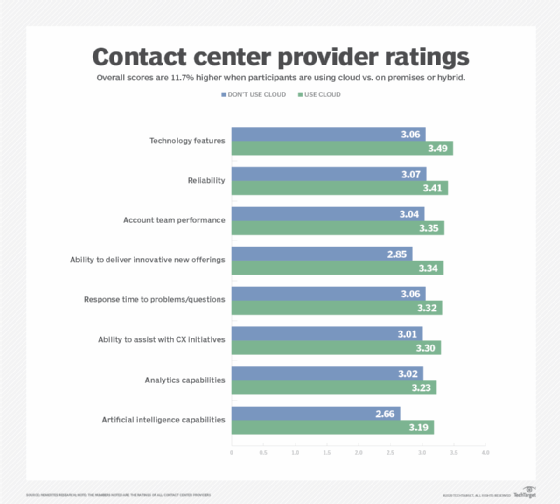 Businesses with cloud contact centers also have more interaction channels, such as voice, email, text, mobile business chat and video, than on-premises contact centers -- on average, 6.31 channels vs. 4.71, respectively. These businesses said it's simply easier to add more channels with a cloud provider vs. implementing and testing new on-premises servers and supporting software.
This matters because end customers rate the companies with which they do business higher when they have more options for interaction. Ratings improve by 63% for companies with eight or more channels, compared to those with less than four.
Another big benefit of cloud contact centers is that their operational costs are less than that of on-premises software. The cost breakdown is as follows:
hybrid contact center as a service (CCaas) -- $1,356 per agent per year;
full CCaaS -- $1,905 per agent per year; and
on premises -- $2,104 per agent per year.
Perhaps the most important benefit of cloud contact centers is that they prepare companies for the future so they don't fall behind competitors' innovations. Cloud users are more apt to adopt AI-enabled capabilities: 49.8% now use AI with cloud contact centers vs. 25% with on-premises contact centers. Of course, companies who want to stay on premises can still innovate in the cloud with communications platform-as-a-service providers, such as Bandwidth, IntelePeer and Twilio.
Dig Deeper on Contact center software and applications