Get started
Bring yourself up to speed with our introductory content.
10 ways to improve the customer experience today
Many organizations struggle with where and how to improve CX, as the focus shifts from CRM to customer experience. Here are 10 strategies to use for a successful journey.
As customer expectations increase, so, too, does the need for both excellent customer service and customer experience....
Continue Reading This Article
Enjoy this article as well as all of our content, including E-Guides, news, tips and more.
There are many methods to improve CX -- some complex and costly, others relatively simple and inexpensive. But how do you know what's right for your organization, and where should you start?
Here are 10 initiatives organizations can use to improve the customer experience.
1. Get employee buy-in
According to Michael Lowenstein, thought leadership principal and director of qualitative insight services at Beyond Philosophy, based in Sarasota, Fla., employees are the key to optimizing the customer experience. First, organizations must ensure they hire employees who are committed to the company and fully understand the company's mission. Employee loyalty and satisfaction play big roles in improving the customer experience -- an unhappy employee usually won't provide the type of customer experience the company is after.
For organizations looking to get employee buy-in for their customer experience initiatives, Lior Arussy, CEO and president of Strativity, based in Hackensack, N.J., recommended building a business case that explains why the initiative is important from a customer's point of view.
2. Run an open, transparent business
Gartner suggests businesses be as open and transparent as possible in their dealings with customers and employees alike. Openness in business and transparency builds the trust of customers, and most experts agree customer trust has a significant impact on the customer experience. In efforts to improve the customer experience, the more open-minded, inclusive and transparent a company can be, the better.
3. Deliver a consistent, personalized experience
Gartner also suggests ensuring the customer experience is consistent across the entire organization. Every area of the company with which the customer interacts should have the same, updated customer information so the customer doesn't need to give their information to the company more than once. This also ensures customers receive a consistent, personalized customer experience -- key to any customer experience strategy. CRM technology can help with this.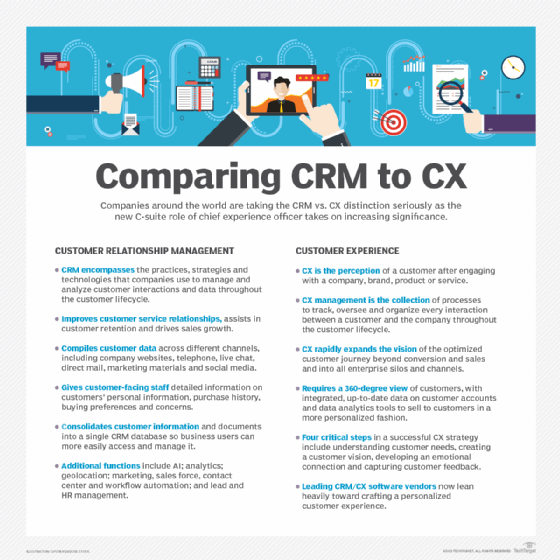 4. Train customer-facing employees
According to Arussy, customer service employees should be given customer experience training from Day One. This process differs from traditional call center training in that it tends to be more customized to reflect the company's brand, desired customer experience and relationships with customers. Some aspects to cover in training include the following:
the principles of customer experience;
the concept of delivering memories and not just transactions; and
the basics of customer segmentations.
5. Develop a self-service experience
Self-service resources help provide support information for customers that they can find themselves. Typically, those resources include FAQ sheets or pages where answers to commonly asked questions are posted. This enables the users to have immediate and correct responses to simple questions, which improves the customer experience and leads to customer satisfaction. Companies must be careful to ensure self-service resources are clear and complete; otherwise, this tactic may have the opposite effect and will lead to frustrated customers.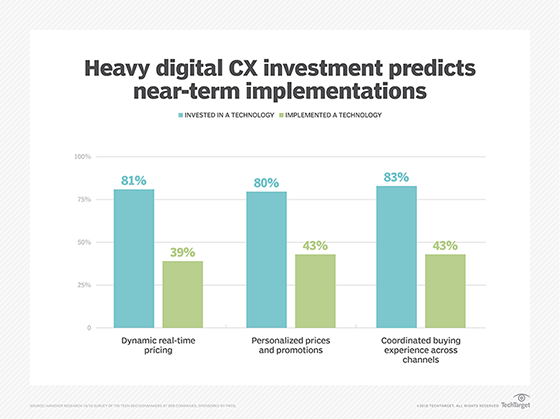 6. Put an emphasis on social media support
Social media monitoring can be a good option for customer engagement and to listen to customer experiences. For a company to effectively use social media, companies need to monitor conversations through social channels. This begins with hiring great communicators who work within those social channels and are organized and conscientious. They need to listen to customer feedback and create satisfaction to improve the customer experience.
7. Personalize the experience
It is important to make a customer feel like the company knows and understands him or her, and a personalized experience is key. Every time a user interacts with a company website, the experience should be tailored to that individual consumer. The website should remember customer behaviors and how many times the user has visited the site and adjust accordingly. This leads to an improved customer experience and better customer retention.
8. Act on customer feedback
Organizations should try to anticipate problems before they occur.
Everyone knows the importance of customer feedback, but not all companies actually act on the feedback and make the changes customers are looking for. According to Gartner, this is something all organizations should do to increase their number of satisfied, loyal customers. To improve the customer experience, it is recommended that they communicate changes clearly and openly to all members of the organization. Technology such as speech and text analytics, customer surveys and mystery shopping are often used to gather customer feedback.
9. Anticipate problems before they happen
Organizations should try to anticipate problems before they occur to ensure the best customer experience. Fixing a problem before a customer knows it's a problem leads to their -- and the company's -- happiness. Staying a step ahead and being proactive enables the organization to stay in control of the user experience.
10. Create a well-balanced customer experience team
According to Gartner, organizations with the best-run CX programs usually have a good mixture of people from all areas of the organization responsible for and reporting on the customer experience. Gartner analyst Ed Thompson recommended the customer experience team structure be made up of people who are focused on customer loyalty, customer satisfaction and process improvement.
Dig Deeper on AI for sales