Get started
Bring yourself up to speed with our introductory content.
Microsoft Dynamics CRM 4.0: Special report
In this Microsoft CRM special report, we've compiled the latest news and information on Microsoft Dynamics CRM 4.0. Browse recent headlines, expert advice, podcasts and screencasts and read exclusive coverage from Microsoft Convergence 2008.

In this Microsoft CRM special report, we've compiled the latest news and information about Microsoft Dynamics CRM 4.0. You'll find exclusive coverage from Microsoft Convergence 2008, including CRM announcements from CEO Steve Ballmer. Read recent Microsoft CRM headlines and advice from our expert panel. Listen to podcasts featuring tips from experts and users on using Microsoft Dynamics CRM and watch a demonstration of Dynamics 4.0 by Microsoft executives.
| | |
| --- | --- |
| Microsoft Convergence 2008 coverage | |
Microsoft commits to enterprise, CRM, SaaS -- In his Convergence 2008 keynote address, CEO Steve Ballmer pledged that Microsoft is serious about CRM and enterprise applications -- and hinted at on-demand ERP.
New features will help sell Dynamics CRM 4.0, Microsoft partners say -- Dynamics CRM 4.0's integration capabilities and multi-tenant architecture will bring new sales and services opportunities, according to value-added resellers (VARs) and systems integrators (SIs) at Convergence 2008.
| | |
| --- | --- |
| Microsoft CRM news headlines | |
NEW: Microsoft launches CRM Online -- Microsoft's on-demand CRM application is now available, and the company is taking aim at Salesforce.com.
Microsoft releases CRM 4.0, gears up for 2008, competition -- With CRM buyers looking to consolidate, replace or install CRM, Microsoft is targeting usability and multi-tenancy with Dynamics CRM 4.0. However, CRM buyers have many options to choose from.
Microsoft to go Live with on-demand CRM -- Capitalizing on the success of Software and a Service (SaaS), Microsoft has made the decision to offer CRM on-demand as part of its CRM 4.0 release.
Microsoft taking partner hosting international -- In a move to expand globally, Microsoft has added to its partner hosting program abroad and is slashing pricing for the hosted version of Dynamics CRM 4.0 by nearly 40%.
Microsoft CRM targets usability -- At its annual Convergence conference in 2007, Microsoft stressed usability and tight integration between its CRM application and Office products. User adoption remains a key hurdle in the CRM market.

NEW: What you need to know about MS Dynamics 4.0 -- In this podcast, hear an overview of the new features in Microsoft's latest CRM release, Dynamics 4.0. Find out about new functionality from Richard Smith, founding partner of Green Beacon Solutions, a Microsoft Dynamics reseller and consulting partner.
Click on the arrow to play the podcast:

Microsoft users give CRM tips -- Three Microsoft CRM users -- a marketing executive, a customer service manager and a systems manager -- share advice on implementing CRM.
Click on the arrow to play the podcast:

| | |
| --- | --- |
| Microsoft Dynamics CRM 4.0 screencast | |
In this screencast, Bill Patterson, group product manager for Microsoft CRM, demonstrates Microsoft's new on-demand application, scheduled for release in the second quarter of 2008.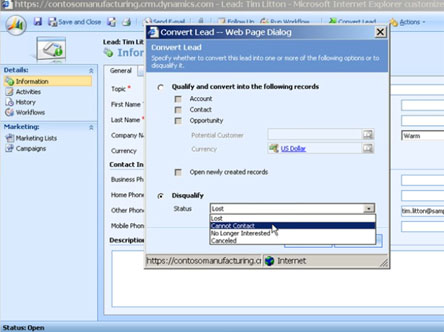 Click the image to view the demo
| | |
| --- | --- |
| Microsoft CRM expert advice | |
How does Microsoft CRM 4.0 integrate with Microsoft Office? -- Microsoft CRM expert Richard Smith explains how Microsoft Dynamics CRM 4.0 integrates with Microsoft Office. He also describes the major Office-integration enhancements in the new release.
Microsoft CRM Live: Pricing and long-term options -- Learn about pricing and long-term options for Microsoft CRM Live, Microsoft's hosted CRM offering, in this expert tip. According to Richard Smith, CRM Live could be a major competitor for Salesforce.com.
Estimating Microsoft CRM customization or configuration costs -- When estimating the cost of a Microsoft CRM customization, Smith urges users to break down the functionality they are looking for in a CRM system. He also explains the difference between customizing and configuring CRM systems.
Microsoft CRM and Siebel CRM On Demand evaluated -- Resident expert Bill Band explores the pros and cons of Microsoft CRM and Oracle's Siebel CRM On Demand in this expert response.
Preview of Microsoft's advanced analytics tools for Dynamics CRM -- Read highlights of the advanced analytics tools available for Microsoft Dynamics CRM in this expert tip.
Information on Microsoft CRM pricing and return on investment (ROI) -- When conducting an ROI analysis for Microsoft Dynamics CRM, the experts say that it is important to understand how CRM can impact business growth.