Halfpoint - Fotolia
Tell-all book puts HubSpot inbound marketing to the test
Every startup's worst nightmare happened to HubSpot when 'Disrupted' hit shelves last year. The company put its own marketing tactics to the test and, by all accounts, it worked.
At one time or another, many companies face crisis management lockdowns when their brand is attacked on social media, linked to unfortunate events in the news or, in the case of marketing automation platform HubSpot Inc., when a disgruntled employee writes a salacious memoir that tops the best-seller list.
But what happens after that? The recent HubSpot Inbound marketing user conference shows that, for tech startups, such troubles don't have to be fatal.
Dan Lyons' book, Disrupted, took shots at the company. Worse yet, in promoting the book, Lyons painted the company -- and generalized many tech startups -- as mostly white, ageist, millennial-bro echo chambers lacking diversity, couth and leadership.
None of the above seemed to disrupt the mostly positive perception of HubSpot technology among the record 21,000-plus attendees at the Inbound conference last week, if our sample of about 40 attendees, speakers and participants were representative of the whole.
Lyons used the tale of his failed employment at 11-year-old HubSpot, an inbound marketing automation and CRM company, as a springboard to write for the hit HBO series Silicon Valley. Events on the eve of the book's 2016 publication spurred an FBI extortion investigation, and ultimately resulted in then-chief marketing officer Mike Volpe's firing, as well as the company's board sanctioning CEO Brian Halligan.
The book, which wasn't universally received positively but did spur self-examination among tech culture thought leaders, seemed to help Lyons more than it hurt HubSpot. Most Inbound attendees we approached -- small-to-medium-sized business leaders, mostly -- hadn't heard of the book, despite its precipitating changes in company culture, such as referring to employees who quit or were laid off as having "graduated" from HubSpot as being part of a "leadership change."
Those who had either heard about Disrupted via news coverage or who had read the book said it didn't negatively affect their opinion of the company or the marketing platform.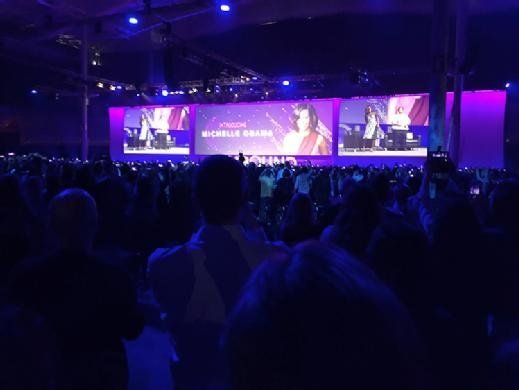 The HubSpot inbound marketing brand seems to be growing, if anything, judging by the consistent increase of both its number of employees -- at a high of 1,800 -- and the number of HubSpot conference attendees. Further, the company recently raised its financial expectations for Q3 2017 to the range of $95.9 million to $96.9 million, up from its previously announced revenue range of $92.8 million to $93.8 million.
Partners, HubSpot respond
To his credit, current HubSpot chief marketing officer Kipp Bodnar, the character dubbed Wingman by Lyons in Disrupted, was willing to discuss whether his portrayal in the book affected his job.
"You are, and should be, judged by your body of work, and we have an 11-year body of work, a massive body of happy customers," Bodnar said, scanning the halls clogged with attendees hurrying between breakout sessions, some of whom couldn't get in because of overcrowded rooms. "We're focused on helping address real people's problems. The stuff outside of that doesn't have a huge impact."
Most HubSpot Inbound marketing session speakers said they'd read the book, but as guests of the event, none offered comment about its implications.
HubSpot partners on the exhibition hall floor, as one might expect, defended the Cambridge, Mass.-based inbound marketing vendor. One partner said, if anything, the book damaged journalists' ability to get jobs with tech startups that have become wary of becoming the next target.
That book, in its execution, regardless of its content, is an ethical breach of trust.

Geoff McQueenCEO, Accelo
Accelo, which provides SaaS automation services for business operations, integrates with companies like HubSpot and Salesforce, as well as financial software companies Xero and QuickBooks. Maintaining tight links to HubSpot and its customers is an investment that has paid off, said its CEO, Geoff McQueen. He read reviews of Disrupted, but doesn't plan on purchasing it on principle.
"Building a company is really, really hard, and there are lots of things that all of us would do differently," McQueen said. "One of the most important parts when you're building a company is to trust your team. That book, in its execution, regardless of its content, is an ethical breach of trust."
The alternate history of HubSpot
While there is a strong technology component to selling marketing automation, or martech platforms, there's also typically an equal measure of selling the dream of amazingly expanding riches to small- and medium-sized business owners. This isn't endemic to HubSpot; it also applies to Salesforce and many other of the sector's players. The message is: "We're not just selling you a SaaS subscription, but we're selling you a lottery ticket to abundant fortunes! With only a skeleton marketing crew!" The better the sale of the dream, the more loyal the customers.
It was that vibe, fairly or unfairly, that Lyons -- who did not respond to a Twitter request to participate in this story -- locked into when writing about HubSpot.
HubSpot co-founder Dharmesh Shah penned the company's official response to the Disrupted book soon after it came out. In his keynote last week at the HubSpot Inbound marketing event, he spoke at length about the principles of linear algebra, which he mapped to a cryptic statement about management strategy that he said tech titan Elon Musk told him over dinner.
"Let's say you're trying to get your company from point A to point B," Musk told Shah. "Every person on the team is a vector, and your progress is determined by the sum of all vectors."
Shah interpreted Musk's comment to mean that applying that formula to team-building at startups can help them scale faster. The premise goes something like this: While hiring top talent is important, maximum growth will come only after company leadership gets everyone pulling in the same direction.
"[What is common at most startups is that] most people are pulling in the correct-ish direction, except for that one guy," Shah said. "There's always that one guy. We know that one guy, right? There's always one of them."
He didn't name Lyons; he didn't have to. Lyons may have won the battle, but looking at the cheering, record crowds at this year's Inbound, HubSpot clearly won the war.