Salesforce-Google integration bolsters CRM, analytics functionality
Offering an alternative to AWS, Salesforce chooses Google Cloud as its potentially cheaper public cloud option for international customers.
SAN FRANCISCO -- Salesforce and Google cozied up a little more closely on several new product integrations: One offers a cloud alternative to Amazon Web Services, and another pushes Salesforce deeper into G Suite, Google's subscription business applications cloud, which may send shock waves through the thriving ecosystem of partners that already provide small-business CRM to those apps.
The Salesforce-Google integration includes the naming of Google Cloud as Salesforce's latest preferred public cloud for international customers, joining AWS, with which Salesforce partnered earlier this year.
The Salesforce-Google integration, announced earlier this month at Salesforce's Dreamforce user conference, also includes Salesforce Lightning for Gmail and Google Sheets, as well as Quip Live Apps for Google Drive and Google Calendar. Salesforce's Sales and Marketing Clouds will both have Google Analytics 360 embedded.
As part of the partnership, Google will also be offering existing Salesforce customers a one-year free trial of G Suite.
Salesforce is no stranger to partnering with other enterprise tech companies -- even if some products compete -- to offer its customers an enhanced experience, and that appears to be the reason behind the Salesforce-Google integration.
"In the past, [Salesforce] has announced some pretty big partnerships that turned out to maybe be not so big, but this is from a different angle," said Michael Fauscette, chief research officer for G2 Crowd, based in Chicago. "They have a go-to-market strategy together."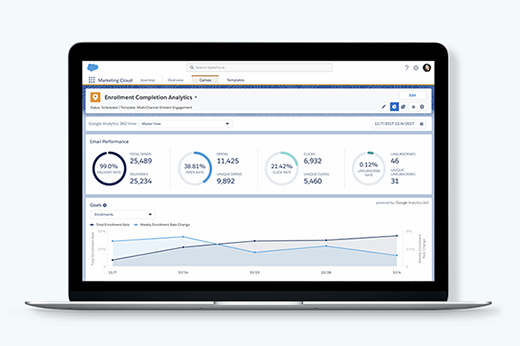 Integration to help SMBs
In the past, [Salesforce] has announced some pretty big partnerships that turned out to maybe be not so big, but this is from a different angle.

Michael Fauscettechief research officer, G2 Crowd
Small- and medium-sized businesses will benefit from the Salesforce-Google integration, because many of them already use Gmail and G Suite, according to analysts, and the Salesforce tie-in could make the San Francisco-based company attractive as a CRM option.
"I have a client, and the No. 1 challenge is adoption: They have these great tools and insights, but if people aren't in there and feeding the engine and taking action, it doesn't matter," said Lisa Hager, global head of Salesforce practices for Mumbai-based Tata Consulting Services. "But if I go in to get my mail and the Salesforce platform prepopulates my email and spreadsheets, I'm more likely to go into that tool."
Voices.com, which works with brands to find voice actors for campaigns and is based in London, Ont., has been a Salesforce customer for 12 years, and its CEO, David Ciccarelli, was enthusiastic about some of the Salesforce-Google integrations.
"Salesforce is a great system of record, but where it can improve upon is mass editing," he said. "So, being able to one-click export from Salesforce into something manipulative like Google Sheets, make changes and one-click import back -- that's where you'll see huge time savings."
Marketing is where the data is
Salesforce has made a concerted effort to increase market share for its Marketing Cloud to match that of Sales Cloud and Service Cloud, and it looks to do that through data.
Just weeks after releasing B2B Lead Analytics for Facebook, Salesforce is embedding Google Analytics 360 into Marketing Cloud, giving marketers insights at the two leading data points on the internet.
"If you're not in a separate data silo and you can ingest the Google Analytics 360 data on website visitors and keyword ad buys, with that integrated, you don't have to take that data out and manually process it," said Cindy Zhou, principal analyst for Constellation Research. "And there's always data lost when you have to move it from one place to another. So, having it embedded natively will help you get deeper insights, and you can still apply Einstein on top to do audience segmentation and analysis."
Ciccarelli of Voices.com said, as a smaller business, a license for Google Analytics 360 was always too much to budget for, but with it integrated into Salesforce at no additional cost, smaller companies will be able to receive enterprise-level insights.
Salesforce adds another storage cloud
The news of Salesforce adding another preferred public cloud for international expansion comes just months after Salesforce formed a similar partnership with AWS. The addition of Google Cloud is to address customer needs, according to Ryan Aytay, executive vice president for business development and strategic accounts for Salesforce.
"AWS continues to be an important part of our infrastructure, so nothing's changing there," Aytay said. "We're just adding another preferred cloud and moving forward to address customer needs."
Google and AWS are two of the three leaders in the cloud space, with the other being Microsoft's Azure. Salesforce CEO Marc Benioff has been outspoken about his abhorrence toward former partner Microsoft, so it's unlikely Salesforce will be partnering with the Seattle-based company anytime soon.
The move toward Google could have been a response to customers' demands, according to Hager, as AWS is costly when it comes to cloud storage.
"Just being able to have that option of Google storage instead of AWS is important; I had three clients this morning complaining about the cost of AWS," Hager said. "If you're storing a lot of documents on Salesforce, it can get expensive. So, integrating with Google is a nice option."
There's some potential overlap with the integrated products, especially between Salesforce's Quip and Google's G Suite, but Salesforce executives aren't worried about the overlap, with Aytay saying internally at Salesforce the company has used both products.
Zhou can see the products coexisting, but there's also some "friendly competition" between G Suite and Quip, with the Salesforce product being a good alternative for companies creating contracts or requests for proposal.
Several of the Salesforce-Google integrations are already in market, including Lightning for Gmail and integrations with Calendar and Google Drive, with deeper integrations rolling out in 2018, according to the press release. Quip Live Apps integration with Google Drive is expected to be generally available in the first half of 2018 for $25 per user, per month with any Quip Enterprise License. And the integrations between Salesforce and Google Analytics 360 are expected in the first half of 2018 at no additional cost to licensed customers.