Salesforce Lead Analytics for Facebook analyzes B2B sales cycle
The recently released Salesforce offering is the latest in a line of social selling tools meant to help customers identify which ads are working on Facebook and which are not.
While social media marketing was once mainly useful for B2C marketing and advertising, it's transforming into a suitable channel for B2B marketers to use to reach customers, too. Seeing this, Salesforce is offering new capabilities B2B companies can use to divine deeper insights through analyzing social data.
A combination of better and more complete data with a change in how professionals tend to switch from employee to consumer has blended how marketers and sales reps reach their customers, making social selling tools important in the digital toolbox.
"The interesting thing about digital advertising is when you go back, you had to be in the context of the B2B sale -- if you were selling computer servers, you weren't advertising in Sports Illustrated," said Bill Quinn, director of digital strategies and solutions at Tata Consultancy Services in Boston. "What has shifted with Twitter, Facebook and LinkedIn is this realization that, at the end of the day, people are people. I'm talking to you as a professional right now, but 10 minutes ago, I was on Facebook. What Facebook and others have realized is this opportunity to merge those two worlds."
Salesforce Lead Analytics for Facebook was launched earlier this month to capitalize on this shift in B2B marketing and the importance of social selling tools. The tool enables marketers and sales reps to better analyze specific ads on Facebook and follow those leads through the entire sales cycle.
Driving advertisements with data
While previous advertising analytics would be able to tell you that a certain prospect clicked on a Facebook ad, they didn't drill deeper into which offer or advertisement caught the lead's attention.
"It was difficult to tie it back to our data -- other than knowing it maybe came from a Facebook ad," said Jake Fabbri, vice president of marketing at Fonteva Inc., an association and event management company in Arlington, Va. "Now, we'll able to bridge that gap in addition to being able to figure out where the campaigns are working and where they're not."
Now, that whole mindset has shifted, and you as a marketer have to be data-driven.

Bill Quinndirector of digital strategies and solutions, Tata Consultancy Services
Salesforce Lead Analytics for Facebook enables companies to track exactly which type of advertisement a prospect clicked on. That knowledge can then provide better insight to marketing and sales departments about which leads to target with which advertisements through social selling tools.
"From the marketing perspective, it's valuable because of the big shift away from the old days, where you take out ads and always end up making this leap around the value you got out of that," Quinn said. "Now, that whole mindset has shifted, and you as a marketer have to be data-driven."
Salesforce Lead Analytics for Facebook is the latest to join the growing stable of social selling tools, including LinkedIn's Sales Navigator and the litany of advertising tools Google offers. According to Salesforce, marketers will be able to measure Facebook ad effectiveness, visualize ad performance across the sales cycle and compare performance of Facebook ads from one dashboard.
Evolving social media
Companies are beginning to utilize mediums that began solely as B2C advertising platforms, realizing this ongoing shift in consumer behavior. Podcasts are becoming a popular way to multitask at work while doing monotonous tasks, and companies like Oracle have begun advertising on sports podcasts, which are seemingly outside of their B2B market. But when an employee's work life and consumer life become more blended, there's an opportunity to sell, and companies like Salesforce are hoping social selling tools help its customers capitalize on that shift.
"Facebook and other social applications have evolved from being one-size-fits-all advertising to a medium where I can utilize data to target the people only I want to target," Fabbri said, adding that Fonteva has used Facebook for advertising for a couple of years, but lacked that deeper analytical feedback to its Salesforce platform. "Not only were we limited in use, we were limited in strategy. And now, we can go more targeted advertising. Now, I can look at segmenting my target list in a lot of different ways, and that's where a lot of the benefit comes from."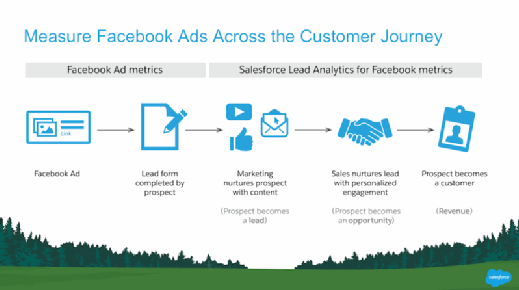 Instagram isn't there yet
Salesforce Lead Analytics for Facebook works for both Facebook and Instagram, but while the former is ahead of the curve in B2B advertising, the latter still needs some development, according to Fabbri.
"Instagram has people in it and they're using it, but it isn't there yet [from a B2B perspective]," Fabbri said. "It's evolving, and so is Twitter and Google's network."
Salesforce Lead Analytics for Facebook is generally available for Salesforce Pardot and Marketing Cloud Advertising Studio Enterprise Edition customers.