pressmaster - Fotolia
Adobe Sign, Microsoft Teams integrations expand partnership
The first of several planned 'joint solutions' expands Adobe Sign into Office 365; Microsoft Teams integrates with Adobe Creative Cloud; Adobe Stock to speed reviews and approvals.
In the early 2000s, Microsoft and Adobe weren't always the best of friends. During the last few years, however, the two cloud titans teamed up to integrate their respective CRM and marketing automation tools. Together, they position themselves to better take on Oracle and Salesforce, which previously had acquired marketing automation vendors and hardwired them into their respective clouds.
Thursday, several new hooks between Adobe and Microsoft services became available, enabling numerous cross-platform capabilities. Available now is Adobe Sign integration with Microsoft Dynamics and SharePoint. The integration that will likely be most widely used, however, comes later in September: signing and approving electronic documents with Adobe Sign in Office 365 Word, PowerPoint, Flow and Outlook.
Also on deck is Adobe Stock and Adobe Sign integration with Microsoft Teams. In turn, Microsoft Teams will expand integration across Adobe's Creative Cloud, as well, ostensibly streamlining workflows and fostering adoption of Teams among Adobe customers.
Azure gets a boost
Since Teams will be embedded in Creative Cloud, it will be simpler to use than competitors' collaboration tools, said Michael Fauscette, chief research officer at Chicago-based G2 Crowd Inc. Another big win for Microsoft among the raft of planned integrations between the two companies, he continued, is the announcement that Adobe named Azure the preferred platform partner for its e-signature business.
"They're looking for quick wins, great ways to tie things together," Fauscette said, imagining how many more contracts and sales agreements, for example, will be signed with Adobe e-signatures as Dynamics and Office open their doors to the technology.
For Adobe, new access to more than 100 million monthly users of Office 365 could quickly expand Adobe Sign usage from its present annual volume of 6 billion signatures processed through banks and credit card companies.
"It's a huge win for Microsoft for Adobe to say, 'We're going to move our e-signature product to Azure,'" Fauscette said. "For Adobe, the e-signature market is very competitive; to get Adobe Sign into Microsoft Office and Microsoft Flow, that's pretty big."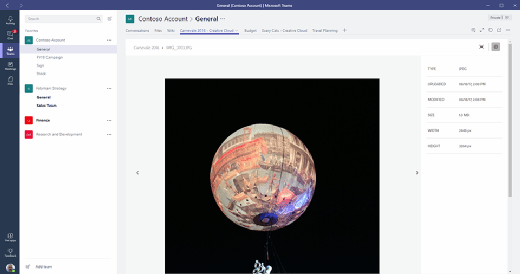 In time for Ignite
The new details build on last year's announcement of an initial partnership unveiled at Ignite, Microsoft's annual user meeting, and embed Teams in all three Adobe cloud service suites -- Creative Cloud, Document Cloud and Experience Cloud.
While this year's Ignite is just weeks away, representatives of both Microsoft and Adobe claimed the timing of this announcement was "coincidental," with months of work just happening to culminate in the run-up to the show.
AI is coming
In their joint announcement, Microsoft and Adobe hinted at future blending of their respective companies' technologies for cloud customers. That could mean adding functionality to Adobe's Sensei artificial intelligence (AI), which already can be piped through the Microsoft Graph API to reach end users of Microsoft's office and enterprise cloud applications.
While specifics of how AI will be deployed remain under wraps, Sensei could potentially be applied to guide both the creation of new content, as well as lend insights via back-end analytics of extant documents.
"There's more to come there," said Lisa Croft, Adobe's group product marketing manager. "We're focusing on what we can do with artificial intelligence and what we can do with documents across our platform."