Sergey Nivens - Fotolia
Salesforce unveils image recognition technology for Social Studio
Salesforce's Einstein Vision for Social Studio currently only works with Twitter, but other integrations are expected.
Facial recognition is a part of everyday life. Now, similar technology can crawl social media to find instances of brand logos and products in images, with accompanying artificial intelligence to ascertain positive or negative context within the post.
Since social media became such an integral part of a consumer's life, companies have worked hard to track mentions of their products and brands -- often doing so by scanning the various social networks.
But most searches focused on text; missing was the ability to gain insight from posted pictures of products or brands. To provide a more complete view of brand sentiment on social media, Salesforce released Einstein Vision for Social Studio, which can identify millions of logos and hundreds of objects, allowing companies to identify their products and, more importantly, the consumer sentiment behind the posting. The use of image recognition technology to break down silos in businesses and discover customer sentiment is a potentially valuable tool, according to Cindy Zhou, principal analyst for Constellation Research Inc.
"Companies need to look at bringing service, sales and marketing together, and this is a great use case for that," Zhou said. "Marketing will be the one running this product to look at social sentiment, but the service aspect is there, and it can also help with sales."
Zhou laid out an example where a company can search for its product and logo and find an opportunity to up-sell to a customer if they expressed satisfaction with a product. Or, if the discovered image reveals discontent or anger, a company's service department can proactively reach out to a customer.
Einstein Vision begins with Twitter
Companies need to look at bringing service, sales and marketing together, and this is a great use case for that.

Cindy Zhouprincipal analyst, Constellation Research Inc.
The first iteration of Einstein Vision for Social Studio recognizes 2 million logos; 60 locations, such as a beach or airport; and about 1,000 objects. The initial version of the image recognition technology only works on Twitter, but Rob Begg, vice president of product marketing for social and advertising at Salesforce, said future versions of Einstein Vision for Social Studio will have other social media integrations.
"We've started with Twitter because we have found that customers place high priority on Twitter as both a marketing and service social channel," Begg said. "Other networks will come with time."
Zhou called Twitter "a great start," but added that Instagram would be a valuable integration to attract younger audiences.
Salesforce isn't the first to achieve successful image recognition technology for brand sentiment; Adobe's artificial intelligence (AI) offering, Sensei, can also identify various objects in images.
But the real benefit of this tool, according to Zhou, is the customer insight that is available from posted Twitter photos.
"I think it's something brand marketers really needed, but didn't have access to," Zhou said. "If a customer wrote something about your product, they would have to put your name there or tag your handle; it was very text-driven to understand what customers were saying. Now, [image recognition technology] gives brands another avenue to measure that sentiment."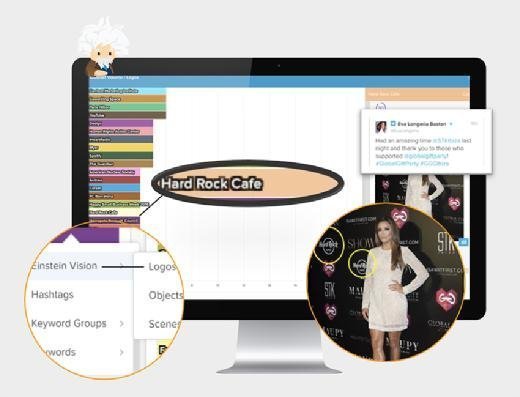 How to integrate Vision
For Salesforce customers that have a Marketing Cloud Social Studio license, the Einstein Vision product is an added cost; it allows you to train the AI on up to 3 million images, with more image capacity available at an additional cost.
For the image recognition technology to work, a company's product or logo needs to be clearly visible. While Einstein Vision for Social Studio -- which is currently available -- can recognize a Mercedes logo and tell the difference between a car and a boat, it isn't sophisticated enough yet to recognize that the image is of a Mercedes car unless the emblem is visible.
"Currently, the object [the technology] is looking for is a simple object. But, in the future, as it trains to look for really specific shapes and attributes, you can see that progress happening," Begg said.
Next Steps
Einstein can enhance workplace analytics
Salesforce upgrades include heavy dose of Einstein
Pegasystems turns up heat on Salesforce Einstein