Sergey Nivens - Fotolia
Will new Salesforce Lightning features convince customers to migrate?
Salesforce hopes new Lightning upgrades convince customers who haven't migrated to the new UI to do so, but analysts remain skeptical.
The summer release of the Salesforce Lightning platform offers new productivity and customization features, with the hope the upgrades will mitigate migration concerns -- but some analysts and industry reports suggest that convincing existing customers to migrate will still be challenging.
Among the new Salesforce Lightning features are Lightning Console Apps, which allow administrators to create applications for their users quicker than previous Lightning iterations, and more customization features, including Path and Kanban, which allow organizations to manage and organize opportunities, accounts or other custom lists.
Other new features in the 2017 summer release include Einstein Powered Search, with type-ahead search capabilities and federated search, which allows users within Salesforce to search other databases that their data may be in. Lightning Report Builder, still in pilot, was also a new upgrade, and is expected to allow for better creation and management of Salesforce reports and dashboards.
'Everything forward will be Lightning'
And while Ben Pruden, director of product marketing for Salesforce Lightning said that more than 100,000 customers have adopted Lightning, some of those adoptions could be because of shepherding customers toward using Lightning rather than the classic Salesforce platform.
How many of us want to use an old version of Facebook or Gmail? In the SaaS world, that doesn't happen. When the vendor decides it's time to go, it's time to go.

Alan Lepofskyprincipal analyst, Constellation Research
"At the end of the day, Salesforce won't be doing anything on the old style anymore," said Alan Lepofsky, principal analyst at Constellation Research. "If a customer is hesitant to move to Lightning, I don't want to imply that Salesforce is pushing customers along, but you do want to get with the program and jump on the ship. Everything forward will be Lightning."
The new Salesforce Lightning features may address some of the migration issues, with more customization and what Salesforce is calling a "human-first design approach" that Salesforce expects to boost productivity.
"We don't have a crystal ball on how our customers want to customize," Pruden said. "This release is about all the new functionality. We always wanted to make an experience that gives every Salesforce customer the ability to create layouts and customizations that serve their users."
Migration to Lightning still a concern
Features like the Lightning Console Apps that allow administrators to quickly deploy applications, the Lightning Dialer enhancement that, according to a Salesforce customer survey, results in 23% higher outbound call volume, focus on productivity and improved functionality. But migrating to Lightning can still be a difficult task, according to Forrester analyst John Bruno.
"The Summer '17 Release makes Lightning more appealing, but I don't think it gets people over the hump with regards to migrating to Lightning," Bruno said. "For new buyers, it makes the decision to start from Lightning really easy, but for existing customers it's more about getting their existing functionality to work in Lightning -- with little friction -- than it is about these new features."
Technology consultancy Gartner agreed with that sentiment, noting in its latest sales force automation Magic Quadrant that Salesforce -- while still an industry leader -- had to address Lightning migrations for its customers. According to the report, Salesforce customers Gartner surveyed expressed concerns about upgrading to Lightning because of functionality gaps and the amount of resources needed to implement the new UI.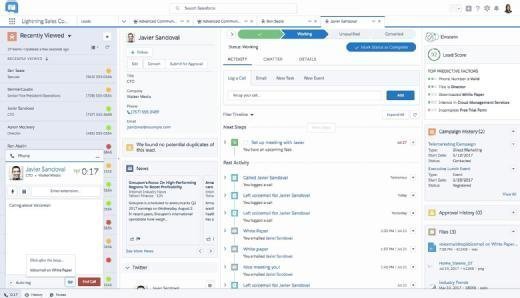 Mobile, desktop offer consistency
Lepofsky agreed with the concern about resources, saying that anytime there's a new UI or upgraded application, companies worry about additional training needed. But he also believes the new Salesforce Lightning features offer more consistency in mobile and desktop, which could quell concerns about functionality gaps.
"The biggest bonus people tell me [about Lightning] is it's more consistent between desktop and mobile," Lepofsky said. "Updating their web version of the application has been a big win."
And as far as existing customers needing to keep up with their software providers when it comes to new UIs or applications, Lepofsky said that's the way of the SaaS world.
"How many of us want to use an old version of Facebook or Gmail?" Lepofsky said. "In the SaaS world, that doesn't happen. When the vendor decides it's time to go, it's time to go."
Next Steps
T-Mobile makes the Lightning migration
Salesforce launches Lightning Experience
Service Cloud Lightning improves agent experience