Sergey Nivens - Fotolia
Service Cloud Lightning upgrades give agents improved UI, mobile app
With the latest upgrades, Service Cloud Lightning enables easier contact center customization and provides a mobile app for agents.
Customers have come to expect personalization when dealing with companies, and with its latest upgrades to Service...
Continue Reading This Article
Enjoy this article as well as all of our content, including E-Guides, news, tips and more.
Cloud, Salesforce hopes that personalization on the agent's side of things is just as necessary.
Service Cloud Lightning is the latest development for Salesforce's Service Cloud. The release is aimed at helping customer service teams extend functionality of Service Cloud, create a more customizable user interface and respond to inquiries via a mobile app built specifically for customer service agents.
"Every company, if you look at service interactions, is different on what they want to show the agent," said Sheryl Kingstone, research director of customer experience and commerce at 451 Research. "Having the ability to create something that is flexible and can open up or limit the depth of information for the agent is really valuable."
A more customizable user interface for contact center agents is an important addition to Service Cloud Lightning, according to Kingstone. Migration to the Lightning interface, released almost two years ago, has been slower than Salesforce would have hoped.
According to a Gartner Magic Quadrant report on sales force automation tools, while ranking Salesforce as an industry leader, the research firm expressed concerns about customers migrating to Lightning. The report cited Gartner clients and survey respondents who said functionality gaps and resources needed to implement Lightning prevented the migration.
"[Lightning] is fairly new but still not widely adopted because so many customers are still on the classic interface," Kingstone said. "The new user interface is what's needed to move classic users on to Lightning."
With Service Cloud Lightning upgrades, Salesforce hopes to address some of these functionality concerns and usability with greater personalization.
"Personalization and service have been talked about for more than 20 years, and the reality is few companies can deliver on it," said Keith Pearce, vice president of product marketing at Salesforce. "Companies aren't competing against just rival banks or other insurance companies, they're competing against the last service impression their customer had."
Pearce added that the new features were developed around productivity for the contact center agents, allowing for customization and easy-to-use, drag-and-drop functionality.
"An admin or business user doesn't need to know code and can set up flows for email, social and voice while building a community that is customer-facing in a matter of clicks and hours, instead of days and weeks," Pearce said.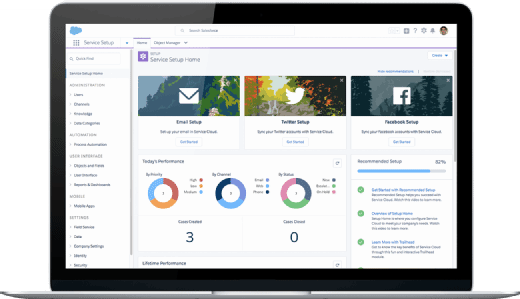 Personalizing the user interface
Some of the new features in Service Cloud Lightning include a Case Kanban view that provides an interactive, drag-and-drop tile approach to the user interface, making it easy to establish what an agent should be viewing.
The ability to create a more unique UI and drag and drop and make sure that information is front and center is valuable.

Sheryl Kingstoneresearch director of customer experience, 451 Research
"You need to give [agents] the power and platform to create something that fits for them," Kingstone said. "The ability to create a more unique UI and drag and drop and make sure that information is front and center is valuable."
By customizing the UI on the agent's end, he can make sure the information needed to efficiently reply to a service inquiry is available, thus increasing the call turnover.
"If an agent is struggling to find information or is clicking through screens, it's a longer handle time," Kingstone said.
Other UI features that Service Cloud Lightning added include Community Agent 360, which provides an agent with a customer's communication history, including any documents the customer sought out, reducing the chance of duplicating troubleshooting options and providing a better customer experience. Another feature, Federated Search, provides searching capabilities that look outside the Salesforce platform and into YouTube, Dropbox, Box and other third-party tools for useful information.
Salesforce also extended the functionality for AppExchange and Lightning App Builder for Service, allowing agents to easily integrate AppExchange partner applications into Service Cloud Lightning.
Ramping up mobile capabilities
Mobile capabilities for the contact center were also a priority, with the addition of an administration-facing service app. While Pearce touted the application for service agents on the go, Kingstone outlined its use as more apropos for contact center management.
"Contact centers usually have butts in seats and the agent isn't really mobile, but the managers can be," Kingstone said. "Salesforce has had mobile functionality that is customer-facing. This is now more agent-facing."
Catching the contact center up to the mobility of customers it serves was a priority with the mobile app, according to Pearce.
"We've seen a lot of companies struggle with having great customer-facing mobile apps for service, but sometimes that puts customers one step ahead of employees," Pearce said. "We made this investment for employees that are mobile."
Salesforce also touted Service Cloud Lightning's out-of-the-box functionality, claiming that this version of Service Cloud could be deployed in just a few clicks, depending on your company size, industry and complexity of your service operation. While a small or medium-sized business may be able to deploy Service Cloud in one day, it may take an enterprise that has multiple contact centers and complex service needs a little more time.
Platform-wide upgrades
The Service Cloud Lightning upgrades come a couple of weeks after Salesforce released Einstein upgrades to its field service products, providing more intelligence in that area with more ease of use on the contact center side.
"If you have a very strong field service [product] tied with a more flexible service desktop and more intelligence in the desktop -- that's what I mean when I say I look at the whole platform," Kingstone said. "That user interface and customization is critical."
The new features are generally available and included at no cost with any Service Cloud edition. Community Agent 360 is available in pilot with a Customer Community Cloud license. Service Cloud Mobile is expected to be in pilot in the second half of 2017 for no additional charge for Service Cloud licensees.