Sergey Nivens - Fotolia
Upgrades to Salesforce PRM app target high-tech, manufacturing
By upgrading its Sales Cloud PRM capabilities, users can now easily deploy partner channel processes, including discounting and website branding.
Selling a product to a consumer comes with challenges. Those challenges grow and become more complex when you start selling products or services to a third-party partner.
To combat those difficulties, Salesforce recently developed its Sales Cloud Partner Relationship Management (PRM) application to help its customers navigate the partner landscape and more quickly establish that indirect selling channel. The Salesforce PRM app, built on Sales Cloud, is designed to meet the mobile needs of Salesforce customers and is the latest improvement to a Salesforce platform called Partnerforce, which dates back to 2006.
With Salesforce PRM, companies and their third-party partners can build out specific sales processes, website design, email campaigns and other necessary partner steps through a new application.
"What's significant about this news is this is a much tighter integration of PRM and CRM," said Denis Pombriant, managing principal at Beagle Research Group and author of You Can't Buy Customer Loyalty, But You Can Earn It. "A lot of people forget that PRM differs from CRM. The two are related, but they do parallel things."
PRM vs. CRM
While both PRM and CRM require the management of potential buyers, the processes leading up to the sale and the support and service following a sale differ drastically.
When working with a consumer, a sales rep can target the consumer directly and follow up with any additional support that may be needed. When dealing with a partner, other factors such as inventory, pricing, discounting and handling are all larger factors.
In PRM, service gets into things like discounts and deal registrations, and those are things that have no analog in CRM.

Denis Pombriantmanaging principal, Beagle Research Group
"With CRM, you're selling directly to people," Pombriant said. "Sales might look the same or very close, but when talking about service or support, there are vast differences. Service in CRM is about break-fix and questions with my account. In PRM, service gets into things like discounts and deal registrations, and those are things that have no analog in CRM."
Salesforce PRM is designed to make those partner-specific steps easier to develop and set up.
"We want to stress the fact that this is an app," said Greg Gsell, senior director of product marketing for Sales Cloud. "The app is turnkey, fast and easy to deploy."
Salesforce PRM has been in the company's product line, but more as a platform that required a little more set up and deployment before it could be used. As an app, with features such as a Guided Setup Wizard and Lightning CMS Connect, companies can set up branded partner sites much quicker than before.
While a Salesforce PRM app will speed up deployment and create efficiency for customers using partners, any third-party software that is being used will need to be manually integrated so the company can gain the most out of the systems. In addition, any company-specific processes will still take time to establish and build out.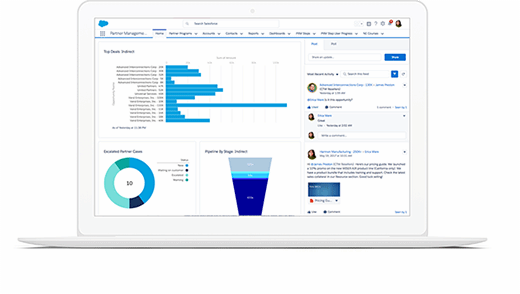 Partners 'become their own marketing department'
Salesforce PRM also introduced new features for partners to better sell the products or services they receive. In addition to connections with CMS systems, Salesforce PRM added Einstein capabilities for partners to better recommend log graphics, pricing documentation and product placement. Channel Marketing Automation, another new feature of the application, allows companies to build out their own email campaigns using Salesforce Marketing Cloud.
"We're extending the power of the Marketing Cloud to partners," Gsell said. "They become their own marketing department."
Salesforce PRM focused on three industries – high-tech, telecommunication and manufacturing -- with this release, because roughly 70% of revenue for those industries come through indirect channel sales. By building out an application dedicated to making that process easier, Salesforce is appealing to that base, Pombriant said.
"By covering both ends of the bridge [with PRM and CRM], Salesforce is now able to appeal to a larger subset of businesses that have indirect sales channels," Pombriant said. "It's an important way to enlarge the potential customer universe."
Sales Cloud PRM is available with a Partner Community Cloud license of $25 per member, per month. Other features such as Guided Setup Wizard, Einstein Content Recommendations and Channel Marketing Automation will be generally available in the second half of 2017. Lightning CMS Connect was released in beta in June 2017.