1xpert - Fotolia
Salesforce enters account-based marketing space with Einstein ABM
While Salesforce's ABM offering has integration and first-party data advantages, it can still benefit from third-party data augmentation providers.
Cloud CRM company Salesforce is entering the account-based marketing space, bundling a package of existing products and a new one with the expectation of helping customers target the right prospect at the right time.
"For [Salesforce], it's largely coupling existing assets in their portfolio with the altruistic idea of bettering marketing and sales alignment," said John Bruno, analyst at Forrester Research. "This is Salesforce coupling lead-to-revenue management with Salesforce automation and calling it account-based marketing."
The account-based marketing (ABM) arena has seen tremendous growth in the past couple of years, as technology has matured to provide the necessary insights to target specific accounts, rather than a broad swath of potential prospects. With this market growth comes an abundance of tools, products and applications that can help provide ABM insight but may not offer the full scope when it comes to lead management, personalized campaigns, prospect engagement and data enrichment.
"The big challenge is in how sales and marketing reps are executing on ABM and the technology that underpins it," said Mike Kostow, senior vice president at Salesforce Pardot. "Most companies have a mature process on how they manage leads and opportunities and workflows, but to master ABM, they are layering on these niche ABM solutions."
Kostow said that while niche ABM products "have the right intent," the lack of deep integration with CRM and first-party data is limiting the scope of insights they can provide.
"These tools aren't the place where sales and marketing reps work every day," he said. "You have data in multiple places, making for a disjointed experience across sales and marketing."
By combining several products into Einstein Account-Based Marketing and housing them all on a Salesforce's CRM platform, the company is banking on the tighter integrations and AI insight providing enough for its sales reps and marketers to target the right prospects.
'The big thing is the data'
This strategy has its advantages. However, it still lacks necessary capabilities to receive a holistic ABM view -- namely the need for a third-party data enrichment application, found either through Salesforce's AppExchange or by contracting a third party.
"The capabilities Salesforce has in uncovering insights are good, but it's uncovering insights that reside in the data you already have," Bruno said. "To bring this to life, you're going to need, in my opinion, a data provider or data augmentation service to get the full value of it."
You're going to need ... a data provider or data augmentation service to get the full value of [Einstein ABM].

John Brunoanalyst, Forrester Research
Data augmentation services like ZoomInfo or InsideView can help gather demographic and intent data, and can scan your first-party data and the customers you closed to determine the similarities with prospects outside your purview. By mapping what works with existing clients to those found by scanning data outside your system of record, you're able to cast a wider ABM net, Bruno said.
While insight from outside data is valuable for ABM, the insight you gather from inside your CRM is still necessary when trying to target the correct account -- and Einstein ABM can help provide those insights, according to Kostow. To get the most out of that first-party data, however, it needs to be neat and clean, not scattered across departments or products or disjointed.
"ABM needs to be built as an extension of the core CRM," Kostow said.
But if that data inside a company is messy or not unified, a company will still need to get its data in order and seek assistance from a data augmentation provider to get the most out of it.
"The big thing is the data -- it's probably the No. 1 sticking point with customers I speak to," Bruno said. "Can they gather insight from their own data in Salesforce? If it's good data, then sure they can. But in many cases, that data isn't good enough."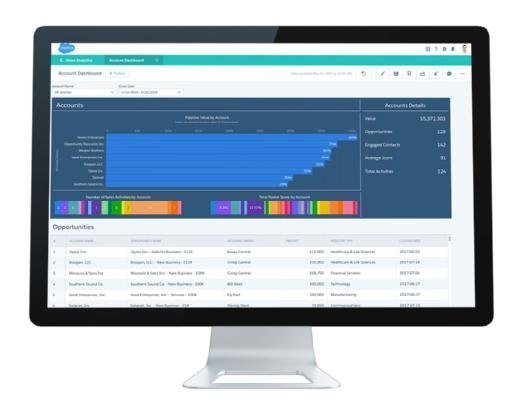 Filling out Einstein Account-Based Marketing
Einstein ABM is an ensemble of nine Salesforce tools, one of which -- Multi-Touch Campaign Insights, which provides insights into several campaign initiatives -- is still in pilot and will be available in the second half of 2017. Three of the tools -- Einstein Lead Scoring, Einstein Account Insights and Einstein Opportunity Insights -- are all part of Sales Cloud Einstein. The grouping also uses B2B Marketing Analytics, Sales Analytics, Engagement Studio, Salesforce Engage and Advertising Studio. All products are priced individually, except for the tools under Sales Cloud Einstein, which are included with any Sales Cloud Enterprise license.
While there are benefits to having Einstein ABM under one integrated platform, Salesforce customers that don't currently license all the various products would lose those capabilities.
"There are customers that use Salesforce as a solution, ones that use it holistically and some that value the synergy between marketing and sales alignment," Bruno said. "[Einstein ABM] is promising for the latter two groups. One of the best features of the Einstein ABM offering is surfacing those insights immediately into Salesforce."
In its press release, after detailing how the various Salesforce products would provide better ABM insight, Salesforce addressed the importance of adding third-party partners. The company focused specifically on Salesforce's AppExchange, where customers can "tap complementary ABM solutions in order to meet sales and marketing needs." While Salesforce calls it complementary, Bruno sees it as more of a necessity.
"When Salesforce talks about Einstein ABM, they are really talking about allowing companies to target the most valuable accounts, personalize campaigns and engage prospects at scale," Bruno said. "What Salesforce does well is personalized campaigns and engaging prospects at scale. Targeting valuable accounts is interesting -- do they have all the pieces to do these things? To me, they don't."
Editor's Note: TechTarget offers ABM and project intelligence data and tools services.