Sergey Nivens - Fotolia
Pegasystems turns up heat on Salesforce Einstein CRM AI
AI in CRM holds promise, but Pegasystems' CEO warns business users not to believe the hype -- especially around Salesforce and Oracle AI.
LAS VEGAS --Technology companies are known to bash competitors, and that tradition was on full display here this...
Continue Reading This Article
Enjoy this article as well as all of our content, including E-Guides, news, tips and more.
week, where Pegasystems Inc. CEO Alan Trefler took it up a notch.
By taking swipes at both Salesforce and Oracle CRM AI systems, Trefler was merely following a decades-old tradition. But his unfiltered frankness and occasional profanities from the keynote stage here at the PegaWorld 2017 user conference were met with a combination of laughs and gasps.
"I see bulls---," Trefler said of rival Salesforce's Einstein in his keynote, referencing his personal belief that Salesforce CEO Marc Benioff oversells the capabilities of that company's brand of artificial intelligence (AI).
He exhorted CRM AI technology buyers to not be swayed by hyperbole and make investments based on real-world applications of automation that fulfills their own specific business needs.
"We are in a world where buyers should have the ultimate cynicism about what they're seeing and what they're hearing," Trefler said. "Rarely has there been a moment where there's so much B.S. in the marketplace, so much craziness about what we are doing, where we are going and what effect it's going to have upon us."
AI in action
At the same time, however, Trefler said AI has the potential to turn messy, unorganized enterprise data into new sales and quality customer engagements when applied judiciously. "We have real customers talking about real [uses for CRM AI]; we don't have cartoons," Trefler told SearchCRM after the keynote, doubling down in his criticism of Salesforce.
We have real customers talking about real [uses for CRM AI]; we don't have cartoons.

Alan TreflerCEO, Pegasystems
To make the case that AI tools can help drive business goals when the uses are well-planned-out by the companies that buy them, keynote co-presenters from large customers, including Coca-Cola, General Motors Co. (GM) and Sprint, outlined their own projects and experiences. Implementation stories included mining data to find new interactions with consumers, connected internet-of-things sensors in the field to deliver more granular information about customer behavior, and to route and classify the acuity of service calls.
For instance, David Mingle, GM's general director of global customer experience execution, outlined how AI helps gather driver and vehicle information to route 200,000 daily OnStar "blue button," in-car service calls daily and a growing number of additional interactions through mobile and in-vehicle apps. "It's becoming a big part of the future of automotive connectivity."
Coca-Cola's group director of innovation and emerging technologies, Kushala Silva, said his company buys massive volumes of digital ads. His team is looking for ways to more efficiently reach customers with AI-driven intelligence through channels it owns, such as mobile apps.
"It's about figuring out the right channels and the right moments to engage with the consumer -- and not only that, but that the engagement results in a purchase," Silva said. While Pegasystems has customers proving out its platform, Salesforce, too, has public customer case studies for its platforms with Einstein AI; most recently, Amazon Web Services and Farmers Insurance discussed their implementations during the Salesforce World Tour conference in Boston.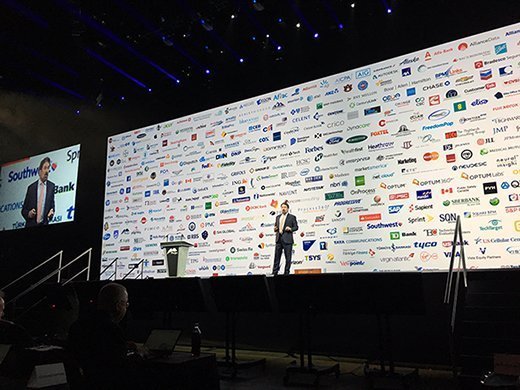 AI drives personalization tools
Pegasystems debuted Paid Media Manager, a personalization tool that uses AI to create custom ads on both a company's owned channels, such as apps and email, and paid channels, such as Twitter, Facebook and other media.
This tool, the company said, will help cut down on saturation buys that reach far larger audiences than are interested in a product that may turn off customers who aren't interested in purchasing it.
It also can save money versus those saturation buys by limiting spend to a smaller audience than predictive analytics projects. Also debuting was Pega Retail Advisor, an in-store app for store employees that uses AI to guide sales recommendations and check inventory when talking with customers.
Retail is in decline. According to a recent Capgemini survey of 6,000 consumers and 500 retail executives, one-third of consumers indicated they would rather wash dishes than go to a retail store. With this tool, Pegasystems hopes to help sales associates build a more personalized experience and retain the customers that haven't yet written off shopping as a chore.