Personalized marketing a step closer with weather data
By partnering with multiple data monetization companies, The Weather Company is providing more data points to marketers and advertisers.
Have you ever craved that first iced latte of the season once the chilly weather breaks? Or looked ahead to the forecast and realized you need to buy that winter coat because the first storm of the season is approaching?
The emotional sentiment that weather has on consumers' purchasing behavior is a sought-after commodity for marketers and advertisers, and is one of the main reasons The Weather Company has partnered with marketing data monetization companies like LiveRamp to bring up-to-date weather data and personalized marketing to the hands of marketers.
"Marketers are always looking for better ways to personalize the advertising experience for their end audience," said Cindy Zhou, vice president and principal analyst at Constellation Research Inc. "But that personalization has been limited to demographic data, geolocation, fact-based data points. But when you layer weather data, it has a major factor in how [consumers] take action or buy products."
Personalized marketing continues to be on the rise. With the movement toward account-based marketing and other hyper-local advertising, marketers are more concerned with targeting the right person, rather than the most people.
"Weather data adds a dimension to what we do and enables marketers to get some additional insights and targeting capabilities they haven't had before," said Luke McGuinness, head of data partnerships at LiveRamp. "It's the way the industry is evolving."
Layering on the weather data
Not every industry is primed to take advantage of weather data for its marketing and advertising purchases, but some -- especially retail -- can capitalize on the emotional sentiment that weather predicates in our buying habits.
When you layer weather data, it has a major factor in how [consumers] take action or buy products.

Cindy Zhouvice president and principal analyst, Constellation Research Inc.
"No one will argue that weather and feelings are tied," said Mark Risis, vice president of partnerships at The Weather Company, owned by IBM. "Weather data helps marketers with who they reach, when they reach them and with what message they reach them with."
Every 15 minutes, The Weather Company produces forecasts for 2.2 billion locations, processing 400 terabytes of data every day. While marketing technology hasn't evolved to the point of capitalizing on up-to-the-minute weather information, being able to use forecasts and historical trends to better target audiences in specific regions is a powerful tool when marketing seasonal products.
Zhou said that while the level of personalization is generally minimal in even retargeted ads, as they're influenced by only the visitor's browsing history, "layering on that weather component gives it some utility value. "
Zhou outlined a scenario where a consumer searched for a raincoat without finishing the sale. Rather than having the same raincoat ad appear on every webpage, a marketer could use weather data to retarget the raincoat ad with a rainy forecast for the upcoming week.
Having up-to-date weather information can also help companies use seasonal ads more effectively. While May has historically been a transition from cold to warmer weather, in the Northeast most of May this year was dank, cold and rainy. What would typically be a time for places like Starbucks and Dunkin' Donuts to advertise its array of iced beverages, with updated weather data, companies with seasonal products could advertise the ones that match with the current weather patterns, rather than historical weather data.
"What we're seeing is acceleration in marketers and technology being able to leverage data that changes quickly, so they can optimize campaigns quicker," McGuinness said. "The ability for The Weather Company to update their data frequently is a great example of the way data-driven marketing is evolving.
"What we've done is created opportunities for more of this real-time marketing that will hopefully drive innovation on the marketing side."
While using weather data for personalized marketing was once a pie-in-the-sky concept, the concept of using up-to-the-minute weather data for marketers is still just an idea -- but one that should be available once the marketing technology evolves.
"With AI and machine learning, that will be part of the equation to get to that faster, real-time marketing," Zhou said. "In the future, will marketers be able to do instantaneous ads in 15 minutes? Maybe, but we're not there yet."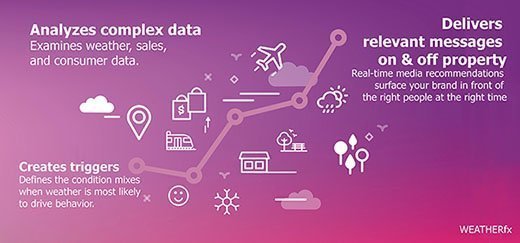 'Personalized ads'
The move to partner with companies like LiveRamp, TradeDesk, Vistar Media and others was a conscious decision by The Weather Company to become less of a publisher of their data and more of a data technology company, especially since the move to IBM and Watson, Risis said.
"Marketers did have to engage with The Weather Company on both media and data," Risis said. "But as we heard more from marketing partners, the desire to help make better decisions is a universal ask, and we're partnering with LiveRamp to bring this capability to a broader market."
In addition to the mass amounts of weather data The Weather Company produces, it also adds meaning behind it -- as the same weather could have very different sentiment depending on where you are.
"Thinking that 50 degrees means the same thing in Maine as it does in San Diego is silly," Risis said.
The addition of weather data to retargeted ads, combined with the ability of marketers to aggregate our browsing information across multiple devices has the potential to create hyper-specific advertisements for customers -- an ultimate goal for marketers.
"In the past, aggregation of all of this data has been a challenge; now I can manage it and leverage it with weather data," Zhou said. "It gives marketers a lot more context for them to get more personalized ads to consumers."
Both The Weather Company through IBM and LiveRamp declined to provide pricing information.
TechTarget offers ABM and project intelligence data and tools services.
Dig Deeper on Personalized marketing