Fotolia
Oracle, Pegasystems CRM add Alexa, Facebook Messenger APIs and more
In strikingly similar moves, CRM rivals Oracle and Pegasystems provide support for new Google Home, Amazon Alexa and Facebook Messenger channels driven by AI, APIs.
"Hello, Google. Tell Pegasystems to upgrade my CRM. Alexa, upgrade Oracle's, too."
Oracle and Pegasystems CRM teams have added similar new features to their respective systems. They both will add APIs to support Google Home and Amazon Echo voice-assistant communication devices, as well as text apps such as Slack and Facebook Messenger. The vendors also bowed other upgrades that include artificial intelligence (AI)-driven bots and assistive technologies to automate customer interactions collected through the text and voice APIs.
The announcements, while made independently, come at similar times in advance of spring conferences. They represent new infrastructure that have some utility now but will likely be more effective in two years, according to analysts interviewed for this article. That's because they rely on AI and natural-language processing (NLP) technologies, which are maturing now but will be sharpened considerably over the next few years.
With these moves, Oracle and Pegasystems also appear to be making CRM systems flexible to accommodate whichever of these channels -- existing or yet to emerge -- that consumers eventually embrace.
"They have to be ready, to be able to check that box today from a competitive perspective," said Rebecca Wettemann, Nucleus Research analyst. "They also have to have the flexibility, moving forward, to support the next big channel -- they have to be on the way to supporting where the market takes them."
Text more prevalent today
For now, it's more about the text channels and less about voice.
Speech-to-text isn't good enough. It needs to progress in the next couple of years.

Brian Manusamaanalyst, Gartner
"Everything is text-driven right now," said Gartner analyst Brian Manusama, who sees the financial vertical and hospitality (both travel agents and hotels) as early adopters of chatbots for CRM automation. They're also gaining popularity inside companies for IT helpdesk applications.
Des Cahill, Oracle head CX evangelist, predicts that chatbot adoption will be more likely among companies that sell to younger consumers, while B2B brands selling more complex goods and services that require more person-to-person interaction may not find as much utility in chatbots.
The voice channel will improve down the road. "If I talk to Siri, nine out of 10 times it doesn't understand what I'm saying," Manusama said. "Speech-to-text isn't good enough. It needs to progress in the next couple of years to be consumable for business applications."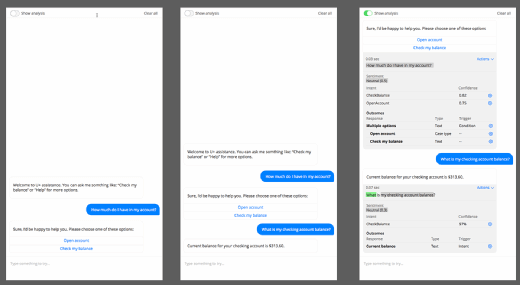 Call for Echo, Home growing
While the Pega and Oracle announcements came within days of each other, "I wouldn't read anything particular into the timing," Wettemann said. "Both have been working on this for a while."
Personal digital assistants such as Amazon Echo and Google Home are ripe for CRM use among consumers for simple tasks, such as changing passwords. A bank, for example, might also create a bot to assist customers in checking their account balances.
"We see a lot of virtual assistants in the marketplace," said Ying Chen, head of product marketing at Pegasystems. "The challenge is that these bots are fairly one-dimensional, using stilted language. They have fairly limited functionality and are siloed from other channels."
Down the road, however, they may evolve to handle more sophisticated tasks. The speed-to-recognition for voice systems is improving, but natural language processing lags because, as Chen puts it, humans are different from each other -- they ask the same questions but worded differently. It's not always easy for today's NLP systems to derive the intent of those free-form questions.
For now, CRM vendors are hedging against the shortcomings of NLP and AI by building application capabilities to easily shift gears and escalate service from a chatbot to a human -- and not lose the gist of the automated conversation and force customers to start over when they do finally reach that person.
Facebook Messenger an emerging bot channel
Manusama said that since Facebook released its Messenger framework a year ago, 50,000 bots have gone online. But most are very rudimentary in function. Pegasystems, he said, is working to make those bots easier to roll out from within customers' CRM systems so that as bots improve, Pega shops will be able to take advantage of them.
Chen said that when text-based chatbots for channels such as Slack, email and Facebook Messenger channels fail, according to Pegasystems CRM survey data, it's because 80% of customers prefer human contact in a conversation. As NLP sharpens, however, she said she expects consumers will embrace them. She predicted that both text and voice channels will find their own CRM applications: For instance, text chatbots will work in instances where voice wouldn't be appropriate, such as those that involve sharing sensitive health or financial data.
How might companies implement CRM bots to replace human work as they gain technological sophistication? Ying offered the example of a credit card company that has automated logic and rules set up for resolving transaction disputes that its customer service reps already are using.
Those rules could be ported into a Facebook Messenger bot to perform the same tasks in a self-service mode. When customers contact the company on Messenger, the bot might ask questions about the transaction, apply those rules to the information it receives, and let the customer know how the dispute will be resolved on the spot.
Manusama pointed out an interesting paradox about Facebook Messenger: While Facebook's user base might skew older than other social-media sites in general, it appears that millennials and younger are more apt to contact a company via Messenger for customer service interactions.
Oracle rolls out video support, too
The platform enhancements from Oracle also include AI support for text and voice-assistant channels. On top of that, the company is rolling out video chat support, in Oracle's own format, for companies using Oracle Service Cloud.
Channels such as the Amazon Echo and Facebook Messenger in general are taking away a company's ability to control the customer experience, and handing it over to technology-savvy customers using the channels of their choice, Oracle's Cahill said. Such "empowered consumers," as he calls them, are forcing companies to meet the customers in these apps as opposed to in controlled environments such as their websites.
"We're seeing consumers spend more time in messaging apps such as Facebook Messenger or WeChat than they are on the social networking sites [or email]," Cahill said. "With customers, especially millennials, spending more time in these alternate channels, enterprises have to think about how they reach out to service, sell or market to customers in these new messaging channels."
AI capabilities, Cahill added, give frontline CRM users in sales and service new capabilities to automate tasks that currently take time to complete, such as pre-populating form fields and other manual work.