darren whittingham - Fotolia
Adobe and Microsoft strengthen partnership, integrate products
By partnering, two tech giants are able to fill the gaps they have in their customer experience platform.
In this age of technology-company square dancing, Adobe and Microsoft are partnering up and do-si-doing toward...
Continue Reading This Article
Enjoy this article as well as all of our content, including E-Guides, news, tips and more.
enhancing customers' data and experience.
While the partnership between the tech giants was unveiled at Microsoft Ignite in September 2016, the fruits of this union began to take shape in March at Adobe Summit, where users learned that Adobe would be filling the marketing software gap in the Microsoft Dynamics platform, as well as taking advantage of Azure for its Experience Manager. The third joint product customers will benefit from is the integration of Adobe Analytics with Microsoft Power BI, which brings together both companies' analytics offerings.
The combined products help fulfill the customer experience promise both companies have been championing.
"Microsoft is strong in the CRM market with Dynamics, but they don't really have that marketing component," said Cindy Zhou, vice president and principal analyst at Constellation Research Inc. "Adobe helps round out the enterprise marketing side. And, at the same time, Adobe had some challenges with customer experience on speed and flexibility, so Azure really helps augment that for Experience Manager."
Filling the missing link
With the ongoing arms race in customer relationship and artificial intelligence markets, finding a cooperative partner is growing in importance. Salesforce already partnered with IBM for AI and Amazon Web Services for cloud services, putting the onus on Microsoft -- also a former partner of Salesforce -- to find an ally if it's determined to gain CRM market share.
It really is mutually beneficial, and each is filling the missing link in their customer experience narrative.

Cindy Zhouvice president and principal analyst, Constellation Research Inc.
"It's probably a good thing for both of them," said Andrew Snodgrass, research vice president for Directions on Microsoft, an independent consulting firm based in Kirkland, Wash. "I don't think Microsoft could attack Salesforce and other competitors with what they have, and I don't think Adobe could leapfrog anyone by doing it on their own, either."
Snodgrass added that if Adobe tried to expand into cloud hosting, it would require an immense investment -- something that is avoided by partnering with Azure, one of the three leading cloud providers.
On the other side of the partnership, Microsoft greatly enhances its customer experience offerings by integrating Adobe Campaign into Dynamics 365, filling in enterprise-scaled marketing software to a system that only had a product meant for SMBs in Marketing Pilot.
"They address different parts of the market," Zhou said. "Adobe's customer base is that enterprise-sized customer -- T-Mobile, NBA. It really is mutually beneficial, and each is filling the missing link in their customer experience narrative."
Cross-selling products
The integrated products also open up the opportunity for Adobe and Microsoft to cross-sell the other's products, promising tight integrations and what they're calling a new open industry standard for experience data models. For Microsoft, it's a big opportunity to gain more footing in the CRM space by offering an enterprise-scaled platform that includes a scalable marketing product.
"It's critical to know that this is a true partnership -- they're not just sharing a marketing message, but they are actually selling together," Zhou said. "Sales reps are being incentivized to cross-sell these products."
While pricing on the Dynamics 365 page doesn't include Adobe products, Snodgrass said when Adobe Campaign is bundled into Dynamics pricing, the partnership hits another level.
"Customers who already used Adobe Campaign and Dynamics weren't worried about connecting the two products together. But going forward, I'd imagine there are a large number of customers thrilled with it," Snodgrass said. "They will be able to pay one price and have one party support them and have everything fully integrated."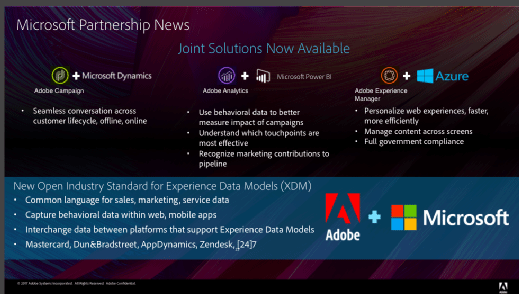 Azure gains Experience
In addition to combining their analytical expertise with Adobe Analytics and Microsoft Power BI, the Adobe and Microsoft partnership also includes hosting Experience Manager, Adobe's web enablement product, on Azure, increasing the product's reach and abilities.
"The key value propositions for combining analytics is they get to offer customers a broader story around the customer data," Zhou said. "It's no longer just silos of marketing analytics, sales analytics. And by partnering with Azure, Adobe can increase the speed and platform flexibility [of Experience Manager] for customers."
Looking ahead, Zhou said she sees opportunity for further Adobe and Microsoft product integration, especially around the AI space with Adobe Sensei and Microsoft Cortana, but neither company has confirmed that those products will be integrated.
"We believe the combined power of our technologies will allow enterprise businesses to harness their data in new ways," Scott Guthrie, executive vice president for Microsoft, said in a news release. "Together, we are delivering compelling and personalized experiences that will drive brand loyalty and growth."
Next Steps
Adobe Marketing Cloud adds mobile capability
Azure partners benefit from cloud's growth
Azure features expanded in 2016