agsandrew - Fotolia
Salesforce Einstein AI powers Sales Cloud makeover
Salesforce Einstein AI brings enhancements to Sales Cloud. While lead scoring, dialing and activity capture get automation features, Watson integration looms in the distance.
Salesforce's Einstein artificial intelligence technology finally hit the company's Sales Cloud after first being integrated with other Salesforce clouds, such as Service Cloud, App Cloud and Analytics Cloud. Still to come is integration with IBM Watson, but analysts see the two AIs as different animals fulfilling separate roles.
New Sales Cloud features incorporating Salesforce Einstein AI include Einstein Lead Scoring, which automates lead prioritization; Einstein Activity Capture, which automatically logs sales staff's customer interactions that were previously manual; Lightning Dialer, which ostensibly cuts down on phone-number lookup; and Salesforce Engage, which dashboards customer interaction with the company.
Many of the new features are built into Lightning Sales Console, which dashboards the fruits of the artificial intelligence (AI) technology and cuts down on app switching. The idea, according to Lynne Zaledonis, Salesforce's product marketing vice president, is to remove manual tasks from a salesperson's daily routine, as well as point the way to the highest-scoring leads -- those most likely to result in sales -- to maximize revenue.
"We're making artificial intelligence accessible and available to our customers," she said. In a demo of the upgrades to SearchSalesforce, the lead scoring (see image) comes with a list of factors the AI engine used to compute the lead's score, such as white paper downloads, decision-maker title and verified phone number.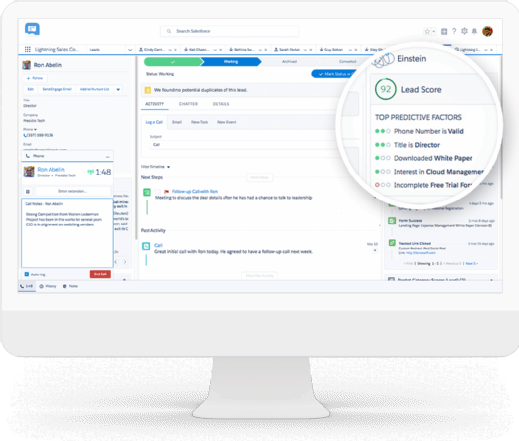 Cashing in on the promise of automation
Karl Becker, president of The Carruthers Group, a marketing and sales programs consultancy in Arvada, Colo., said the Einstein Sales Cloud upgrade brings AI to rank-and-file sales staff in practical ways. It can make their day more efficient by helping typically busy employees prioritize their to-do lists, as well as automate some of the typing and cycling through screens that take them away from closing sales.
What might be even more interesting, he said, is the potential for applying AI to a customer's interactions with the company -- automating the process and mining data -- to give sales staffers new insights they might not have been able to find before.
"Something like 60% of a buyer's journey, for a lot of products, [is] done through social and digital and web research," Becker said. "So, when they come into your funnel, you can make the argument that they are already pretty far down their decision process of buying. ... When you can shorten your response time, automate that and take time off a salesperson's plate, they can repurpose that for selling activities."
Whither Watson?
Alan Lepofsky, vice president and principal analyst at Constellation Research Inc., in Cupertino, Calif., said the Salesforce Einstein AI integration is interesting in that the company is applying Einstein to specific use cases on its various clouds, down to tasks such as lead scoring and autodialing. This is being done as Salesforce's CRM competitors talk about their AI technologies more generally as platforms.
That being said, a few weeks ago, Salesforce announced a deal with IBM to use Watson AI within its sales platform. Lepofsky said he imagines a future Watson integration adding insights from massive external data sets -- such as weather issues that may hamper sales in a particular territory -- and Einstein figuring into more front-line processes. Together, they will help drive a more detailed picture of today's lead list.
Whether it's IBM Watson or Salesforce Einstein AI -- or both -- driving the sales insights, he said, those technologies can only go as far as the quality of big data fed into them. That, and being able to recognize patterns indicating that not everyone closes deals the same way, and customizing insights for different people.
"Einstein is only going to be as good as they tune the algorithms for those use cases to be," Lepofsky said, pointing out that some salespeople are more aggressive than others, and still others might show elements of both. "One set of rules don't apply to all people. When AI can start to understand our personalities, I think we have a winning situation."