IoT technologies bring efficiency and customization to manufacturing
KUKA Robotics is using IoT technologies to automate assembly line manufacturing and usher in customization.
While companies see the potential of the internet of things, they are tentative about getting value from IoT technologies. As a result, many are still in the pilot phase of IoT projects, if they have explored the technology at all.
The internet of things (IoT) promises to revolutionize industries like manufacturing by providing data in the moment about how devices are behaving, how consumers are interacting with products and predictions about how customers might behave in the future. This information is a treasure trove for companies that want to sell new products and services, as well as find new customers.
Because IoT devices gather data from sensors and can send this data over the internet, companies can learn far more about business operations -- and far more quickly. The downside is this information often remains an island, separate from other business processes. The result is companies can't make intelligent business decisions from the information because it's too disconnected from their daily activities.
That data problem is part of the IoT adoption chasm, as some market observers have characterized it. While Gartner predicted 25 billion IoT-connected "things" by 2020, in reality, companies remain tentative about adopting the technology. According to a recent Internet of Things Institute study, enterprises are hesitant about data privacy and security (40%); concerned about the high cost of IoT implementation (38%); and generally skeptical about whether IoT technologies can deliver on their promised ROI (27%). Similarly, a Bain & Co. survey found some 90% of respondents are in only the planning and proof-of-concept stage, and 20% expect to implement IoT technologies by 2020.
While "executives are intrigued by the transformation opportunities that can be created by the IoT, they are concerned about the technical challenges, regulatory issues and organizational obstacles that stand in the way," Jeff Kaplan, managing director at THINKstrategies Inc., wrote on SearchSalesforce.
Even Salesforce, the cloud-based CRM vendor that launched IoT Cloud in 2015 -- an application that ingests and analyzes IoT device-generated data -- acknowledges customers are in the initial implementation stages for IoT technologies and trying to find ROI.
Data is the new oil.

Andy Changdirector of product marketing at KUKA Robotics Corp.
"Customers are very early on in their experimentation with IoT," said Dylan Steele, vice president of product marketing for App Cloud and IoT Cloud, at Dreamforce 2016. "They don't know out of the gate exactly how they're going to get it right. They are looking for a tool that lets them iterate and experiment."
At the same time, companies like KUKA Robotics Corp., which serves the automotive and aeronautics industries, see the possibilities for IoT to bring dramatic efficiencies to mass production, while also enabling customization, using the information generated by IoT devices.
"Data is the new oil," said Andy Chang, director of product marketing at KUKA, based in Shelby Township, Mich.
Crossing the IoT technology chasm
Sessions at Salesforce's annual confab, Dreamforce, echoed this notion that IoT is still coming of age. In a session on IoT in the world of manufacturing, Salesforce noted that IoT data is still too siloed from business operations to have real meaning for business decision-making.
"If you take a digital device and connect it to the internet, you have a connected product. But we're seeing that's not enough," said Eugene Kuznetsov, vice president of product management for the Salesforce IoT Cloud, at the session, "How KUKA is Revolutionizing Manufacturing with IoT Cloud."
According to Kuznetsov, the problem lies in the lack of integration between IoT and other core business applications that a company necessarily relies on to do business, such as ERP, CRM, financial and other systems.
Kuznetsov said for IoT to have a connection to business processes, the data needs to mesh with the human interaction with these processes. "You end up with this gap between connected devices and the systems of engagement and business systems," Kuznetsov said. "You're not making the leap across the chasm to transforming your business. What you really need to do is connect to the customer experience, the systems of engagement and other things that touch humans."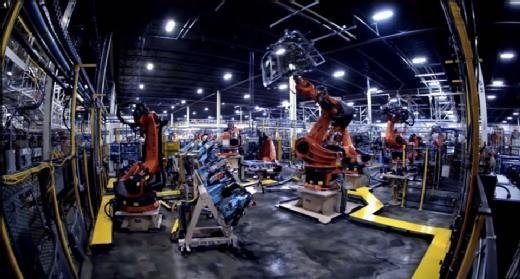 KUKA is still in the experimentation phase, though it has begun to cross the chasm of IoT technologies. KUKA needed IoT-connected devices to optimize shop-floor operations. Its robots work in plants, for example, that assemble Jeep Wranglers. At one factory, some 225 robots are sprinkled throughout the shop floor and perform welding, gluing and other assembly activities.
"It's a complicated facility," Chang said. "We work hard to maximize throughput, efficiency and also to minimize downtime. We need to produce each vehicle in about 71 seconds."
For KUKA, one of the most important pathways to maintain production efficiency is to monitor its robots to ensure they are performing correctly and, if not, to address the problem based on data on robot performance and other metrics. "We want to keep the robots up 24/7 to prevent downtime. So, we are measuring [issues like], 'Who is the robot? What is it doing? How is it doing?'" Chang said.
KUKA also wanted to help companies customize their production line without compromising efficiency. In the case of vehicle assembly, that means pairing robots with humans. In this human-robot collaboration, humans work in close proximity with robots. Moreover, this method of matrix production involves each manufacturing cell having a variety of personalities so it can reconfigure to create custom products. Chang noted this customization has become critical to meet ever-rising consumer expectations.
"To deal with that, manufacturers need to dramatically change their tooling -- their robotics systems, automation systems to meet the demand," Chang noted. "How do we do that? Ultimately, we want to get to matrix production, where each individual cell has a variety of personalities. Depending on workload, each cell can be reconfigured to change the assembly line."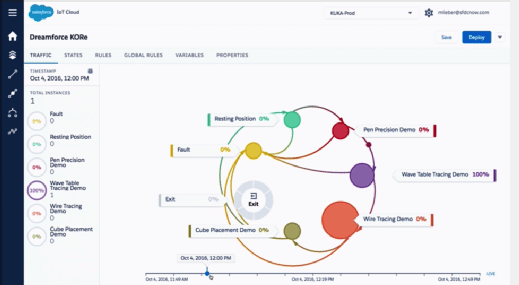 So, KUKA turned to IoT-enabled devices and the IoT Cloud to help it understand robot tasks and stay on top of robot failure. If a robot isn't behaving correctly, IoT sensors send fault data to the IoT Cloud. These alerts can direct humans to the best course of action -- such as taking the robot offline, servicing it on the shop floor and more. The robots can even send signals through Salesforce Chatter, the social networking application in the Salesforce platform, about their status. Chang quipped that the robot could use Chatter to call the attention of workers through alerts that indicate, "'Hey, dude, there is something wrong with me. Take me to a doctor.'"
Making meaning of IoT data
But reading data -- and deriving meaning from it -- isn't always simple. One of the challenges, Chang said, is the ability to gather data on a robot's dynamic activity and combine that with contextual, historical data, such as when the robot was initially created, when it was last serviced and so forth. "There are a lot of attributes that are happening every second," he said. "Being able to visualize two different sets of data in a cohesive way has been a challenge."
Data cohesion still plagues enterprises uses of IoT data. Combining different sources, assessing that information in real time and being able to make decisions about that data are issues companies are still working through -- with struggle.
Still, Chang noted that IoT has progressed and gained a new level of sophistication by delivering meaningful data in real time at arm's length. "We can immediately understand what a robot, a block away, is doing. We may take that for granted because, as consumers, we're always connected. But for manufacturing, this is a huge step."
Progress still needs to be made, though. As Salesforce's Kuznetsov noted, IoT is still dominated by trial and error.
"You don't necessarily know what will work yet: what is going to reduce cost, what's really going to be transformational."
For more, check out all our Dreamforce 2016 conference coverage here.
Next Steps
IoT technologies mature -- slowly
Why IoT Cloud may experience incremental adoption
What's on tap for IoT Cloud?