Salesforce bot automation brings customer service to a new level
Salesforce's AI helps companies stay on top of CRM where customers often want immediate customer service on mobile devices and social media, but human interaction remains critical.
SAN FRANCISCO -- Some executives may wring their hands over the impact of bot automation, machine learning and AI on job roles. But others see the potential of combining software with people-centric tasks to drive efficiency and enhance human work.
At KLM Royal Dutch Airlines, customer service agents deal with a high volume of requests for flight information or help with trip cancellations, particularly during bad weather. In 2015, KLM began experimenting with a hybrid approach -- chatbots combined with human customer service -- to deal with high-volume customer interaction on social media platforms.
Bot automation is just one of the many types of artificial intelligence (AI) that major software providers have touted during the past year as the next great thing in technology. Microsoft did so with Office Graph, and it added AI to Azure and Office 365 services, which it debuted at Microsoft Ignite in September; Oracle rolled out Adaptive Intelligent Apps at its annual confab, OpenWorld; IBM has long cultivated AI through Watson; and Salesforce has made Einstein technology the crown jewel of its cloud platform strategy going forward.
Salesforce has evangelized AI as not only the new business differentiator, but also a tool that will eventually become pervasive.
"Intelligence is the electricity of our era," said Shubha Nabar, director of data science at Salesforce, during the Einstein keynote presentation at Dreamforce. "People used to talk about their electric toasters. Today, we talk about smartphones and watches ... but pretty soon, we'll just have phones and watches, and everything else will just be stupid."
KLM integrates bot automation
KLM's customer base is highly mobile and social, so the airline needed to handle customer inquiries in a medium that is not only inherently interactive, real-time and high-volume, but also customer-centric and personal. Customers often send rapid-fire messages on social platforms from mobile devices. KLM has an active service presence on multiple social platforms -- from Facebook and Twitter to LinkedIn and Instagram -- and interacts in 12 languages. Sixty percent of customer interactions at KLM occur on mobile devices.
Intelligence is the electricity of our era.

Shubha Nabardirector of data science, Salesforce Einstein
"For us, social media and particularly messaging is our digital entry point," said Martine van der Lee, manager of social technology at KLM.
KLM saw AI as a way to combine technology and human interaction. In 2015, the company introduced AI chatbots, so agents could interact with customers on social platforms. Those interactions, van der Lee said, are "the most emotional and visible side of our business: dealing with customer questions on social media.
"While AI is robotics, this is emotional," van der Lee said.
KLM took a two-tiered approach to making intelligence native to its systems. Lower-level customer inquiries are initially answered by a chatbot, or intelligent software, and higher-level interactions are assumed by human agents. KLM didn't want to compromise the human touch in service that it has cultivated for nearly 100 years.
"Giving customers this warm, personal feel is at the core of our company," van der Lee said. "We didn't want to lose that."
KLM is not alone in using technology to enhance customer contacts. Research suggested customer service roles are expanding even as technology permeates the contact center. According to the April 2016 report, "Transform the Contact Center for Customer Service Excellence," Forrester Research found 64% of respondents plan to expand the number of customer service positions to meet demand from customers, compared with just 6% that plan to reduce staff.
Is Salesforce AI ready for prime time?
Salesforce and other vendors are trying to bring AI not only to service, but also to sales and marketing, analytics and collaboration tools -- really, all services they provide. Accordingly, Salesforce Einstein brings AI natively to all the Salesforce clouds -- from Sales, Service and Marketing to Internet of Things and Commerce Cloud; all these applications benefit from algorithms that identify patterns in data and recommend action to users based on those findings. Salesforce is banking on its approach to intelligent systems as a key differentiator in the marketplace, but it also wants to commoditize and democratize AI so data science is accessible to everyone.
Salesforce acknowledged, however, that Einstein is the byproduct of numerous acquisitions, and it is going to take time to bring all those integrations together.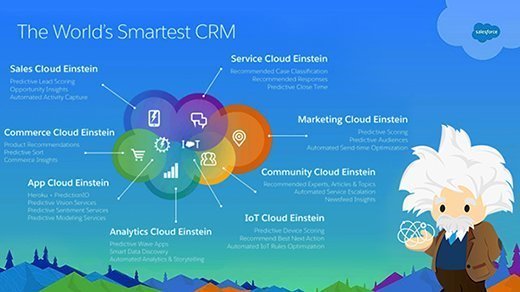 "We can see a world where Salesforce has AI built in at the deepest levels, at the core of our platform," said Salesforce CEO Marc Benioff at the Dreamforce keynote. "We bought all these amazing companies, like RelateIQ and PredictionIO and MetaMind ... and we have been able to stitch together this amazing platform."
Stitched together may be the operative phrasing. Since 2013, Salesforce has invested handily in artificial intelligence, spending some $700 million to bring intelligence to its platform with RelateIQ, MinHash, PredictionIO and MetaMind. But this has, indeed, created a patchwork of systems to integrate.
Some industry observers have noted this kind of growth -- fast, furious and partly by acquisition -- presents challenges in creating a cohesion for users and among technology services. Just as KLM took months to bring chatbots to the Service Console, Einstein may not "just work" with other data and applications. Despite its potential, integrating Einstein with other applications in the portfolio likely won't be immediate and will create some project obstacles, experts said.
"Salesforce has done a superb job of painting the vision of the value of embedding AI in CRM and the other elements of its cloud portfolio," said Jeff Kaplan, managing director of THINKStrategies Inc., a technology consultancy. "However, it will take a while for the company to put the pieces together to deliver on the Einstein promise, and customers will still need plenty of integration skills to fully capitalize on Einstein's capabilities."
Salesforce AI is also challenged by defections this year, including Steve Loughlin of SalesforceIQ -- formerly RelateIQ, which Salesforce purchased for $390 million -- and Tod Nielsen, vice president of platform.
Dumb integration for intelligent systems
For companies like KLM, intelligent systems have supplemented, not supplanted, human work; at the same time, automating social interaction has hardly been turnkey. While KLM initially expected bot automation to take just weeks, it has taken some five months to integrate Facebook Messenger into the Salesforce Service Cloud Service Console, where agents find customer information to service passengers, and where KLM used the big data platform Heroku. Then, time was needed to train agents to be able to combine their own high-level customer service agents with bots.
Today, 30% of customer service cases at KLM use some form of AI. According to van der Lee, KLM is still determining the agent-productivity savings derived from bots. The company will also measure success in terms of how quickly an issue can be resolved. For example, when a passenger wants to change his flight to another time, the number of interactions with an agent it takes to do so has been reduced from a range of seven to nine to two to four interactions.
An initial response to a customer query about flight status or rebooking is often generated by a bot. Then, a subsequent message may bring in a human agent. "We are using the best of humans for a personal feel and the best of technology so we're able to create a scalable system," van der Lee said.
For more, check out all our Dreamforce 2016 conference coverage.