Sergey Nivens - Fotolia
Field Service Lightning brings field service management to Salesforce
Field Service Lightning brings new field service management capabilities to Salesforce. But what about partners that offer field service?
Just a month after Salesforce's release of its CPQ application, which helps automate the price-quoting process in sales, the CRM provider this week revealed the availability of Field Service Lightning, which automates and integrates field service management tasks for service workers on mobile devices.
But like the new CPQ (configure, price, quote) application, which competes with Salesforce partner Apttus, Field Service Lightning encroaches on another well-established Salesforce partner market: workforce management broadly and field service management, from partners such as ServiceMax. In early February, Salesforce demoed the CPQ application on its sales productivity application, Sales Cloud, along with introducing the Lightning development platform to all six of its clouds. There was speculation at that time about Salesforce's entrée into new markets and the effect on partners.
Field Service Lightning eases tasks for field workers
Previewed at a live event and streaming webinar in February 2016, Field Service Lightning, which is built on the CRM provider's Service Cloud offering, promises easier field service management for service technicians using mobile devices in the field. It enables them to access a customer's entire sales history for that 360-degree view of customers and enlists workforce management capabilities to make scheduling of staff easier. Field Service Lightning is built not only for the Salesforce1 mobile platform, but also in anticipation of the massive influx of Internet of Things devices -- an estimated 25 billion connected devices by 2020, according to Gartner.
Field Service Lightning enables technicians to view key customer account information from other applications, such as the Sales and Marketing Clouds, and potentially up-sell a customer on new services as they repair a product. For example, if a technician services a malfunctioning router, but sees that the customer has inquired about other bundled services, he may take the opportunity to sell these services and offer a discount.
Field Service Lighting also enlists ClickSoftware functionality for workforce management capabilities. It enables technicians to see all their open work orders on a mobile device, and can maximize service-call efficiency by scheduling technicians based on the route they are traveling and their real-time availability. If a technician is taking longer than expected at one home, the software can dispatch a different service tech to an overlapping appointment to prevent backups and poor customer experience. The application enlists templates and the Lightning user interface to create work order screens that are intuitive, but also provide the 360-degree view of customer information. (See Figure 1.)
For Stanley Healthcare Solutions, Field Service Lightning enables workers to coordinate on-site service and get in touch with patients who need care proactively, from the road, said Amihai Zeltzer, associate vice president, global technical and digital services at Stanley Healthcare, based in Waltham, Mass.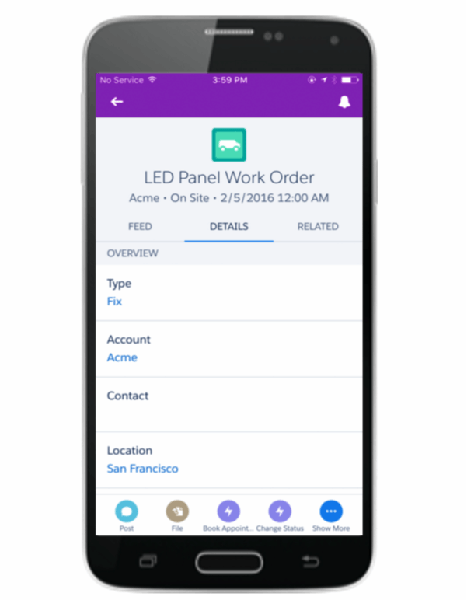 That partner problem
Executives have been waving off functionality overlaps, essentially saying, 'The more, the merrier,' in markets where Salesforce now finds itself.
But there's little doubt that the introduction of Field Service Lightning encroaches on the capabilities of established field service management providers, such as ServiceMax or even Microsoft and Oracle. Executives have been waving off functionality overlaps, essentially saying, "The more, the merrier," in markets where Salesforce now finds itself.
"This is a mutlbillion-dollar market that everyone has been able to get into but that is largely untapped," said Sarah Patterson, senior vice president of product marketing and strategy at Salesforce. "We built this as a platform, so anyone can build on this. So that's where our partner system can really drive."
For the time being, Salesforce partners appear to be towing the line and emphasizing the ample pie the market offers. But integration into the Salesforce clouds brings a clear preference for certain apps over others. Companies may have to make extra effort to fully integrate other offerings into their workflows.
Field Service Lightning is generally available on March 15, 2016. Pricing starts at $135 for companies that have at least one Enterprise Edition or Unlimited Edition Service Cloud license.