Salesforce Analytics Cloud still slow to take hold
Released with much fanfare in 2014, the Salesforce Analytics Cloud has encountered some company successes, but also more tepid response than expected. What's holding it back?
Before Houghton Mifflin Harcourt started using Wave, the analytics application also known as Salesforce Analytics Cloud, it had little visibility into its sales performance. Salespeople found logging their forecasts in the company's CRM system onerous, to say the least. But without quality customer data, HMH was at a loss to understand in which areas sales reps needed improvement.
"About 20% of sales reps were forecasting in Salesforce," said Lee Ramsayer, executive vice president of sales at HMH, a Boston-based educational publisher, which specializes in educational textbooks and other materials. "A lot were doing it on spreadsheets, or some on the back of napkins."
With little discipline in the sales process, Ramsayer said, executives and managers didn't know enough about sales performance to make improvements or reward good practices. Now, nearly three years later, 100% of sales reps use the platform, as well as other departments, including product management and those responsible for the global supply chain and for customer experience. In addition to having standardized itself on Wave, HMH also has better forecasting abilities.
"You cannot believe the difference three years ago to now," Ramsayer said. "We ask for a forecast, and we measure the results. We want reps to be at plus or minus 5%. We take actions for those reps [who] miss that 5%."
Training and certification is also central to sales reps' effectiveness, Ramsayer said, but previously, HMH lacked the data to make the case for reps to stay current with training. Wave has enabled sales managers to demonstrate that link.
"You can correlate training with sales reps' success," he said. "When you can put empirical data behind it, you can get adoption in people's mind shares that, 'Geez, this stuff really does matter.'"
These kinds of improvements are consistent with the track record for data visualization tools. According to Aberdeen Research, an IT research firm in Boston, when data visualization tools are used as part of the business intelligence (BI) portfolio, nearly one-third more business decisions can be based on facts, not gut feel. That's why many companies are embracing these tools for the business side.
You cannot believe the difference three years ago to now.

Lee Ramsayerexecutive vice president of sales, Houghton Mifflin Harcourt
For years, Salesforce's CRM platform enlisted the help of third-party tools to analyze sales and customer data. But in 2014, the cloud-based CRM provider announced its own foray into analytics. The Salesforce Analytics Cloud, a data visualization platform, aims to bring digestible data analysis to executives' fingertips, with minimal number crunching -- and without the need for help from analysts or IT to prepare the data.
Ramsayer said having analytics at the ready for its customers, which are schools, helps establish the groundwork for a sale. "Schools are no longer just looking to buy a math book," Ramsayer said. Now, they want a variety of services, from digital to print and from textbooks to evaluation tools. In turn, HMH reps can better identify cross-selling opportunities for customers.
If Salesforce Analytics Cloud sounds like a magic wand of sorts for executives, marketers and other line-of-business employees, it is. Executives can create bar, pie or scores of other data representations in a dashboard and embed the data in applications they use every day. Then, they can click into those representations to start seeing trends without having to extract data to other programs to glean insight. Since the auspicious launch of the Analytics Cloud in October 2014, Salesforce has touted Wave as "Analytics for Everyone," or an application to democratize data analysis.
"This market was underserved until Wave," said Anna Rosenman, senior director of product marketing for the Analytics Cloud. "[Business] users didn't have access to information that was absolutely critical to their jobs, and that was what Wave was able to do."
That small problem of adoption
But that is only one side of the Wave story. There are some downsides, too.
Overall, Salesforce adoption has been slow. According to a State of Salesforce 2015-2016 report by Bluewolf, a consulting company based in New York, only 6% of respondents use Wave, compared with 86% that use Sales Cloud, the Salesforce automation platform. And that Wave number is among the party faithful -- that is, Salesforce CRM users.
Slow adoption may stem, in part, from the high price tag for Wave in its first year: At $250 per user, per month for a Builder license, or $125 per user, per month for an Explorer license, even Salesforce users were skeptical about using Wave. Salesforce has subsequently discounted the licenses to $150 per user, per month for the Wave Analytics Platform, and $75 per user, per month for the Wave Analytics App, respectively.
But even for companies that want to analyze Salesforce data, it's not as easy to crunch the numbers with data from other sources and systems, such as financial, ERP or other database systems.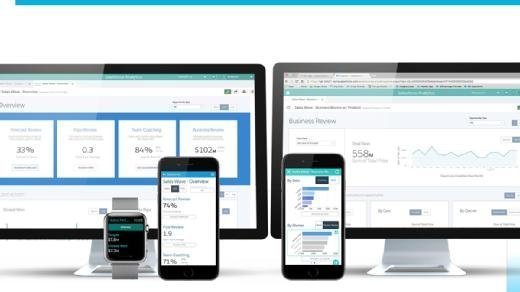 Also, BI is still a struggle for average companies. According to a July 2015 report from auditing and consulting firm KPMG International, 97% of organizations use data and analytics, but only 19% are satisfied with the insights these tools provide. Companies strain to gather real insight -- and get reliable output from that insight.
Another drawback is that Wave targets mobile users, but Salesforce's focus on the mobile scenarios also limits its functionality in other business contexts. Wave is designed for that "road warrior" who needs to click just a couple of buttons to take action, but is unlikely to initiate a full work process, given the constraints of a mobile device. "The classic use case is the person on the road," said Martha Bennett, analyst at Forrester Research Inc., in Cambridge, Mass. At the same time, Bennett said, as a mobile-first application, limited charts and graphs can curtail Wave's usefulness.
Finally, and probably most importantly, Wave can't ingest data from just any source; it's designed to work with Salesforce data. Other data sources, such as information from an ERP system, a human capital management application or a financial application, may need massaging with such processes as ETL (extract, transform and load) before the data can appear as bars and charts in Wave.
"One of the shortfalls is getting data into Wave if it isn't Salesforce data," Bennett said.
"Salesforce customers are the audience for this tool right now," she emphasized. While it's possible to ingest data from non-Salesforce data sources, it requires lots of ETL preparation before you bring the data into the Wave data store. "It's potentially an inhibitor," Bennett noted.
Salesforce's Rosenman said, however, that today, 75% of data in Wave is external data, that is, "data that doesn't live in Salesforce," she said.
Data transform thorn in the side of Wave
Some Wave customers had to learn this the hard way.
That was the situation for clinical laboratory consulting group Rhodes Group Inc., in Albuquerque, N.M., whose data doesn't involve customer facts from sales or marketing, but rather patient data from healthcare systems, such as Epic and Cerner. Rhodes Group imported millions of records into Wave -- only to find that the raw data couldn't provide the insights needed.
Getting data into Wave was challenging, said Patrick Prescott, vice president of financial solutions at Rhodes Group. The lab consultant wants to use the data to identify patients at high risk for certain medical conditions before these conditions manifest as health risks.
Consider diabetic pregnant women who haven't received a gestational diabetes test in the second trimester, as is the protocol, Prescott said. Ensuring these patients have the test means that healthcare providers can monitor women to ensure a healthy birth down the road. As Prescott noted, the failure to monitor their condition can result in healthcare costs of $200,000 for a neonatal intensive care-related birth, compared with about $14,000 for a routine birth.
Rhodes Group couldn't just identify this subset of patients automatically in Wave, though. It had to take the data out of Wave, filter it in a Microsoft SQL Server data warehouse and then bring the data back into Wave. "We started all over and went through two Wave implementations," Prescott said. Ultimately, Prescott said, Wave is a presentation tool, not an analysis tool. "Wave is just the pretty way to consume that data," he said. Prescott noted, though, that given the nature and volume of the data, it would have been an undertaking with or without Wave.
We started all over and went through two Wave implementations.

Patrick Prescottvice president of financial solutions, Rhodes Group
Rhodes Group's experience reflects the kinds of challenges that this data transformation poses: It's time-consuming, can create duplicate copies of data and involves sending large volumes of data from original sources into Wave. And those transmissions can fail.
So, once the data resides in Wave, it's not set it and forget it, Prescott said. For example, wants certain complex data visualizations that aren't available in Wave. Patient data on medical conditions, for example, could benefit from sparklines, in which a table can be embedded in a graph so that clinicians can look first at broad trends, then trends for individual patients.
"We could show 50 patients on a table," Prescott said, "and then a sparkline would be a chart for each one of those 50 patients, with risk factors for a certain condition and the historical treatment of those risks."
Bennett said that the lack of advanced data visualization features is a drawback for Wave adoption. "There are limited graphs and charts in Wave, not as much visualization options as other offerings, like Tableau," she said. "Wave is a beautiful, visual interface, but it's not the same as advanced visualization."
As marketing and sales efforts become more finely tuned toward customers' individual profiles and behavior, location has also become a critical piece of data to incorporate. But Wave lacks integration with geospatial technologies, such as Google Maps, she said. Without redress, this could be a critical shortfall -- particularly with new offerings such as the Salesforce IoT Cloud.
Sometimes, Wave doesn't cut it
Some companies like Rhodes Group have made the transition to Wave by making concessions. But others say that Wave just isn't appropriate for the tasks at hand.
At TripAdvisor, a travel booking site based in Needham, Mass., while data visualization tools were important, using Salesforce Wave wasn't a consideration, given the kinds of data the company handles, said Eric York, analytics manager in the revenue optimization group at the company.
TripAdvisor uses data visualization tools primarily to see the results of website A/B testing. Companies use this testing to determine the effectiveness of website design changes -- such as new language, displays and other elements -- on site sales. "The product team does A/B testing to see which version of a site has better engagement [with an audience], what kinds of elements make more money," York said.
York said the company tests other tools, but has a lot of satisfaction with Tableau, a leading data visualization application company in Seattle.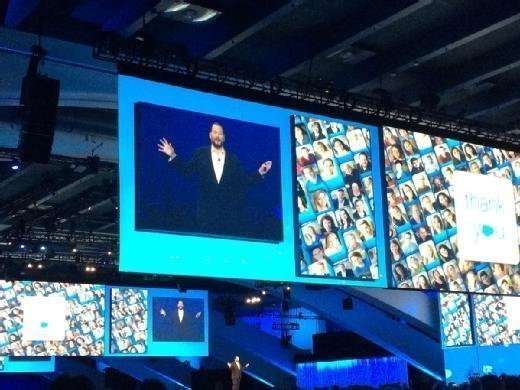 As far as Wave, York said, it wasn't a consideration for the product team. "It's mostly for the sales team, operations, IT [and] engineering departments," he said.
He discussed the downsides of the ETL scenario at TripAdvisor. "You have to load all that data into Salesforce. You have to take it out of wherever it lives, and since we have to move a lot, it's not economical to have to store it in two places. Then, it's a process of creating scripts to move it from one place to another -- and scripts can fail."
The mobile use case
At HMH, Wave has been particularly useful for executives, sales reps and other workers on the road. These workers need data access quickly, but they can't necessarily initiate an entire work process from a mobile device. Instead, they can tap a button or two for quick approval, or send a note to a colleague. For HMH's 750 sales reps, mobility has been critical.
"All salespeople are on the road on a daily basis," Ramsayer said. "We want to ensure that Wave is mobile-enabled."
Mobility is the key Wave scenario for Bennett -- and users. "You can't do a deep dive on an iPhone, but you can see documents, respond on the go and collaborate with those back at the office to take action," she said.
Moving to Wave has posed some challenges at HMH, though. One major issue is having workers trusting the data that is presented to them in Wave without relying on their own data manipulation to verify the data -- and the conclusions they might draw.
"The sales team is used to working out of Excel and synthesizing the insight themselves," Ramsayer said. "Now that Wave presents the insight, they're asking, 'Is this the insight that I would have derived if I had done it myself?' They are asking new questions and going beyond what's presented."
Still, for companies like HMH, which has brought Wave to other areas of the business -- including inventory management -- the analytics tool has had significant impact. "We're struggling where we're not using Wave, quite frankly," said HMH's SVP of sales ops and finance, Hazel Hughes.
Next Steps
Could Salesforce Wave really bring analytics to everyone?
The hype and hope behind Salesforce Analytics Cloud
Are users eager to sign on to Salesforce Wave?