Microsoft-Salesforce partnership paves way for Salesforce IoT Cloud
The Microsoft-Salesforce partnership, which integrates Lightning with Office 365, is paving the way for a much bigger deal: IoT Cloud.
SAN FRANCISCO – Microsoft and Salesforce are teaming together for Lightning integration with Office 365. But the...
Continue Reading This Article
Enjoy this article as well as all of our content, including E-Guides, news, tips and more.
real news is that the companies are paving the way for a partnership on the new Salesforce IoT cloud.
Last year, rivals Salesforce, the cloud-based CRM vendor, and Microsoft, the operating system giant, launched a new era of entente at Dreamforce 2014. That relationship has deepened this year, with Microsoft's support for Salesforce's development platform, Lightning.
Lightning integration will encompass components of the Office 365 suite: Microsoft's Skype for Business, OneNote, Delve and Windows 10. The news builds on the recent availability of two products: the Salesforce App for Outlook and the Salesforce1 Mobile App for Microsoft Office. With the new integration, Microsoft users can launch meetings, check whether colleagues are online or make voice and video calls directly from the Salesforce platform.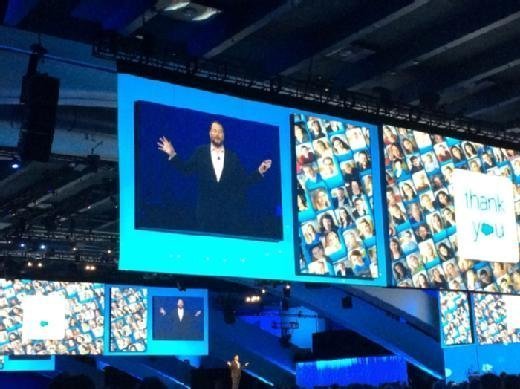 But integration between Microsoft offerings and Salesforce Lightning isn't yet available. In fact, even a preview version isn't expected until the second half of 2016.
As Wired reporter Jessi Hempel noted, the partnership reflects not just the continued technology advancements of the two companies, but a change in culture that necessitates partnership.
"Two years ago, we never would have seen Microsoft [at Dreamforce]," Hempel said in a keynote onstage with Microsoft CEO Satya Nadella at Dreamforce 2015.
Relationship deepens in anticipation of IoT pie
While the partnership represents a continued strengthening of the relationship between the former rivals, it also signals that the two companies want to set the stage for interoperability, as the Internet of Things (IoT) market heats up.
Both companies are making aggressive forays into IoT, with Salesforce announcing its IoT Cloud, along with vertical clouds for healthcare and financial services, this year prior to Dreamforce. Still in pilot mode at the moment, the IoT Cloud will be released in the second half of 2015. Salesforce IoT Cloud CIO Adam Bosworth described the platform as able to detect small trends in data and trigger immediate responses. He used the example of Amazon tracking packages and simultaneously notifying customers of delivery status and issues.
Salesforce IoT Cloud takes advantage of Microsoft and Salesforce technologies to make device data available and actionable. Salesforce CEO Marc Benioff noted that the IoT Cloud will also use Microsoft's Azure cloud platform to process incoming data streams. And for its part, Microsoft is already using the IoT cloud to process data streams from websites, apps and devices to keep track of Office 365 event data. Salesforce applies a rules engine to the Office 365 data, and then connects it to the Salesforce Marketing Cloud.
The open concept that has been fostered by the API economy … has helped to fuel the idea of IoT.

Jeff Kaplanmanaging director, THINKstrategies Inc.
Salesforce IoT Cloud can capture data from billions of Office 365 events that happen every day and use it to address business opportunities, said Parker Harris, co-founder of Salesforce. For example, if a user signs up for Office 365 and hasn't downloaded Salesforce apps, Salesforce Marketing Cloud can send an email reminder, he said.
As THINKstrategies Inc.'s managing director, Jeff Kaplan, noted, the partnership between the two companies signals a change in culture, as well as the new necessities of technology to foster an open ecosystem.
"To have the two companies come together, it's a tribute to the new leadership at Microsoft," Kaplan said. "Buyers no longer tolerate closed fortresses. The open concept that has been fostered by the API economy … has helped to fuel the idea of IoT."
"No one company is going to own [IoT]," said Brent Leary, principal at CRM Essentials LLC.
For more, check out all our SearchCRM Dreamforce 2015 coverage.
Microsoft integrates with Saleforce's Lightning Experience
Skype for Business integration with Salesforce Lightning. Salesforce will integrate Skype for Business (formerly Lync) into its development platform, Lightning Experience, which promises a more user-friendly, faster user interface.
Office 365 customers can use Skype for Business to create Web meetings, click to chat and make voice and video calls from the Salesforce Lightning Experience. A preview is anticipated in the second half of 2016.
OneNote Integration with Salesforce Lightning. Users can associate notes with Salesforce records and view and edit notes directly in OneNote from the Salesforce Lightning Experience. A preview is anticipated in the second half of 2016.
Salesforce integration with Office Graph and Office Delve. Enabled by Office Graph, a system for content collaboration and discovery, Office 365 users can view and discover Salesforce content in Office Delve, such as sales opportunities, customer accounts and service cases. Availability is anticipated in the second half of 2016.
Salesforce1 Mobile App for Windows 10: Salesforce will deliver a Windows 10 app to empower sales teams to move deals forward while on the go, using their favorite Windows device. Availability is anticipated in the second half of 2016.