Salesforce launches Service Cloud Lightning Console on eve of Dreamforce 2015
With Dreamforce 2015 approaching, Salesforce is applying its new Lightning application to customer service, with the Service Cloud Lightning Console.
As Dreamforce 2015 approaches, cloud CRM vendor Salesforce is rolling out new initiatives for its Sales Cloud and, now, its Service Cloud. This week, it matched its Sales Cloud Lightning Experience which it announced last week with its new Service Cloud Lightning Console. The console is designed to more responsive and personalized customer service by building functionality -- such as knowledge base access, intelligent routing of tickets and the Salesforce Wave analytics platform -- natively into the console.
These features come by way of the development capabilities in the Salesforce Lightning platform. Announced at Dreamforce 2014, Salesforce1 Lightning aims to democratize application development and put the tools in the hands of business users, enabling them to develop apps quickly and easily. Lightning App Builder enables building apps with reusable components and templates to make the creation process even faster. Today, Salesforce introduced the Lightning development environment for its Service Cloud for faster, more data-driven and informed customer service.
Service Cloud Lightning Console involves several new areas:
Optimized Lightning Console. The new console is designed to speed customer experience and bring it to the next level by making customer service more omnichannel-ready. It combines data from various communication silos to give customer agents a more 360-degree view of customer issues, without needing to switch screens.
Intelligent case routing. The console is also designed for better routing of cases to the most appropriate agents -- those with expertise and availability to address the issue -- and provides knowledge base materials directly in the console for agents to address customer issues with these reference materials.
Service Lightning Components and the Lightning Design System. Service Cloud Lightning Console combines Lightning Experience, Design System, Components and App Builder, extending the Salesforce1 Platform to empower anyone to easily create modern, service-specific apps.
Service Wave Analytics. The new Service Cloud console also exploits the Salesforce Wave analytics platform -- with Service Wave Analytics -- to provide key dashboards for managers and service agents to view data in Service Cloud.
Service Wave seamlessly connects to workflows and records, so managers can assign a task, escalate a case, update a ticket or share best practices -- directly within the Service Wave App. Analytics dashboards from Service Wave can be embedded directly into the Lightning Console, providing service agents with a 360-degree view of the customer in the console and taking agent productivity to new heights.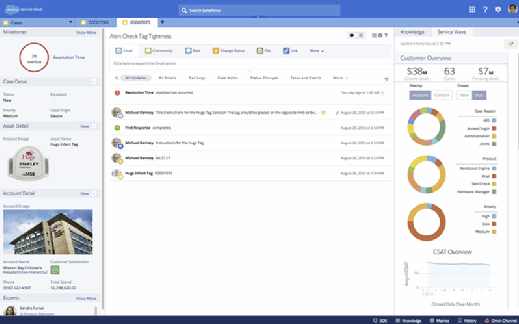 Ultimately, the Lightning Console is designed to integrate the Salesforce1 platform to improve operational areas, such as sales and customer service, with more native, easy-to-use and configure analytics. Salesforce's efforts to integrate its platform and make all offerings interoperable has been evident since the rollouts of the Sales, Service and Marketing clouds, as well as its Wave platform at Dreamforce 2014. Tight integration and synergies between offerings have been central to the Salesforce roadmap since the company rolled out these technologies last year.
Pricing and availability
Service Cloud is now generally available and pricing starts at $135 per user, per month.
Service Cloud Lightning Console is expected to be generally available by the end of this year and included in the Service Cloud Enterprise Edition or greater.
The Service Wave Analytics App is currently in pilot with select customers and expected to be generally available in January 2016. Service Wave Analytics will be available via a per user, per month subscription model. Pricing will be publicly available at the time of general availability.
Salesforce SOS is generally available and is $150 per user, per month with an Enterprise Edition license of Service Cloud.