Fotolia
Salesforce updates Marketing Cloud with new Journey Builder
Salesforce has released a new version of the Marketing Cloud, with a spruced-up Journey Builder, enabling marketers to tailor interactions with customers based on real-time behavior.
Today, Salesforce.com launched the latest version its Marketing Cloud, the platform for marketers to create and...
Continue Reading This Article
Enjoy this article as well as all of our content, including E-Guides, news, tips and more.
manage marketing relationships and campaigns with customers.
The update to the product is to Journey Builder, which enables marketers to better tailor campaigns to customers' behavior and needs, demographics and channel preferences, said Eric Stahl, senior vice president product marketing for the Marketing Cloud.
Event-driven triggers. With new features like event-driven triggers -- such as a customer joining a loyalty program or downloading an app -- the Marketing cloud can send a customer a message on any channel to begin their journey. Triggers can also automatically modify data in the customer contact record or set up various "decision splits" to adjust the action in real-time, based on how a customer behaves. The Marketing Cloud can determine whether it's best to send an email, text or to open a customer service case based on the most appropriate action.
"Journey Builder allows you to listen for certain events -- an abandoned shopping cart on your website, filling out a form, coming into your store and triggering a Beacon -- we call that a trigger, and then we have a canvas where we tell Journey Builder to send an email, create an advertisement or open a case" (see Figure 1).
So, for example, Journey Builder can map out various scenarios that could take place when a customer service case is closed in a contact center. Every time a case is closed, the Marketing Cloud sends an email with a customer satisfaction survey to ensure they customers are happy with the result and, based on whether the recipient opens the email or not, Journey Builder will map out different paths.
"If a recipient opens the email, we can send them down one path," Stahl said. "If they don't, wait two days, then we might send an SMS text. Also, we can find out about satisfaction; if they were happy, we would send them an email and add them to an advertising campaign. If they weren't, we would reopen the case back in the Service Cloud so an agent can follow up with that customer."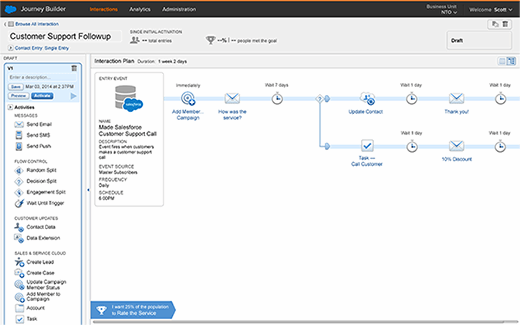 Native integration with Sales and Service clouds. The Marketing Cloud is now also connected to the Sales and Service clouds in Salesforce, enabling customers who don't want one group marketers connecting with them and another group from sales and another group from contact centers.
"It really needs to be one unified experience for the customer," Stahl said. "If you think about Uber, you're on the phone; you get a push notification when the car arrives; you get an email receipt. Is it sales? Is it service? Is it marketing? It doesn't matter. It's the unified experience that counts. [Uber] has strung that together."
"We're bringing together all these interactions -- not just digital interactions, but including people from the call center or sales team," Stahl said.
It really needs to be one unified experience for the customer.

Eric StahlSVP product marketing for the Marketing Cloud
"It's an integration marketing, sales and service. If marketing gets a negative response from a customer, it can automatically trigger a [customer service case], so it's automating those steps and making the hand off [between departments] a lot more seamless," said Rebecca Wettemann, VP of research, Nucleus Research.
Pricing and availability. Salesforce Marketing Cloud and Journey Builder are generally available today for customers. Journey Builder pricing starts at $3,750 per month.
New Journey Builder activities, triggers and events with Sales Cloud and Service Cloud will be available in Q4 2015.