Sergey Nivens - Fotolia
Nordstrom mines Beacon benefits in personalized customer service
Nordstrom is trying to bridge the gap between online and physical shopping experiences for its customers through Beacon technology.
SAN FRANCISCO -- Retailers need to bridge the gap for consumers between shopping online and shopping in physical stores. Crucial data about customers can get lost in translation as customers travel between these mediums, but companies know that seamless customer service requires a single view of consumer information and activity -- no matter where customers are.
But to date, creating a seamless connection between digital and physical worlds has been largely fictional. Customers might browse items online and add them to a shopping cart, but then not see the same information on a mobile device. Or they might not be able to shop online and see their options for lawnmowers or shirt colors in a particular store location. That gap creates hurdles in a purchase or negative experiences that drive customers away.
Nordstrom, a retailer based in Seattle, wants to change that fragmented experience by using location-based services, specifically Beacon technology, to use its high-touch customer service approach in stores and in digital environments as well. Beacon technology uses sensors to locate customers in or near stores through the geolocation technology in mobile devices, which then enables companies to target customers based on consumer preferences and behavior. And it wants to cross the chasm, where consumers can have travel seamlessly between digital and physical worlds without friction or frustration and get the information and service they want.
Data indicates that the public believes that companies need to address this divide between digital and physical consumer experiences. According to Forrester Research Inc., of nearly 200 consumers, 71% expect to view in-store inventory online, 69% expect associates to be "armed with a mobile device" and 50% expect to buy online and pick up in-store. Research also indicates that customers are willing to share data to get better service: In another Forrester survey, nearly 69% of customers felt comfortable sharing their location when presented with an offer or discount coupon.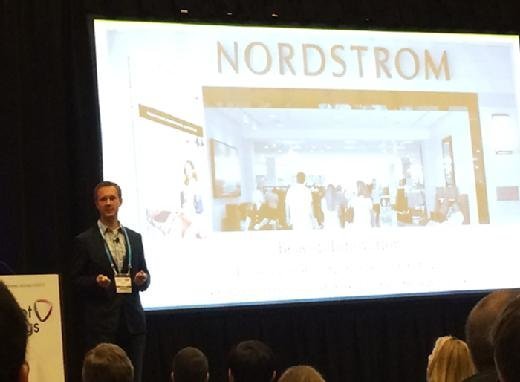 But Nordstrom prides itself on old-fashioned customer service, so it didn't want to compromise that with digital technologies. "The strength of our company is our approach to sales," said Aaron Smith, director of mobile applications at the retailer, at his session at the Internet of Things World conference in San Francisco this week.
"It's not heavy pressure, but salespeople will bend over backwards to make it a great customer experience," he said. "So how do you enhance that experience without taking away from what is great about the company?"
Paving the digital way for Beacons
Despite Nordstrom's solid customer service in stores, the company has been trying to catch up with the ever-moving train of e-commerce over the past couple of years. It needed to create a foundation that would create a consistent experience whether customers were shopping on a PC, browsing on a tablet or walking through the stores.
"Before we could do location-based services," Smith said," we had to establish some building blocks." First, Smith said, the company needed to create a shared customer view to ensure a more seamless customer experience.
"When a customer goes from the Web to mobile, do they see the same items in their shopping cart? Do they have a fluid experience across our platform?" Smith said.
Another aspect of being able to fulfill the Beacon vision was to be able to reliably indicate store inventory, so that customers with items in an online shopping cart could also locate those items in specific stores. "The ability for consumers to buy online, pick up in-store," Smith said, "required us knowing where our inventory was in what size, color, etc."
Third, Smith said, Nordstrom had to digitize its loyalty program so that consumers could stop toting around paper-based reward notes. They could also redeem points through smartphones in stores, which researchers have found is one of the key incentives for consumers to adopt new payment methods, such as mobile wallet technologies.
We're trying to be judicious about what we use for location-based technology.

Aaron SmithNordstrom
"While we still send out physical notes," Smith said, "we have built into our path that they can see how they are doing, how far they are toward [earning] their next note and they can click on the note and use a barcode in store."
With this foundation in place, Nordstrom was able to use Beacon sensors to locate customers in stores and provide them contextually based messages to aid their experience. So, for example, if a customer placed certain items in her cart, once in the store, she might receive a message about where the items were located. Or she might receive alerts about rewards points earned. Beacons are also helping augment the in-store experience, where salespeople can get information about the kinds of items a customer browsed online so they can help direct them to items in the store or recommend other complementary items.
Nordstrom is also piloting a new program that enables customers to browse items as they stand at a mirror. The technology enables them to price items, look for alternate sizes or see complementary items also available in the store.
The risks of Beacon technology
But Smith acknowledged that personalized customer service can easily travel over into the creepy zone if retailers aren't thoughtful about the frequency and nature of communication.
Smith said that Nordstrom crafts individual, personalized alerts so that customers don't receive the same messages over the course of a 72-hour period. The company is also careful to limit the number of communications a customer can receive in a given period of time. "Make your communication personalized," Smith said. "People don't want generic deals and offers. They want something specific to them."
Smith said it's also important to use messaging to enhance in-store experiences to make that messaging useful rather than rote. "Make it store-specific," he said. For Nordstrom, it's also critical to use the digital experience to enhance, not override, the in-store sales experience. "Augment, don't replace salespeople," he said. "Hooking up customers with salespeople who have the knowledge makes us more successful." But Smith acknowledged that technology still needs to mature to make this truly possible. While messaging can indicate where items are generally in the store, RFID technology married with Beacons could make that information more specific and accurate.
"I would love to get to a point where Beacons are married together with RFID -- that's a killer application," he said.
Smith also noted the importance of testing Beacon prototypes in real-world environments before rolling them out to stores so customers and salespeople could learn from the experience. In a recent Forrester report, the research firm also cautioned that piloting is extremely important because different Beacon platforms work differently and Beacon technology doesn't always work as advertised. The lifespan of the devices, for example, may be an issue.
Finally, Smith emphasized the importance of retaining control in customers' hands. Customers are more receptive to digital messaging that is related to their preferences rather than randomly foisted on them. And customers need to retain the ability to opt in -- or out -- at any time.
"We're trying to be judicious about what we use for location-based technology," Smith said.
Next Steps
IoT could help cities with the ills that plague them
Lack of standards still a hurdle for IoT
ROI from wearables and IoT still in question
Dig Deeper on Customer relationship management (CRM)