blobbotronic - stock.adobe.com
News
Stay informed about the latest enterprise technology news and product updates.
Salesforce Trailhead adds Einstein AI for learners
Salesforce's free training site, Trailhead, got AI features based on its products recommendation engine to guide admins, developers and consultants on personalized paths.
Salesforce's free online learning platform became a lot more popular in recent months as admins and users sought ways to increase their skills while locked down due to the global pandemic.
This week, Salesforce Trailhead users got an infusion of AI in their career paths with a feature based on the CRM giant's e-commerce product recommendations tool.
Einstein Recommendations for Trailhead, live today, personalizes the path for users of the free Trailhead e-learning site and the Trailhead Go mobile app. The AI mashes up a user's data with that of millions of Salesforce Trailhead users who already earned tens of millions of badges -- Salesforce's name for completed competencies, said Sandeep Bhanot, SVP of Trailhead products.
"AI is much more personalized [than rules-based recommendations] because it's based on actual production data from other learners on Trailhead," Bhanot said. "The AI algorithm matches your activity and your goals -- whether you're an admin, developer or sales rep -- your location, your past history on Trailhead, and it gets smarter over time."
Recommendations for a user's next Salesforce Trailhead badge are delivered on their homepage, or immediately after they earn one of more than 800 available badges. Salesforce released the feature on the eve of its TrailheaDX developer conference, which went virtual this year.
It's a sensible next step for Salesforce to add its Einstein AI to Trailhead, said Constellation Research analyst Nicole France. Not only does it promote Salesforce's own capabilities to its user base but it also makes it easier for Trailhead users to get more out of it.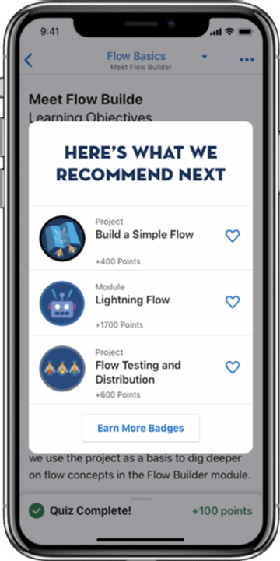 "This is about identifying patterns, and the wisdom of crowds," France said, who added that Salesforce continues to integrate Einstein AI into "every nook and cranny it can be useful."
"The point of AI is to help us deal with massive amounts of information that, frankly, would be too onerous to deal with manually," France said. "That can include, 'Which training sessions should I be looking at?'"
Salesforce Trailhead use spikes during pandemic
Since mid-March, when most U.S. states and other nations went into lockdown to stanch the spread of COVID-19, Salesforce Trailhead usage, much like e-commerce, spiked. That period also reflected an economic downturn in which more than 45 million U.S. workers filed for unemployment as of mid-June, including 13 straight weeks where new unemployment claims topped one million.
Salesforce data reveals during the same period a 37% increase in new signups for Trailhead, a 50% increase in badges earned and quadruple the traffic to Trailhead Live, a Salesforce Trailhead subsite that offers training videos.
The point of AI is to help us deal with massive amounts of information that, frankly, would be too onerous to deal with manually. That can include, 'Which training sessions should I be looking at?'

Nicole FranceAnalyst, Constellation Research
That probably reflects growth from laid-off workers looking to add Salesforce skills to their resumes, France said. The numbers also likely represent existing Salesforce users who suddenly found time to pursue new skills while in lockdown.
It's a chance for Salesforce to recruit more admins and developers to fuel its aggressive growth goals at a time where there's barely enough talent to cover admin and developer jobs for its current users. Free training to all is one way to expand that community.
"There are a lot of people really eager for opportunities," said France. "Salesforce needs to have these people out in the market -- if you want more customers, your customers are going to need these skills."
Dig Deeper on CRM careers and certifications