 BACKGROUND IMAGE: iSTOCK/GETTY IMAGES
News
Stay informed about the latest enterprise technology news and product updates.
Microsoft, Salesforce entente focuses on customers, interoperability
While historically, Salesforce's relationship with Microsoft has been lukewarm, the companies have undergone an entente this year. What's changed?
SAN FRANCISCO -- Microsoft and Salesforce.com haven't been the coziest of partners in years past. But, Salesforce CEO Marc Benioff signaled a new chapter in the two companies' relationship in a fireside chat with Tony Prophet, Microsoft's new Windows leader.
While the companies' relationship has been lukewarm, this year brought an entente. After Microsoft CEO Satya Nadella took the helm, succeeding Steve Ballmer in February, the two companies announced a partnership in May. The partnership enabled Windows and Windows Phone customers to access Salesforce, the company's CRM platform, and new interoperability with Office 365, Microsoft's suite of business productivity applications.
This week, at a fireside chat at Dreamforce 2014, Salesforce's user conference, Benioff noted that the change in leadership in Redmond -- from the hiring of Prophet, who was previously at HP, to Microsoft's new chairman, John Thompson, who came from IBM and Symantec Corp. -- helped usher a break with the past.
"That is the No. 1 indication that there is a new Microsoft, because the people are new -- at the top." His words stood in contrast to a 2010 Benioff tweet: "Microsoft can run anti-salesforce WSJ ads, protest our cust events, and even sue us. But they cannot stop the cloud. The force is with us!"
Death to lock-in; long live interoperability
The new relationship comes despite the fact that Salesforce and Microsoft are rivals for CRM customers, given Microsoft's investment in its own Microsoft Dynamics CRM platform. But Prophet emphasized that traditional vendor competition has been overtaken by the need to create an ecosystem that is open, that doesn't promote vendor lock-in, and that works for customers.
"As a platform company, you have to be ecosystem- and partner-centric," Prophet said. "The ecosystems that thrive in today's world are open ecosystems. We are embracing innovation, because that is what our customers demand."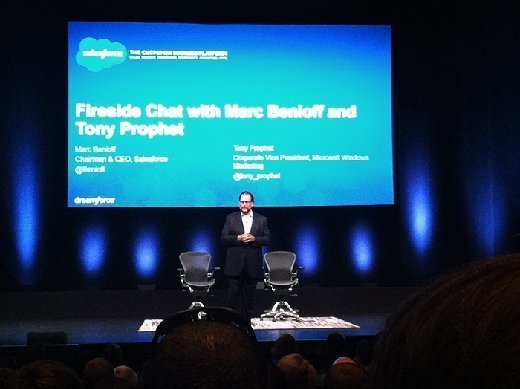 In a larger sense, the partnership represents two trends that have overtaken the new cloud-based, mobile-first, technology industry: (1) the shift from proprietary lock-in among vendors to interoperable standards; and (2) the need to put customer needs at the center of the vendor universe rather than allowing turf wars to dictate company strategy.
These trends have become all the more paramount as cloud computing and mobility have pushed the boundaries in terms of anywhere, anytime access to information and the increasing focus on ease of use for customers. Companies now recognize that users will revolt against software that isn't intuitive or doesn't cooperate with other applications that are core to their work processes.
In that light, Benioff asked about the beta rollout of Windows 10, the operating system, joking that Microsoft had leapfrogged to Windows 10 after a rocky rollout of Windows 8. "What happened to Windows 9?" Windows 8 endured a rough start given its departure from the interface that users were accustomed to, including the elimination of the Start button from the task bar.
Like members of the audience, Benioff wondered why the partnership had become such a high priority for the new Microsoft.
"If you declare that you want to be a leader in the mobile-first, cloud-first world, and you don't have a relationship with a recognized leader of the mobile-first, cloud-first world," Prophet said, "it rings hollow. And, no matter how many points of competition there might be … you've got to embrace the leaders in the mobile-first, cloud-first world. It will only make the platform stronger."
For more on the Salesforce conference, check out our DF14 guide here. Share or retweet this story at #DF14.