 BACKGROUND IMAGE: iSTOCK/GETTY IMAGES
News
Stay informed about the latest enterprise technology news and product updates.
Salesforce rolls out much-anticipated Analytics Cloud
Striving to fill a gap in its business intelligence capabilities, Salesforce takes a major step with its Analytics Cloud.
SAN FRANCISCO -- Today, Salesforce.com is rolling out its much-awaited analytics offering, Wave: the Salesforce Analytics Cloud. The platform aims to democratize data analysis for business users.
The Analytics Cloud is designed to make analytics digestible for business stakeholders as well as analysts, developers and other technical types, to crunch data at rapid speed and be scalable. It can handle all kinds of data -- including structured and unstructured information -- and deliver meaningful data on whichever device a user prefers, according to Salesforce. Business users are free to navigate with a tap-and-swipe method rather than being saddled by complex queries associated with a schema-based system. They can drill down into data and crunch some 17 million rows of data in seconds.
"Finally, there are analytics for the rest of us," said Anna Rosenman, director of the Salesforce Analytics Cloud. These data insights are the new currency of business, so being able to tap them is increasingly a chief competitive advantage for companies.
Launched in 1999, Salesforce.com first upended the customer relationship management industry with cloud-based CRM tools; previously CRM systems had been largely on-premises. It moved on to incorporate social media with its Chatter application and mobile features, with offerings like the Salesforce1 mobile app. The Analytics Cloud has been touted as the next wave of development in the CRM platform, to provide native, intuitive analytics that can make the ocean of data that companies are drowning in digestible in real time.
The new offering may also help to quash criticisms that Salesforce was lacking in the business intelligence (BI) area. Customers and experts alike wanted an application native to the Salesforce platform that could enable them to crunch data without having to export it to Excel (see Figure 1).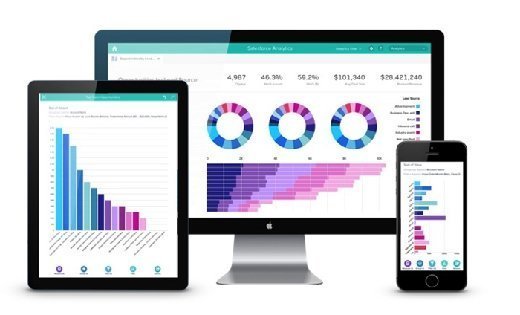 "There have been complaints from users wanting more … customized reporting," said Geneva Stephens, a CRM expert who works at a major telecom company. "Not having to export that information into other software is going to be a great way to keep people inside the system and create efficiencies," she said.
Salesforce has been trying to close its BI gap over the past two years, with Project Wave in development since 2012. In June 2013 it acquired EdgeSpring, a BI and analytics tool. In July, the company also bought RelateIQ. In early September, CEO Marc Benioff alluded to the Analytics Cloud rollout in a tweet, and the Salesforce community has been eagerly awaiting news since.
From legacy analytics to IoT and wearables
The analytics cloud takes aim at many of the hurdles that legacy analytics systems have posed to getting meaningful, real-time information that could help inform better decision making.
For all companies, the principal obstacle has been how to manage and derive meaning from the overwhelming amounts of data that are coming into their four walls. With nearly 90% of business data having been created over the past two years, according to IBM, companies are scrambling to get control of data and derive insight.
But legacy analytics platforms have required data analyst expertise and been slow to deliver insight without the horsepower to number-crunch on demand. Further, companies have been woefully unable to handle the exploding data types that now constitute enterprise information, including social media conversation, data from Internet-connected products and more.
The Analytics Cloud also wrangles these complex data types that many see as the future: the data generated by wearable technology and devices connected to the Internet of Things.
Rosenman described how the Analytics Cloud is changing business processes for a beta customer, a company that manages the supply chain for other companies. Previously the company would deliver 300-page summaries justifying why it can manage companies' inventory more efficiently. With the Analytics Cloud, "They can pull in machine data for how machines are moving boxes from in and out of the supply chain, ERP data from SAP and see them together," Rosenman said. "Instead of generating a 300-page report, which takes weeks to prepare, it's automatically connected and brought into the Salesforce Analytics Cloud and you can see in one dashboard what takes a lot of paper to visualize."
Pricing is subscription-based, according to Stephanie Buscemi, vice president of the Salesforce Analytics Cloud, and there are two tiers: the Explorer level (for business users) and the Builder tier (for data analyst, IT and other technical users). Pricing will be generally available Oct. 20 on the Salesforce website.
Industry watchers have been eagerly awaiting the Analytics Cloud but also inject caution into the equation. While Salesforce has been known to deliver results, they say, intuitive, real-time analytics for business users has been an elusive goal to date.
"There's little doubt that Wave will work as advertised," said Marshall Lager, a CRM expert. "It's highly possible it will make the biggest splash once we start seeing quantifiable results from users, but I'm still waiting for that ship to come in," he said.
For more on the Salesforce conference, check out our DF14 guide here. Share or retweet this story at #DF14.