carloscastilla - Fotolia
News
Stay informed about the latest enterprise technology news and product updates.
Multichannel retail faces new challenges, says RSR report
In the era of multichannel retail, companies are struggling with customer data management, inventory fulfillment and more.
As consumers raise the bar on customer experience, the multichannel environment is creating new pressures for retail companies, a report says.
Core challenges to multichannel retail strategies include creating a consistent, seamless experience for customers, order and inventory management, and maintaining reliable customer data, said the August report, "Omichannel Retail 2014: Double Trouble," by Miami, Florida-based Retail Systems Research (RSR) LLC, a retail industry research firm. Many of these challenges are non-negotiable for retailers, though.
"For consumers," the report said, "the ability to be able to begin and end their shopping experience in the digital domain, or augment their store experience with digital mobile, is now taken as an expectation."
Consumers now assume they can shop on company sites and in physical stores, as well as through other mediums such as social media. So retailers that excel in the multichannel world understand that digital and physical universes are inherently connected. Not only for transaction but also to drive sales in physical stores.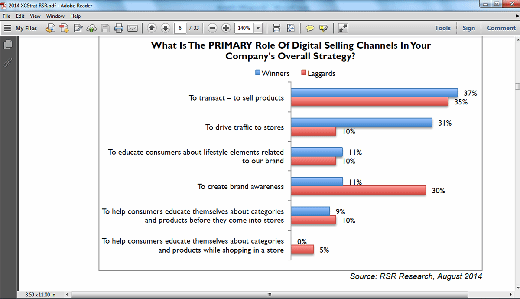 "It's not that I have digital assets and physical assets," said Nikki Baird, managing partner at RSR. "I have assets and I need to leverage them no matter how the customer chooses to engage with [my company]."
Creating a seamless, consistent digital and physical experience becomes paramount -- and is what separates retail company "winners" from "laggards," according to the report's authors. "Winners" have a sales growth rate above 3.5%, while "laggards" have a rate below it. Companies that excel provide continuous touchpoints between physical and digital environments, as well as in-depth product information and easy access points to purchase products, no matter where the customer is.
Inventory management eclipses data management as top challenge
Cost is becoming a very complicated idea in retail these days.

Nikki Bairdmanaging partner, Retail Systems Research
Historically, having a single view of customer data has been retailers' top problem. While that is still a major challenge, it is now second to inventory and order management, according to the report. Retailers are struggling with balancing the costs of, say, shipping an in-store item to a customer's home versus not doing so and having to mark the item down on sale in the store. "Cost is becoming a very complicated idea in retail these days," Baird said.
Still, maintaining a single view of customers is not a onetime data management event. As new channels emerge and generate customer data, they need to be integrated, which is a process that should take place continually to provide an accurate, up-to-date snapshot of customer data. Baird said the data integration should probably be a "yearly thing."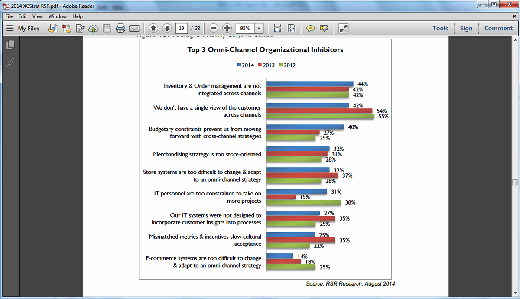 The report concluded that, while retailers have made strides in multichannel strategies, they still have a lot of work to do -- unfortunately in the key areas of enterprise-wide views of customers and inventory management.
"The objective is no longer about understanding consumer cross-channel behavior," the report noted. "It's about ensuring that operational measures are in place to confirm all channels are best meeting consumers' cross-channel needs and wants."
Dig Deeper on Customer engagement