 BACKGROUND IMAGE: iSTOCK/GETTY IMAGES
News
Stay informed about the latest enterprise technology news and product updates.
Microsoft makes mobile move with next CRM release
Microsoft next release of Dynamics CRM includes a new mobile module, offering native support for most mobile devices. It also adds new social, compliance and reporting features.
Microsoft today previewed the new features on the next release of its CRM product, focusing heavily on mobile, social and cross-browser capabilities.
The new mobile module, Microsoft Dynamics CRM Mobile, will be released in the second quarter of 2012 and starts at a price of $30 per user per month. The service provides a license for up to three devices. For example, a sale rep could access the application from two different smartphones and a tablet under one license. It's supported on Windows devices, the iPhone and iPad, Android devices on version 2.2 and above and all Blackberry phones.
Microsoft's rival in the market, Salesforce.com is betting heavily on HTML 5, allowing the application to run on any device by using the updated standard. Microsoft, however, elected to develop native applications for each device.
"Because it's a rich client on the device, they can take full advantage of the capabilities on the device like phone calling, mapping or emailing," said Craig Dewar, director on the Microsoft CRM team. "Currently we're developing for each specific platform because we believe that provides the best customer experience. Today, if we were to do HTML 5, it's really the lowest common denominator."
Native device capabilities include features like one-touch dialing from within the customer record and the option to track the conversation record within the CRM system with the push of a button.
Customers with a Microsoft Dynamics CRM license can download the mobile app from the relevant app store, enter their credentials and begin working.
On the IT side, the new mobile offering provides for remote wiping of devices and carries over customizations like custom forms and fields from the initial CRM deployment.
It is available for Dynamics CRM Online but also on-premises versions.
"On-premise customers can access it though provisioning of the CRM server to connect o mobile service," Dewar said. "The IT person would order what they want through the standard Microsoft ordering mechanisms. They install the solution on the CRM server. That connects it to the mobile service and gives them a tool set inside their normal CRM admin tools."
Release Q2 2012, the next version of Dynamics CRM, will also provide support across multiple browsers beyond Internet Explorer, including Chrome, Safari and Firefox, on the Windows, iOS and OSX operating systems.
"Essentially, we're covering the most common combinations of browsers and platforms that we see," Dewar said.
Building on the last release of Dynamics CRM, which debuted Activity Streams, social-network-like collaboration features, the next release will allow users to filter through those feeds based on any dimension of the CRM system, be it contacts, entity type or process, to allow them to monitor only the things that affect their position, Dewar added.
Building in BI
Dynamics CRM Release Q2 2012 also adds in business intelligence capabilities, built on top of the forthcoming release of SQL Server 2012, including the data visualization and reporting tool PowerView, previously code-named Project Crescent.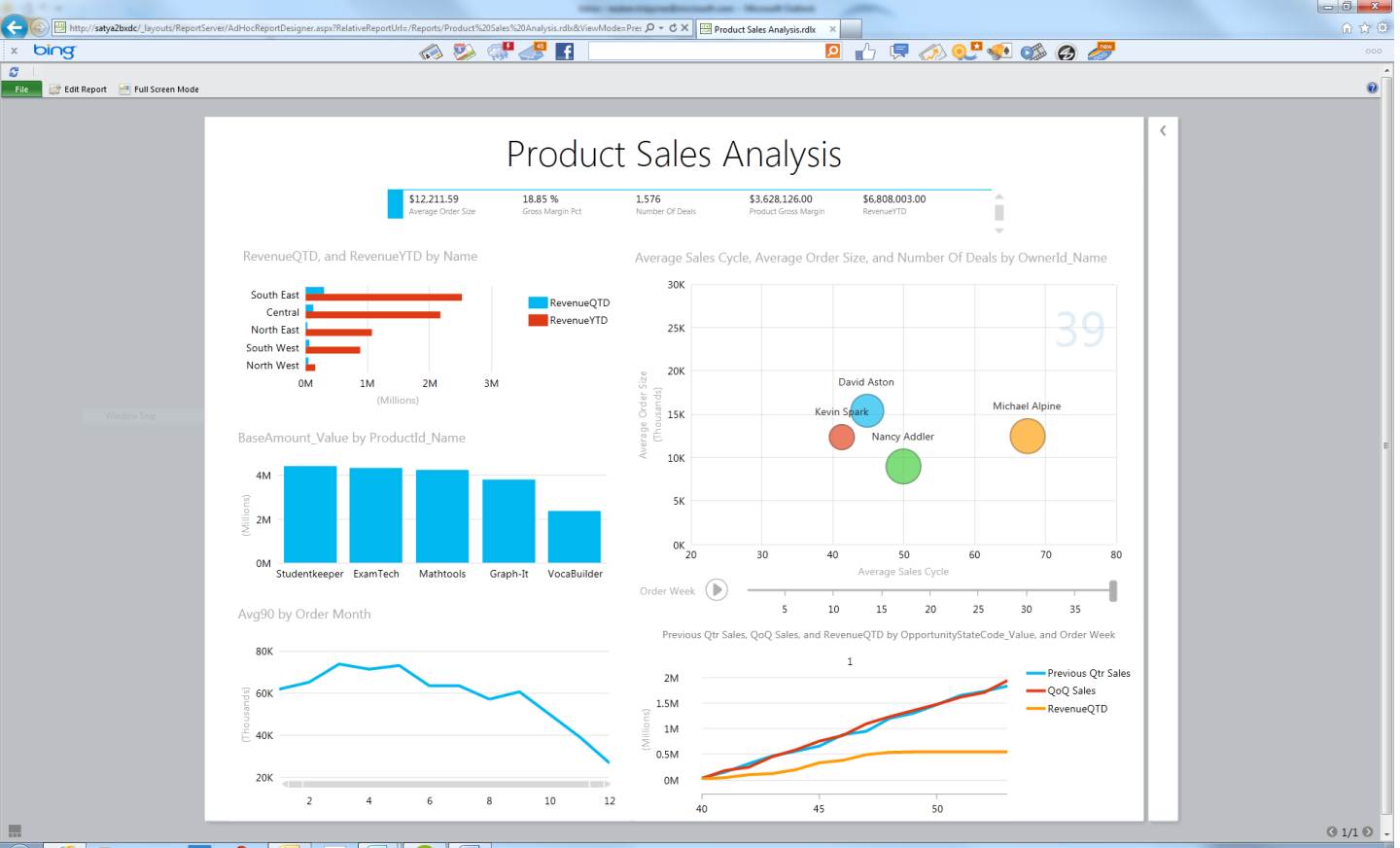 Business users can build reports and data visualizations with drag-and-drop functions. For example, a sales manager could visualize a successful close rate over time by the sales team.
"It's a very interactive canvas," Dewar said. "You basically lay out on this canvas of graphs and times that are related to one another."
Some of the functionality was inspired by a TED talks presentation by Hans Rosling, a professor of global health at Sweden's Karolinska Institute using bubble maps to illustrate global data on poverty, Dewar said.
Customers need a SQL Server license and a Microsoft Dynamics CRM license to access the functionality. SQL Server 2012 is scheduled for release in March.
Complying with HIPAA, EU Safe Harbor
Finally, the next release addresses two important regulatory compliance issues. It meets EU standards for data residency and privacy, covering how data is stored and safeguarding private data against hacking, notably the Safe Harbor standard, Dewar said.
Microsoft has also "achieved a business agreement, which basically means that our service supports everything [customers] need to build a HIPPA-compliant system," Dewar said.
While Microsoft has achieved compliance with this release, safeguards were in place with the existing system, Dewar added.
"We believed we were compliant but we'd not been through the official process and had an independent body that has said, 'yes, you are compliant," he said.