News
Stay informed about the latest enterprise technology news and product updates.
QR codes: Business tool or marketing fad?
While QR codes have potential as a strategic business and marketing tool, their true business value has yet to emerge.
QR codes adorn everything from ketchup bottles to gravestones.
But while these tiny, two-dimensional codes are getting plenty of buzz as a cheap way to connect with customers, there isn't proof yet that they are a strategic business tool for customer engagement strategies.
"It's still a technology looking for a problem,'' said Adam Sarner, an analyst and research director with Gartner Inc. in Stamford, Conn. "Companies are trying to figure out what works and what doesn't and consumers are trying to figure out if they should bother or not."
QR, or Quick Response, codes were developed in Japan by a Toyota subsidiary in the 1990s. They are two-dimensional bar codes with a square shape and a fuzzy black and white pattern. When that pattern, or code, is scanned, a user can read information contained in the code or be launched to a website that gives the user additional information about a product or company.
The proliferation of smartphones is driving the interest in QR codes, which require a scanning device to read the code. Smartphone users can download QR reader applications to their phones and easily scan the codes.
Customers get extra information or coupons by scanning the codes and opening the website, and companies get an opportunity to boost customer engagement and retention.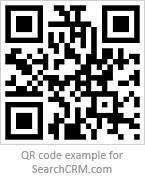 The cost to deploy QR codes can be negligible; in fact, there are many free online services available that will take a URL and generate a QR code that businesses can use as printed code in their marketing materials. In some cases, QR code generators will also produce a code for a phone number of SMS. The design team at TechTarget, for example, inputted the URL for this site, www.searchcrm.com, and the QR code on the left was produced.
The goal with QR codes is to boost customer service by giving customers something extra while a connection is already underway. For example, HubSpot, an inbound marketing company based in Cambridge, Mass., used QR codes as part of its marketing strategy at Dreamforce, a Salesforce.com user conference held in August. The company printed the code onto its show materials. When scanned, the code would bring up a list of the company's Dreamforce sessions and speaking opportunities.
"It was a way to get [attendees] interested in our company,'' said Rachel Sprung, events coordinator at HubSpot. Without the QR code, "we would have done a handout, which would have cost more money and would have been lost in the shuffle. With the QR code, it's right on their phone. In this day and age, people look to their phones, not paper. "
While HubSpot and other companies report QR codes are easy to use and are useful in distributing information, it is still unclear if these codes will become strategic.
"They could have significant value, but there are a few hurdles,'' said Greg Girard, a program director of merchandise strategies at International Data Corp. in Framingham, Mass.
For starters, there are other ways to deliver information to phones, so QR codes are by no means a standard. For example, some companies are providing phone numbers that customers can use to get downloaded SMS messages. A recent Mobile Marketer report highlighted an effort by the CBS network to use SMS to deliver information about new TV shows. In the report, CBS noted that SMS is supported by nearly all phones, whereas QR codes require smartphones and QR readers.
In addition, marketers haven't figured out how to really exploit the technology, analysts said. Often, companies will use the code to launch their home page and, to most customers, that has little value.
"I think 50% [of companies] could be doing it wrong,'' Gartner's Sarner said. "There has to be regular marketing stuff applied here. Is there a call to action to the customer? If you are just trying to get value from coolness, well, there is more to do here.''
The key to QR codes' effectiveness is in delivering some kind of additional information that will help the customer. For example, the Massachusetts Department of Agricultural Resources recently ran a public service campaign promoting healthy foods and local farmers' markets. It used a series of posters on subway trains as promotion and included a QR code on the posters. When scanned, the code would direct people to a map with locations of farmers' markets.
Joao Travares, a program coordinator at the department, said the campaign did very well, but the QR codes were only a modest success. The posters increased traffic to the department's website, but there were just a few hundred visits attributed to the QR codes.
"We do know now that it was difficult to scan on the train,'' said Joao. "It was about trying something different and something new.''
Analysts said QR codes have potential if implemented correctly. For example, a QR code campaign can be precisely measured, unlike some other marketing and advertising tactics.
"Take a billboard,'' Sarner said. "You have no idea if it's been looked at. So, instead of soft metrics, you have a real opportunity with QR codes. You can say, 'We got clicked by 50,000 people in 7 minutes.' ''
Finally, because the codes are so easy to reproduce, they do give companies almost unlimited possibilities to create interesting campaigns.
Some QR code implementations might seem very unusual, such as the reports of companies applying them to gravestones to give visitors more information about the deceased.
Other ideas are way out there – literally.
In fact, one company plans to launch a service this month in which it will create 25-by-25-foot QR codes on rooftops that could be scanned when a user views the company from a Google Earth map.
"People google a location and find a way to it through Google maps,'' said Rich Phillips, president of Phillips & Co., in Austin, Texas, which is launching the QR code rooftop service. "What if we created an actionable code on rooftops to provide some kind of dynamic content that a business wants to deliver?''
Phillips said the company has customers "waiting in the wings,'' but was not ready to release customer names.
Dig Deeper on Customer relationship management (CRM)