News
Stay informed about the latest enterprise technology news and product updates.
Cut support costs by reducing escalations
Contact centers should examine and audit issues that escalate beyond a level 1 to determine how to better manage the outcome and costs of more complex customer issues.
Over the last month, multiple members of the Technology Services Industry Association (TSIA) have submitted inquiries...
Continue Reading This Article
Enjoy this article as well as all of our content, including E-Guides, news, tips and more.
regarding targets for the percentage of issues escalated beyond level 1. When incidents are not resolved on the initial contact and ultimately need to be escalated to a more experienced technician, incident resolution times stretch out, and higher-paid level 2 employees become involved, sending incident costs soaring.
If your escalation averages are higher than your peers', identifying issues that could be resolved at level 1 with additional training or knowledge-base content can help reduce escalations, lowering operational costs for the support organization. I recommend that companies audit issues escalated beyond level 1 to identify patterns of issues, then create a plan to move resolution of those issues to front-line support.
When an incident is too complex for a level 1 support technician to handle, or when additional research is required, issues are escalated to level 2, keeping level 1 techs open to deal with new inbound customer incidents. According to the latest TSIA Benchmark Survey, about 16% of incidents are escalated beyond level 1 across all TSIA member institutions. The average percent for software firms is 14%, with hardware companies coming in considerably higher, with 32% of incidents escalated.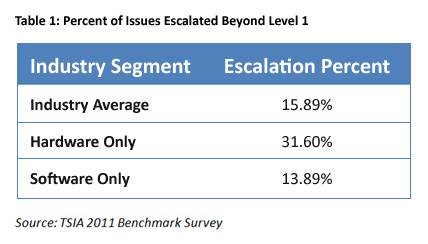 Salary costs rise with each tier. Incident cost also rises when escalated beyond level 1. In addition, the extended resolution time has an impact on customer satisfaction. Average salary costs by level or tier are shown in Figure 1. Amounts are fully burdened costs for direct employees, not outsourced workers. Level 1 employees have an average salary cost of $43.58 per hour, with the average climbing $10 for level 2, at $53.64 per hour. Level 3 workers earn an average of $58.27 per hour.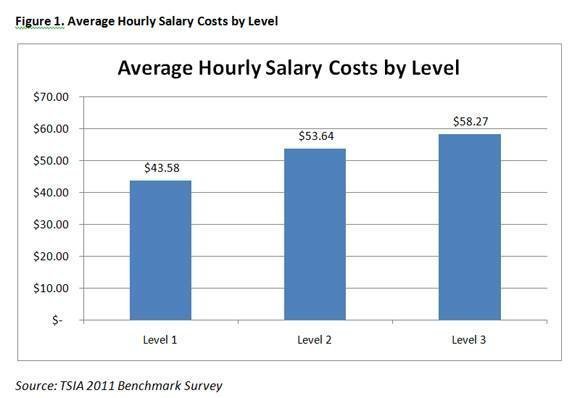 According to member surveys, incident cost increases at least 40% when escalated to level 2 and 80% or more when escalated to level 3. To reduce the number of issues escalated, support organizations should do the following:
1. Understand why issues are being escalated. Issues resolved by level 2 or beyond should be classified to determine why it was not resolvable by level 1. Typically, this is due to one of two reasons: The issue was either too complex for a level 1 tech to resolve or the time required to research and resolve the issue was too long for a front-line support tech, whose primary focus is productivity and keeping up with inbound incidents.
2. Identify which of the issues could be resolved by level 1 with additional training, knowledge-base content or both. Though more senior technicians may be wary of documenting their expertise in the knowledge base, it gives front-line techs the capability to resolve an issue faster. It also lowers operational costs and improves the customer experience.
3. Shift resources to level 1. Over time, level 1 should grow as a percent of overall staff, showing more issues are being resolved at a lower price point, as well as lower overall employee costs. As seen in Figure 2, currently 45% of support staff, across all TSIA members, work in level 1. Thirty-one percent of workers are in level 2, with 24% in level 3. Companies should target having at least 50% of employees in level 1.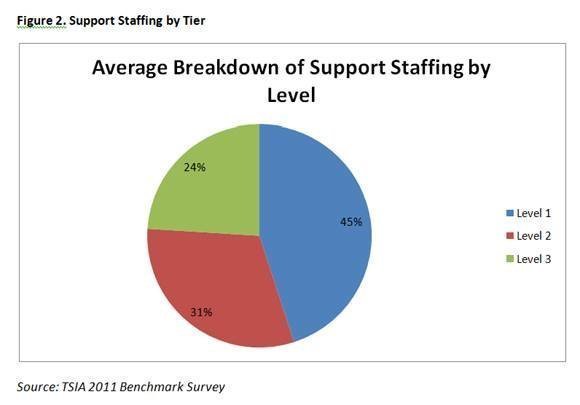 According to the TSIA Benchmark, 12% of companies do not use multiple tiers, with a single tier of product experts answering to every call, email or chat. Some TSIA consulting partners, including Phil Verghis of the Verghis Group, are seeing more interest in collapsing tiers and being more creative in developing specialties within product support. As these new approaches emerge, companies should start questioning how escalations are handled today and identify ways to improve first contact and level 1 resolutions.
Technology plays a key role. Companies that leverage remote control and remote diagnostic tools typically see an increase in first-contact resolution and issues resolved by level 1. Technology can turn even a level 1 analyst into a product expert by giving him a direct view into the remote equipment and error situation.
Knowledge is king. As mentioned previously, having level or level 3 techs, as well as developers or other product experts, author knowledge-base content is a great way to supplement level 1 knowledge, enabling them to handle more complex issues. If you are having problems convincing experts to contribute, see the blog entry in Ragsdale's Eye on Service, "Convincing Reluctant Knowledge Authors to Contribute: The Carrot and The Stick."
Put a price tag on problems. By linking every support incident to a knowledge-base article, you can easily report on how many occurrences of an issue you receive as well as calculate what it is costing you to support a particular problem or bug. Armed with this cost information, make a case to development to fix some bugs or address enhancements that create expensive customer issues. Dollars can buy you a lot of leverage.