News
Stay informed about the latest enterprise technology news and product updates.
Call centers move from cost to profit: Evolution (almost) complete
The promises of transforming call centers into a money maker for the company are starting to come true, John Ragsdale writes in this month's column. See who is still catching up.
About a decade ago, a battle cry was heard from consumer call centers in the retail, telecommunications and financial services industries: We are moving from cost center to profit center. The shift created huge change management issues. Redefining the role of the service agent to include that of a sales agent meant new skills were required, new training programs had to be created, new technologies to assist with offer extensions were implemented and customers also had to adjust to up-sell and cross-sell offers on just about every customer service interaction.
The shift for employees turned out not to be as difficult as expected. As one company told me, "When agents hear 'yes' often enough, they stop thinking they are selling and see the offer extension as just part of servicing the customer."
While the world of consumer support has widely introduced marketing and sales techniques into the inbound customer support center, enterprise or business-to-business (B2B) support has been much slower to evolve away from cost center status. According to the Technology Services Industry Association (TSIA) Benchmark, 29% of high-tech firms say they are still cost centers, and 10% say they are cost recovery centers, challenged to break even -- not profit.
Figure 1. Cost vs. profit center for B2B companies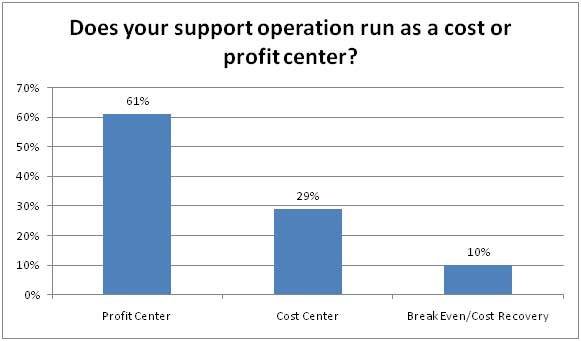 Source: TSIA 2011 Benchmark
One of the most common reasons companies don't want to introduce sales into B2B support is that the customer calling for support is an IT admin who has little control or influence on the account. The IT admin isn't the person who approves new technology purchases and typically has a very small dollar amount she can approve. But this argument fails to realize that what support is best at selling may not be more products, but additional services.
While that IT system administrator may not be authorized to approve an additional $2 million purchase of networking equipment (for example), she can be easily swayed into attending an upcoming user conference, sign up for new training classes and perhaps speak to her manager about some premier maintenance options that would make her life easier.
Back in my early days as an analyst, circa 2001, we expected technology firms -- especially enterprise software companies -- to make 80% or more of revenue from software licenses. If service revenues grew, we saw that as a downside: Clearly, the technology was impossible to implement and use if that many services were required.
Oh, how times have changed. Today, services revenues account for 40% or more of revenues from enterprise software firms, and a look at which revenues are growing and shrinking is very instructional. Figure 2 shows the difference between 2009 and 2010 revenues for products and services.
Figure 2. 2010 revenues, year-over-year growth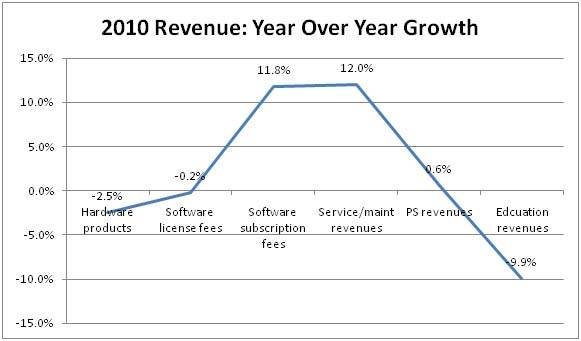 Source: TSIA 2011 Benchmark
Sales of hardware and software licenses were both down year over year, -2.5% for hardware and -0.2 for software. (However, check out the on-demand or SaaS numbers -- software subscription fees were up 11.8%, another indicator that on-demand is quickly replacing on-premises deployments.) Traditional "add-on" sales were weak, with education services down 10% and professional services eking out less than a 1% improvement.
But look at service and maintenance revenues -- up 12%. This is why Wall Street is finally paying attention to service and support. Not only are executive compensation packages now routinely tied to customer satisfaction scores, but services are generating more revenue at a faster rate than product sales.
Where are these service revenues coming from? We are seeing companies become very creative in introducing service options and packages that appeal to both midsize and large enterprise customers. Incremental service revenues are generated from:
Premier service levels. Moving from "bronze" to "platinum" gives flexibility to the account, usually allowing additional people to access assisted support, extended support hours, weekend support, etc.
Dedicated TAM. A popular up-sell for enterprise support is a dedicated technical account manager (TAM) who is familiar with your account and technical environment, provides input on projects and customizations and can be contacted directly instead of going through the normal support channels.
Proactive monitoring. This option leverages technology to monitor the customer environment, with rules that detect any problems and notify support to take action, hopefully resolving issues before customers are affected At the very least, proactive monitoring cuts resolution and downtime dramatically.
Managed services. Becoming more common for on-premises deployments, customers can contract with their vendor to manage the implementation, including on-site or remote administration, upgrades, customizations and integrations. This is ideal for customers who are moving toward on-demand tools and have few available IT resources to manage remaining on-premises solutions.
So with all this momentum, why are a third of enterprise high-tech firms still operating technical support as a cost center? The answer seems to be that the CEO hasn't made it a priority for support executives. In the TSIA Benchmark, one question asks customer support management about the importance of financial objectives, and clearly, traditional objectives, such as boosting customer satisfaction, continue to be primary drivers.
Figure 3. Importance of financial objectives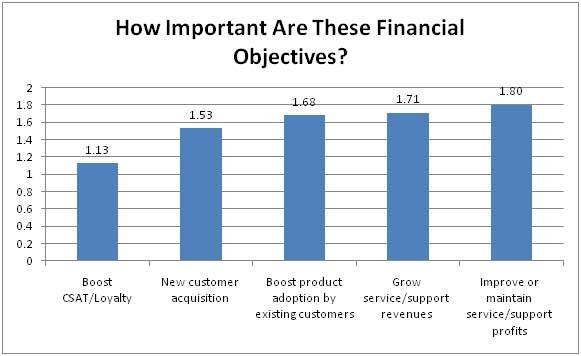 Source: TSIA 2011 Benchmark; 1=extremely important
As seen in Figure 3, more traditional financial objectives, including boosting customer satisfaction and loyalty and helping to acquire new customers, remain more important than growing service revenues and improving profit margins.
Back in 2005, I co-authored a report at Forrester Research Inc. called Why Marketing Should Own the Contact Center, which caused tremendous buzz -- and angst -- in the consumer contact center industry. The gist of the paper was that service-generated revenues were increasingly important, and if support wasn't willing to tackle the change management issues required to move from cost center to profit center, marketing and sales would inevitably step in and take ownership of the department to drive the change. We saw this happen across telecommunications and financial services, with marketing taking a leadership role in contact centers until offer extensions became a standard part of operations.
I now feel we are reaching the same point with enterprise support. If support managers do not begin prioritizing revenue generation, they may find themselves reporting into sales or marketing, who will insist on pushing revenue -- sometimes at the expense of service levels. Today's technology support management should begin launching creative solutions for service revenue generation, leveraging an in-depth understanding of and relationship with the customer to define successful programs. Start driving this initiative today, before someone comes in and drives it for you.