News
Stay informed about the latest enterprise technology news and product updates.
Answering FAQs about customer satisfaction
Columnist John Ragsdale answers some of the most frequently asked questions about the universal CRM metric.
Regardless of the products you support, the industries your customers are in, the geographies you cover, or the size of your company, there is one metric every customer support operation tracks: customer satisfaction. Customer satisfaction (CSAT) programs are critical to the success of service organizations because they not only provide feedback on operations but help to identify trends and uncover service issues. Additionally, customer satisfaction rates can be linked to customer loyalty and repurchase -- key elements of revenue generation and profitability.
CSAT is now a boardroom topic as well, with executive compensation now commonly tied to improving satisfaction. According to our Technology Services Industry Association (TSIA) Benchmark survey, 62% of TSIA members say part of executive compensation is tied to CSAT, determining an average of 16% of overall compensation.
According to our TSIA Benchmark survey, 62% of TSIA members say part of executive compensation is tied to CSAT, determining an average of 16% of overall compensation.
I receive a lot of questions from TSIA members about customer satisfaction programs, and this month's column addresses the most frequently asked questions I receive about CSAT: what survey scale to use, what response rate to expect, and which questions to ask.
Satisfaction Scale: Five-Point Scale Most Popular
One of the most common questions related to satisfaction programs asked by TSIA members is "Which satisfaction scale should I use?" As seen in Figure 1, the majority of TSIA member companies use a 5-point scale, with 1 representing "very unsatisfied" and 5 representing "very satisfied." The next most popular scale is a 1-to-10 scale. For benchmarking purposes, companies should select a scale that lends itself to easy "apples to apples" comparisons.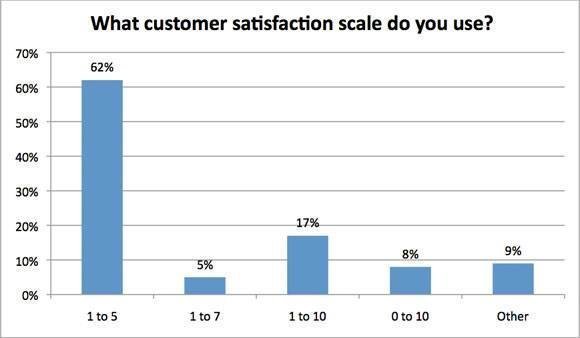 Figure 1. Common satisfaction survey scales
Survey response rates: highest response for phone surveys
It is critical that companies gather enough survey responses to allow results to be statistically significant. The percentage of surveys completed is known as the response rate. The lower the response rate, the more survey invitations must be sent to gather adequate data. Companies frequently ask what response rate they should expect for their various surveys, and Figure 2 shows the average response rates for four types of surveys:
Phone incidents. These represent satisfaction surveys for customer interactions initiated by the customer by phone.
Electronic incidents. These represent satisfaction surveys for customer interactions initiated by email or when the customer opens an incident online.
Self-service attempts. These represent satisfaction surveys for customers' attempts to solve their own problems using available online self-help resources.
Quarterly/annual relationship surveys. These represent satisfaction surveys sent to customers periodically to gauge overall satisfaction with support rather than satisfaction with a specific interaction.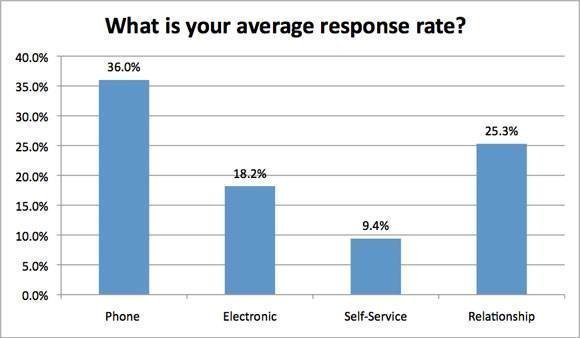 Figure 2. Response rates by survey type
What survey questions to ask: avoid more than 10
For surveys executed when support incidents are closed, which questions should you ask? It is important to balance your thirst for information with the patience level of customers -- if you ask more than 10 questions, your response rates will suffer. For benchmarking purposes, TSIA Research recommends designing post-incident satisfaction surveys to determine customer satisfaction with:
The case overall.
Time to respond.
Time to resolve.
E The effectiveness or completeness of solution.
Technical knowledge of representative.
The customer service skills of representative.
Additional questions can be used to gather data for specific projects or to gauge the impact of new products or services. Review the questions being asked frequently and remove additional questions at the end of a project to keep the survey as short as possible.
A few final recommendations:
Survey every channel. It is important to survey for satisfaction across every customer channel you offer -- not just phone. Be sure to also survey customers after email, chat and Web incidents, including Web self-service attempts.
Balance transactional and periodic surveys. While surveying customers about incidents is a great way to identify training issues with support technicians, be sure you are also surveying customers about their overall impressions of your support operation, which is a broader view than just a single support incident.
Escalate poor survey results. When a customer submits a survey response with below average scores, have a mechanism in place to escalate this immediately to a surpervisor. Addressing customer complaints quickly is the best way to resolve the issue and put that customer back on track toward satisfaction.
Dig Deeper on Customer loyalty and retention