News
Stay informed about the latest enterprise technology news and product updates.
Long-term strategies for improving self-service success
If you're serious about boosting self-service success, the time to invest is now, the TSIA's John Ragsdale writes in this month's column.
In last month's column, I provided data about declining self-service success and made recommendations for short-term improvements to unassisted support strategy. This month, I'll provide additional data regarding self-service satisfaction and cost per interaction, and discuss longer-term initiatives for improving success and the customer experience.
I'm spending this month compiling the results of the 2011 TSIA Member Technology Survey, and the early results show that planned spending on knowledge tools in 2011-12 is very high, indicating that technology companies are taking steps to reverse the downward trends of self-service success. To help drive home the point of investment in knowledge management (KM) and self-service tools, it is helpful to review customer satisfaction by channel of support compared with channel cost, which is dramatically higher in business-to-business support that consumer support.
Figure 1. The more labor-intensive, the higher the satisfaction score.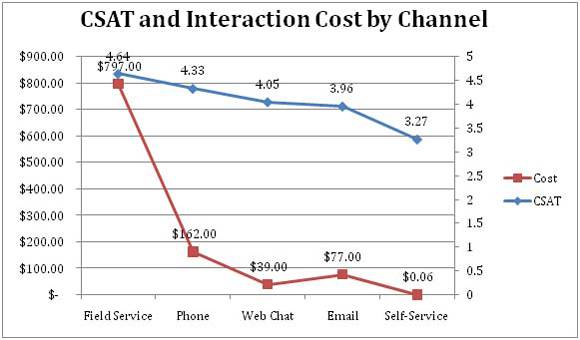 Source: TSIA 2011 Benchmark; 5 = Highly Satisfied
Field service visits with high related fleet costs and in-person visits rate highest in customer satisfaction (an average score of 4.64 on a five-point scale), but they also rate highest in cost per interaction ($797 per field service appointment). Not surprisingly, next comes phone support, with an average satisfaction score of 4.33 and an average cost of $162. As the amount of human interaction lessens, both cost and quality drop, with chat and email incidents trailing phone.
I am challenging companies to look at this in a different way: What would the overall savings be for the organization if we increase the cost of each self-service interaction?

John Ragsdale
At the very bottom of the scale for both quality and cost is self-service, with an embarrassing customer satisfaction average of 3.27, and a shockingly low price of six cents per interaction. As the data clearly shows, when it comes to customer satisfaction, an old axiom is true: You get what you pay for.
If companies are serious about boosting self-service success, increasing the percentage of total interactions resolved by self-assistance, and improving both employee and customer attitudes about knowledge bases, the time for investment is now. So much time and effort is spent trying to lower the cost of assisted support, but I am challenging companies to look at this in a different way: What would the overall savings be for the organization if we increase the cost of each self-service interaction? Clearly, six cents is not enough. What would raising the investment to $1 per interaction bring? What about $2?
With the high cost of assisted support, calculating potential deflected savings can help pave the way for self-service budgets. For example, if a support operation receiving 10,000 customer incidents a month were able to increase self-service success by just 5%, raising incidents resolved by self-service from 15% to 20%, this could potentially reduce 500 phone calls a month, with a cost savings of $81,000. Over a year, that savings would add up to almost $1 million.
Longer-term, support teams need to work more closely with development to improve product supportability, building features into the products themselves that speed resolution and perhaps eliminate the customer from the equation. Longer-range efforts to improve self-service success include:
Moving self-service to point of interaction. When a problem occurs with a device, why can't it tell the customer what to do? A great example of this comes from Xerox, whose imaging equipment doesn't just tell you what's wrong; it plays a video telling customers how to fix the problem. Out of paper or toner? No more "Error 232" flashing -- instead you see a video of how to replace the paper or toner, step by step.
Embedded, intelligent help. Taking a clue from gaming, software applications must be smarter about monitoring how customers use and navigate the system, and offer appropriate guidance without making them break out of the current process. Including how-to videos and process wizards within the application, for example, not only helps train new users but can be great reminders when completing infrequent tasks.
Next-generation, connected, proactive support. Having systems smart enough to "phone home" when a problem occurs is not new, but the scope of the proactivity must increase. Consumers are big fans of "self-healing" features in computers and modems that can, as an example, fix connection issues to re-establish an Internet session. Tomorrow's consumer and enterprise technology should be better equipped with analysis tools that can detect, diagnose and fix problems with no assistance required from customers or tech support.
Final recommendations
Many companies burned by pricy CRM deployments that delivered questionable value push back when told to make heavy investments in new technology. While it is true that throwing money at a problem may not fix it, when it comes to knowledge management and self-service, the underlying technology is so important that even a lackluster deployment typically delivers some measurable results. Investing in best-of-breed tools can accelerate time to value through:
Process maturity. Many KM platforms today are knowledge-centered support (KCS) certified, meaning the best practices are already baked into application flows. Implementing a new self-service system may force you to overhaul your approach to knowledge management, but you will emerge with much stronger practices and industry recognized processes.
Integration options. A frequent complaint about older KM systems is that they are unable to integrate with CRM, multichannel and search tools. Best-of-breed products not only come with libraries of multitenant application programming interfaces for large-scale integration, but most vendors offer pre-integration to common CRM tools.
Customization and ownership costs. Today's best-of-breed solutions are almost all available as on-demand or Software as a Service (SaaS), with business-user controls for configuration and customization, and little IT resources required.
Analytics. While there are fewer standalone analytic platforms left today due to industry consolidation, best-of-breed knowledge management platforms have eliminated the need for a third-party analytic tool with embedded analytics that can give intelligent advice on missing content and concepts, offer lists of dynamic frequently asked questions, and enable sophisticated reporting on customer trends.