News
Stay informed about the latest enterprise technology news and product updates.
Self-service success rates plummeting, but why?
The effectiveness of self-service channels has been dropping steadily for years. The TSIA's John Ragsdale offers some explanations and some remedies in this column.
Over the last two years, I have been sounding an alarm about declining self-service success.
In fact, this metric has been in free-fall mode. The metric is defined in the Technology Services Industry Association's support services benchmark questionnaire as the percentage of customers who attempt self-service and successfully find the information they need, and report their rates have fallen from 48% in 2003 down to 40% in 2010, TSIA members report their rates have fallen from 48% in 2003 down to 40% in 2010. Analyzing the most recent entries made by members in the benchmark, as of January 2011, TSIA has found that self-service success has declined to an all time low: 39%.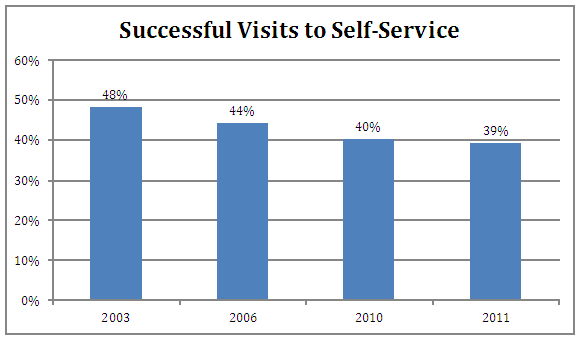 Source: TSIA Benchmark
Why is self-service success declining? There are some obvious causes:
Complexity. As products become more complex, support indents represent more complex issues, which are harder to resolve. Self-service, originally thought of as an avenue for simple, repetitive problems, is often not sophisticated enough to help solve more complex issues.
Outdated technology. One of the most frequent complaints from TSIA members is their existing knowledge platform is outdated, lacking any reporting or analytics to help manage content, identify poor content or suggest missing content based on customer searches and clickstreams.
Demographics. An emerging trend from STAR Award winners for knowledge management and unassisted support is that successful self-service is not "one size fits all." Depending on customer skill level, education, age and other demographics, different customers need different tools for self-service, ranging from a search field, to lists of frequently asked questions (FAQ), to index trees and diagnostic aids, to even intelligent chat robots. Many companies only offer a single path to content, alienating customers who prefer alternate approaches.
Bad design. There are many design issues that render self-service ineffective, from subtle things such as a separate password required to access self-service or a user interface unlike the rest of the corporate website, to more obvious design flaws that make it impossible to search across multiple content repositories from a single place, or a focus solely on one aspect of content -- like information on installing and upgrading, but not content on product features or how-to guides.
Though companies frequently complain that they struggle to increase customer adoption of self-service, these numbers tend to indicate customer adoption is not the problem. If 100% of customers who attempted self-service were successful, the percentage of issues resolved by self-service would easily grow to nearly one half of all interactions. The challenge is not to convince more customers to try self-service. The real challenge is to answer their questions once they are there, instead of sending 71% of self-service customers to another channel for support.
Existing KM tools risk obsolescence
In the early days of unassisted support, Web self-service primarily consisted of a searchable knowledge base. Over the last decade, various other content sources have been placed online to assist customers, with little work done to update or refresh old knowledge-base content and tools.
Though adoption of Knowledge-Centered Support (KCS), a methodology that encourages rapid capturing and publishing of new customer questions into a searchable knowledge repository, is on the rise, many companies seem to be ignoring the customer self-service knowledge base, making it less and less useful to customers. As seen in Figure 2, when asked which online resources were most used by customers attempting self-service, TSIA members rated the knowledge base dead last, with an average score of 2.3 out of 5.0, beat out by discussion forums, online training content, download libraries and other content resources.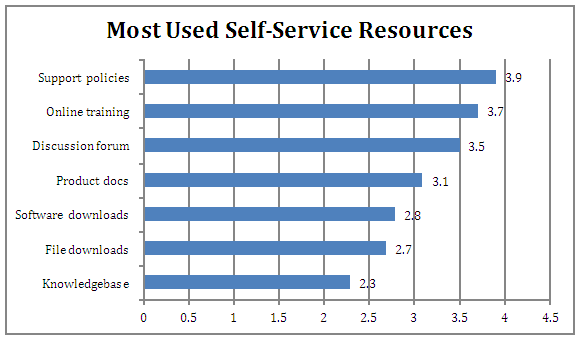 Source: TSIA 2011 Benchmark, 5 = Most Used/Most Accessed
Not only have customers fallen out of love with knowledge bases, employees don't seem far behind. The annual TSIA Member Technology Survey asks what tools support organizations are using across 20-plus areas of service technology and how satisfied they are with those tools. As seen in Figure 3, though "best of breed" knowledge and search tools scored fairly well, older knowledge management tools, including homegrown technology and knowledge bases included in legacy CRM systems, rated very low -- 2.8 compared with an industry average of 3.92. The message seems clear: Old products are not keeping up, and companies should be evaluating best of breed replacements.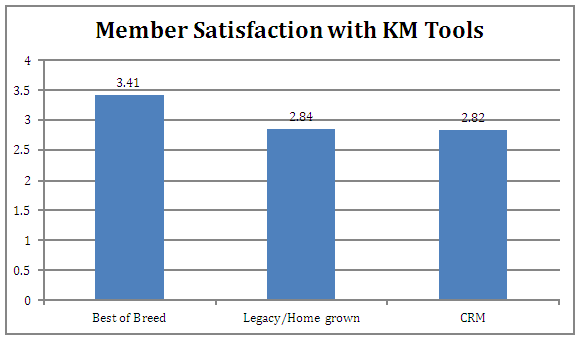 Source: TSIA 2010 Member Technology Survey, Industry Average = 3.92
Investing in self-service: where do we start?
This article has attempted to make the case that support organizations have taken their eye off the self-service ball over the last decade, and it is time to once again invest in knowledge management and self-service to boost self-service success and lower overall operating expenses. But where to begin? With so many new vendors and types of tools on the market, where should support organizations invest first to see the biggest impact? I recommend investment in these key areas for short-term -- one- to three-year -- improvements.
Federated, intelligent search. More than half of TSIA members have a discussion forum, creating oceans of new content. Previously cited TSIA research shows that many content repositories offer value to customers. The first step to improving self-service is to adopt an intelligent search platform that can search all content repositories with a single query, giving customers a list of matches from across the enterprise -- and even from the discussion forum.
No more "one size fits all" self-service. As mentioned previously, use case analysis shows multiple paths are needed to the content to meet the needs of all users and customers. Invest in knowledge platforms that offer multiple paths to information, including search, decision trees, dynamic FAQ lists and maybe even a chat bot.
Analytics-based knowledge platforms. TSIA has published case studies of members taking impressive steps to self-service success by leveraging analytic-based knowledge platforms. These sophisticated tools detect trends, help identify unused or unusable content and proactively report on missing content.
More rich media, multi-media. Today's customers will not read a 15-page procedure to fix a problem. With screen capture, application emulation and video editing tools now available for a fraction of the cost compared with what was around five years ago, it is getting easier and cheaper to create rich media self-help content. When possible, show customers how with a video tutorial or step-by-step instructions with pictures, not just text.
Increased mobility. Various analyst firms are claiming there will be more Internet activity from smartphones than desktops and laptops in the coming years. Even companies with highly successful self-service websites need a wakeup call -- what works perfectly on a 15-inch PC monitor may be useless on a 4-inch smartphone screen. It is time to rethink Web page infrastructure and design to maximize effectiveness of self-service on mobile devices.
Next month I will be back with even more data to illustrate the decline of unassisted support, as well as longer-term suggestions to create a dynamic and successful self-service program. Stay tuned!